Abstract
Unlike radiowave antennas, so far optical nanoantennas cannot be fed by electrical generators. Instead, they are driven by light1 or indirectly via excited discrete states in active materials2,3 in their vicinity. Here we demonstrate the direct electrical driving of an in-plane optical antenna by the broadband quantum-shot noise of electrons tunnelling across its feed gap. The spectrum of the emitted photons is determined by the antenna geometry and can be tuned via the applied voltage. Moreover, the direction and polarization of the light emission are controlled by the antenna resonance, which also improves the external quantum efficiency by up to two orders of magnitude. The one-material planar design offers facile integration of electrical and optical circuits and thus represents a new paradigm for interfacing electrons and photons at the nanometre scale, for example for on-chip wireless communication and highly configurable electrically driven subwavelength photon sources.
This is a preview of subscription content
Access options
Subscribe to Journal
Get full journal access for 1 year
$99.00
only $8.25 per issue
All prices are NET prices.
VAT will be added later in the checkout.
Tax calculation will be finalised during checkout.
Buy article
Get time limited or full article access on ReadCube.
$32.00
All prices are NET prices.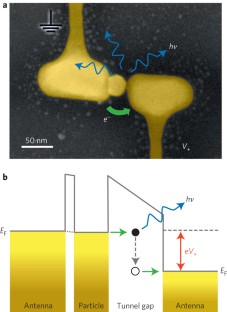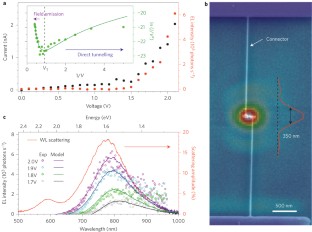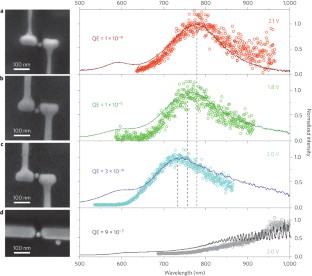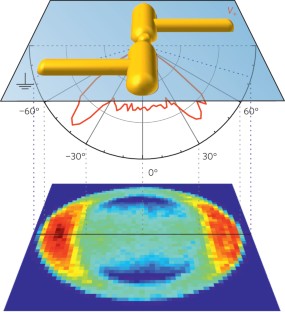 References
Mühlschlegel, P., Eisler, H.-J., Martin, O. J. F., Hecht, B. & Pohl, D. W. Resonant optical antennas. Science 308, 1607–1609 (2005).

Curto, A. G. et al. Unidirectional emission of a quantum dot coupled to a nanoantenna. Science 329, 930–933 (2010).

Huang, K. C. Y. et al. Antenna electrodes for controlling electroluminescence. Nature Commun. 3, 1005 (2012).

Sirtori, C. Applied physics: bridge for the terahertz gap. Nature 417, 132–133 (2002).

Feynman, R. P. There's plenty of room at the bottom. Eng. Sci. 23, 22–36 (1960).

Lambe, J. & McCarthy, S. L. Light emission from inelastic electron tunneling. Phys. Rev. Lett. 37, 923–925 (1976).

Hone, D., Mühlschlegel, B. & Scalapino, D. J. Theory of light emission from small particle tunnel junctions. Appl. Phys. Lett. 33, 203 (1978).

Schneider, N. L., Schull, G. & Berndt, R. Optical probe of quantum shot-noise reduction at a single-atom contact. Phys. Rev. Lett. 105, 026601 (2010).

Davis, L. C. Theory of surface-plasmon excitation in metal–insulator–metal tunnel junctions. Phys. Rev. B 16, 2482–2490 (1977).

Downes, A., Taylor, M. E. & Welland, M. E. Two-sphere model of photon emission from the scanning tunneling microscope. Phys. Rev. B 57, 6706–6714 (1998).

Berndt, R., Gimzewski, J. K. & Johansson, P. Inelastic tunneling excitation of tip-induced plasmon modes on noble-metal surfaces. Phys. Rev. Lett. 67, 3796–3799 (1991).

Bharadwaj, P., Bouhelier, A. & Novotny, L. Electrical excitation of surface plasmons. Phys. Rev. Lett. 106, 226802 (2011).

Le Moal, E. et al. An electrically excited nanoscale light source with active angular control of the emitted light. Nano Lett. 13, 4198–4205 (2013).

Prangsma, J. C. et al. Electrically connected resonant optical antennas. Nano Lett. 12, 3915–3919 (2012).

Huang, J.-S. et al. Atomically flat single-crystalline gold nanostructures for plasmonic nanocircuitry. Nature Commun. 1, 150 (2010).

Kern, J. et al. Atomic-scale confinement of resonant optical fields. Nano Lett. 12, 5504–5509 (2012).

Surrey, A., Pohl, D., Schultz, L. & Rellinghaus, B. Quantitative measurement of the surface self-diffusion on Au nanoparticles by aberration-corrected transmission electron microscopy. Nano Lett. 12, 6071–6077 (2012).

Simmons, J. G. Generalized formula for the electric tunnel effect between similar electrodes separated by a thin insulating film. J. Appl. Phys. 34, 1793–1803 (1963).

Mangin, A., Anthore, A., Della Rocca, M. L., Boulat, E. & Lafarge, P. Reduced work functions in gold electromigrated nanogaps. Phys. Rev. B 80, 235432 (2009).

Hansma, P. K. & Broida, H. P. Light emission from gold particles excited by electron tunneling. Appl. Phys. Lett. 32, 545 (1978).

Rendell, R. W. & Scalapino, D. J. Surface plasmons confined by microstructures on tunnel junctions. Phys. Rev. B 24, 3276–3294 (1981).

Zuloaga, J. & Nordlander, P. On the energy shift between near-field and far-field peak intensities in localized plasmon systems. Nano Lett. 11, 1280–1283 (2011).

Schull, G., Néel, N., Johansson, P. & Berndt, R. Electron–plasmon and electron–electron interactions at a single atom contact. Phys. Rev. Lett. 102, 057401 (2009).

Gallagher, M. J., Howells, S., Yi, L., Chen, T. & Sarid, D. Photon emission from gold surfaces in air using scanning tunneling microscopy. Surf. Sci. 278, 270–280 (1992).

Biagioni, P., Huang, J. S., Duò, L., Finazzi, M. & Hecht, B. Cross resonant optical antenna. Phys. Rev. Lett. 102, 256801 (2009).

Moth-Poulsen, K. & Bjørnholm, T. Molecular electronics with single molecules in solid-state devices. Nature Nanotechnol. 4, 551–556 (2009).

Xie, F.-Q., Nittler, L., Obermair, C. & Schimmel, T. Gate-controlled atomic quantum switch. Phys. Rev. Lett. 93, 128303 (2004).

Stolz, A. et al. Nonlinear photon-assisted tunneling transport in optical gap antennas. Nano Lett. 14, 2330–2338 (2014).

Große, C. et al. Dynamic control of plasmon generation by an individual quantum system. Nano Lett. 14, 5693–5697 (2014).

Yuan, Z. et al. Electrically driven single-photon source. Science 295, 102–105 (2002).

Fulga, I. C., Hassler, F. & Beenakker, C. W. J. Nonzero temperature effects on antibunched photons emitted by a quantum point contact out of equilibrium. Phys. Rev. B 81, 115331 (2010).

Lykkebo, J., Gagliardi, A., Pecchia, A. & Solomon, G. C. strong overtones modes in inelastic electron tunneling spectroscopy with cross-conjugated molecules: a prediction from theory. ACS Nano 7, 9183–9194 (2013).

Schneider, N. L., Lü, J. T., Brandbyge, M. & Berndt, R. Light emission probing quantum shot noise and charge fluctuations at a biased molecular junction. Phys. Rev. Lett. 109, 186601 (2012).

Wu, X., Kullock, R., Krauss, E. & Hecht, B. Single-crystalline gold microplates grown on substrates by solution-phase synthesis. Cryst. Res. Technol. 50, 595–602 (2015).
Acknowledgements
We thank S. Großmann for experimental support as well as A. Baratoff and R. Berndt for insightful discussions. The VW-Foundation (Grant I/84036) and the German Research Foundation (HE 5618/4-1) are acknowledged for financial support.
Ethics declarations
Competing interests
The authors declare no competing financial interests.
Supplementary information
About this article
Cite this article
Kern, J., Kullock, R., Prangsma, J. et al. Electrically driven optical antennas. Nature Photon 9, 582–586 (2015). https://doi.org/10.1038/nphoton.2015.141
Received:

Accepted:

Published:

Issue Date:

DOI: https://doi.org/10.1038/nphoton.2015.141