Abstract
The generation of high-order harmonics1 and attosecond pulses2 at ultrahigh repetition rates (>1 MHz) promises to revolutionize ultrafast spectroscopy. Such vacuum ultraviolet (VUV) and soft X-ray sources could potentially be driven directly by plasmonic enhancement of laser pulses from a femtosecond oscillator3,4, but recent experiments suggest that the VUV signal is actually dominated by incoherent atomic line emission5,6. Here, we demonstrate a new regime of phase-matched below-threshold harmonic generation, for which the generation and phase matching is enabled only near resonance structures of the atomic target. The coherent VUV line emission exhibits low divergence and quadratic growth with increasing target density up to nearly 1,000 torr mm and can be controlled by the sub-cycle field of a few-cycle driving laser with an intensity of only ∼1 × 1013 W cm−2, which is achievable directly from few-cycle femtosecond oscillators with nanojoule energy7.
Your institute does not have access to this article
Relevant articles
Open Access articles citing this article.
Hongbin Lei

,

Jinping Yao

…

Zengxiu Zhao

Nature Communications Open Access 14 July 2022

John Heslar

&

Shih-I. Chu

Scientific Reports Open Access 24 November 2016

Rajendran Rajeev

,

Johannes Hellwagner

…

Hans Jakob Wörner

Light: Science & Applications Open Access 03 June 2016
Access options
Subscribe to Journal
Get full journal access for 1 year
$99.00
only $8.25 per issue
All prices are NET prices.
VAT will be added later in the checkout.
Tax calculation will be finalised during checkout.
Buy article
Get time limited or full article access on ReadCube.
$32.00
All prices are NET prices.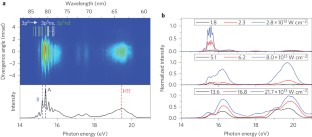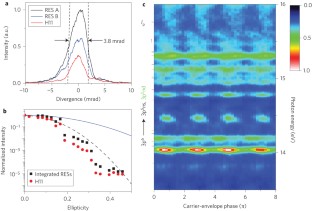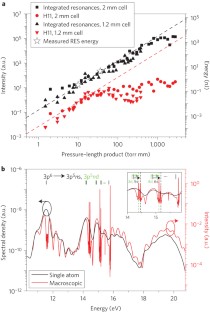 References
Yost, D. C. et al. Vacuum-ultraviolet frequency combs from below-threshold harmonics. Nature Phys. 5, 815–820 (2009).

Krebs, M. et al. Towards isolated attosecond pulses at megahertz repetition rates. Nature Photon. 7, 555–559 (2013).

Kim, S. et al. High-harmonic generation by resonant plasmon field enhancement. Nature 453, 757–760 (2008).

Park, I.-Y. et al. Plasmonic generation of ultrashort extreme-ultraviolet light pulses. Nature Photon. 5, 677–681 (2011).

Sivis, M., Duwe, M., Abel, B. & Ropers, C. Extreme-ultraviolet light generation in plasmonic nanostructures. Nature Phys. 9, 304–309 (2013).

Sivis, M. & Ropers, C. Generation and bistability of a waveguide nanoplasma observed by enhanced extreme-ultraviolet fluorescence. Phys. Rev. Lett. 111, 085001 (2013).

Miranda, M. N., Oliveira, P. B., Bernardo, L. M., Kartner, F. X. & Crespo, H. M. Space–time focusing of phase-stabilized nanojoule-level 2.5-cycle pulses to peak intensities >3×1013 W/cm2 at 80 MHz. CLEO Europe http://dx.doi.org/10.1109/CLEOE-EQEC.2009.5196426 (2009).

Rohwer, T. et al. Collapse of long-range charge order tracked by time-resolved photoemission at high momenta. Nature 471, 490–493 (2011).

Chini, M. et al. Sub-cycle oscillations in virtual states brought to light. Sci. Rep. 3, 1105 (2013).

Tao, H. et al. Ultrafast internal conversion in ethylene. I. The excited state lifetime. J. Chem. Phys. 134, 244306 (2011).

Corkum, P. B. Plasma perspective on strong field multiphoton ionization. Phys. Rev. Lett. 71, 1994–1997 (1993).

Power, E. P. et al. XFROG phase measurement of threshold harmonics in a Keldysh-scaled system. Nature Photon. 4, 352–356 (2010).

Hostetter, J. A., Tate, J. L., Schafer, K. J. & Gaarde, M. B. Semiclassical approaches to below-threshold harmonics. Phys. Rev. A 82, 023401 (2010).

Toma, E. S., Antoine, Ph., de Bohan, A. & Muller, H. G. Resonance-enhanced high-harmonic generation. J. Phys. B 32, 5843–5852 (1999).

Wang, X., Chini, M., Cheng, Y., Wu, Y. & Chang, Z. In situ calibration of an extreme ultraviolet spectrometer for attosecond transient absorption experiments. Appl. Opt. 52, 323–329 (2013).

Mevel, E. et al. Atoms in strong optical fields: evolution from multiphoton to tunnel ionization. Phys. Rev. Lett. 70, 406–409 (1993).

Sola, I. J. et al. Controlling attosecond electron dynamics by phase-stabilized polarization gating. Nature Phys. 2, 319–322 (2006).

Burnett, N. H., Kan, C. & Corkum, P. B. Ellipticity and polarization effects in harmonic generation in ionizing neon. Phys. Rev. A 51, R3418 (1995).

Mashiko, H. et al. Double optical gating of high-order harmonic generation with carrier-envelope phase stabilized lasers. Phys. Rev. Lett. 100, 103906 (2008).

Gaarde, M. B., Tate, J. L. & Schafer, K. J. Macroscopic aspects of attosecond pulse generation. J. Phys. B 41, 132001 (2008).

Constant, E. et al. Optimizing high harmonic generation in absorbing gases: model and experiment. Phys. Rev. Lett. 82, 1668–1671 (1999).

Kung, A. H., Young, J. F. & Harris, S. E. Generation of 1182-Å radiation in phase-matched mixtures of inert gases. Appl. Phys. Lett. 22, 301–302 (1973).

Mahon, R., McIlrath, T. J., Myerscough, V. P. & Koopman, D. W. Third-harmonic generation in argon, krypton, and xenon: bandwidth limitations in the vicinity of Lyman-α. IEEE J. Quantum Electron. 15, 444–451 (1979).

Hellmann, S., Rossnagel, K., Marczynski-Bühlow, M. & Kipp, L. Vacuum space–charge effects in solid-state photoemission. Phys. Rev. B 79, 035402 (2009).

Sandberg, R. L. et al. Lensless diffractive imaging using tabletop coherent high-harmonic soft-X-ray beams. Phys. Rev. Lett. 99, 098103 (2007).

Khan, S. D. et al. Ellipticity dependence of 400 nm-driven high harmonic generation. Appl. Phys. Lett. 99, 161106 (2011).

Budil, K. S., Saliéres, P., L'Huillier, A., Ditmire, T. & Perry, M. D. Influence of ellipticity on harmonic generation. Phys. Rev. A 48, R3437 (1993).

Tong, X.-M. & Chu, S.-I. Time-dependent density-functional theory for strong-field multiphoton processes: application to the study of the role of dynamical electron correlation in multiple high-order harmonic generation. Phys. Rev. A 57, 452–461 (1998).

Telnov, D. A., Sosnova, K. E., Rozenbaum, E. & Chu, S.-I. Exterior complex scaling method in time-dependent density-functional theory: multiphoton ionization and high-order harmonic generation of Ar atoms. Phys. Rev. A 87, 053406 (2013).

Chu, S.-I. Recent development of self-interaction-free time-dependent density-functional theory for nonperturbative treatment of atomic and molecular multiphoton processes in intense laser fields. J. Chem. Phys. 123, 062207 (2005).
Acknowledgements
This work was funded by the Defense Advanced Research Projects Agency (DARPA) program in ultrafast laser science and engineering (PULSE) programme through a grant from Aviation and Missile Research, Development, and Engineering Center (AMRDEC), by the US Army Research Office (grant no. W911 NF-12-1-0456), and by the National Science Foundation (grant no. 106860). D.A.T. and S.-I.C. were partially supported by the US Department of Energy. P.-C.L., J.H. and S.-I.C. would also like to acknowledge the partial support of the National Science Council of Taiwan and National Taiwan University (grants nos 103R104021 and 103R8700-2).
Ethics declarations
Competing interests
The authors declare no competing financial interests.
Supplementary information
About this article
Cite this article
Chini, M., Wang, X., Cheng, Y. et al. Coherent phase-matched VUV generation by field-controlled bound states. Nature Photon 8, 437–441 (2014). https://doi.org/10.1038/nphoton.2014.83
Received:

Accepted:

Published:

Issue Date:

DOI: https://doi.org/10.1038/nphoton.2014.83