Nonlinear effects are vital to research directions like all-optical signal processing and subwavelength imaging. Now, Shi-Wei Chu and a team from the National Taiwan University and Osaka University have shown that single metallic nanoparticles exhibit not only saturation of scattering, but also reverse saturation (ACS Photon. http://dx.doi.org/10.1021/ph4000218; 2013).
The team conducted wavelength- and intensity-dependent experiments that revealed that the nonlinear response of surface plasmon resonance scattering shares physical origins with conventional nonlinear absorption processes. To confirm the reversibility and repeatability of the saturable and reverse saturable scattering, the researchers repeatedly excited the same set of particles. One of the main reasons why they succeeded in this attempt was because they sought to observe saturation and reverse saturation in single particles, rather than in larger ensembles.
A reflection confocal laser-scanning microscope and four continuous-wave lasers operating at wavelengths of 405, 532, 561 and 671 nm were used to visualize the scattering from isolated gold nanoparticles (see image; scale bar is 100 nm; three particles are isolated). A ×60 oil-immersion objective with a numerical aperture of 1.42 was used for both excitation and collection, and a photomultiplier tube was used to amplify the detected signal. At different laser intensities (left to right in the image: 2 × 105, 1.1 × 106, 1.4 × 106, 1.9 × 106 and 2.5 × 106 W cm−2), the point-spread functions indicate saturation (doughnut-shaped profile) and reverse saturation (the emergence of a central peak in the profile) of scattering.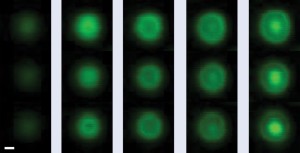 Chu told Nature Photonics, "In the regime of reverse saturation of scattering, the point-spread function of a single particle exhibits an interesting shape, where the full-width at half-maximum of the central and side lobes reduced to λ/5 and λ/13 (λ is the wavelength), respectively, showing the potential for high-resolution microscopy."
One advantage over fluorescence is that the scattering does not bleach. Thus, the scattering effect could be useful for long-term microscopy observations. Chu also explained that their observation of scattering saturation and reverse saturation on a single particle demonstrates that the mechanism of reverse saturation of absorption is enhanced scattering from individual particles, rather than photodegradation or transient absorption.
The team says they can now extract the saturated component of scattering in the focal spot to enhance the resolution of optical microscopy. In the future, they hope to exploit the nonlinearity of scattering for realizing all-optical signal processing on a nanometre scale and for imaging biological tissues and plasmonic circuits.
About this article
Cite this article
Pile, D. Saturable plasmon scattering. Nature Photon 8, 92 (2014). https://doi.org/10.1038/nphoton.2014.7
Published:

Issue Date:

DOI: https://doi.org/10.1038/nphoton.2014.7