Abstract
Seeding soft-X-ray plasma amplifiers with high harmonics has been demonstrated to generate high-brightness soft-X-ray laser pulses with full spatial and temporal coherence1,2,3. The interaction between the injected coherent field and the swept-gain medium has been modelled4,5. However, no experiment has been conducted to probe the gain dynamics when perturbed by a strong external seed field. Here, we report the first X-ray pump–X-ray probe measurement of the nonlinear response of a plasma amplifier perturbed by a strong soft-X-ray ultra-short pulse. We injected a sequence of two time-delayed high-harmonic pulses (λ = 18.9 nm) into a collisionally excited nickel-like molybdenum plasma to measure with femtosecond resolution the gain depletion induced by the saturated amplification of the high-harmonic pump and its subsequent recovery. The measured fast gain recovery in 1.5–1.75 ps confirms the possibility to generate ultra-intense, fully phase-coherent soft-X-ray lasers by chirped pulse amplification in plasma amplifiers6.
Your institute does not have access to this article
Access options
Subscribe to Journal
Get full journal access for 1 year
$99.00
only $8.25 per issue
All prices are NET prices.
VAT will be added later in the checkout.
Tax calculation will be finalised during checkout.
Buy article
Get time limited or full article access on ReadCube.
$32.00
All prices are NET prices.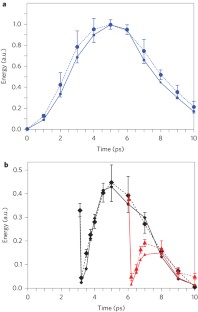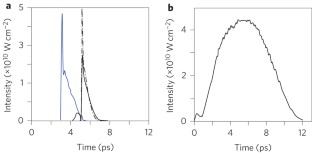 References
Zeitoun, Ph. et al. A high-intensity highly coherent soft X-ray femtosecond laser seeded by a high harmonic beam. Nature 431, 426–429 (2004).

Wang, Y. et al. High-brightness injection-seeded soft-X-ray-laser amplifier using a solid target. Phys. Rev. Lett. 97, 123901 (2006).

Wang, Y. et al. Phase-coherent, injection-seeded, table-top soft-X-ray lasers at 18.9 nm and 13.9 nm. Nature Photon. 2, 94–98 (2008).

Al'miev, I. R. et al. Dynamical description of transient X-ray lasers seeded with high-order harmonic radiation through Maxwell–Bloch numerical simulations. Phys. Rev. Lett. 99, 123902 (2007).

Kim, C. M., Lee, J. & Janulewicz, K. A. Coherent amplification of an ultrashort pulse in high and swept gain medium with level degeneracy. Phys. Rev. Lett. 104, 053901 (2010).

Oliva, E. et al. A proposal for multi-tens of GW fully coherent femtosecond soft X-ray lasers. Nature Photon. 6, 764–767 (2012).

Ackermann, W. et al. Operation of a free-electron laser from the extreme ultraviolet to the water window. Nature Photon. 1, 336–342 (2007).

McNeil, B. W. J. & Thompson, N. R. X-ray free-electron lasers. Nature Photon. 4, 814–821 (2010).

Wang, Y. et al. Demonstration of high-repetition-rate tabletop soft-X-ray lasers with saturated output at wavelengths down to 13.9 nm and gain down to 10.9 nm. Phys. Rev. A 72, 053807 (2005).

Mocek, T. et al. Dramatic enhancement of XUV laser output using a multimode gas-filled capillary waveguide. Phys. Rev. A 71, 013804 (2005).

Cassou, K. et al. Optimization toward a high-average-brightness soft-X-ray laser pumped at grazing incidence. Opt. Lett. 32, 139–141 (2007).

Kim, H. T. et al. Demonstration of a saturated Ni-like Ag X-ray laser pumped by a single profiled laser pulse from a 10-Hz Ti:sapphire laser system. Phys. Rev. A 77, 023807 (2008).

Nishikino, M. et al. Characterization of a high brilliance soft X-ray laser at 13.9 nm by use of an oscillator–amplifier configuration. Appl. Opt. 47, 1129–1134 (2008).

Grünig, M., Imesch, C., Staub, F. & Balmer, J. E. Saturated X-ray lasing in Ni-like Sn at 11.9 nm using the GRIP scheme. Opt. Commun. 282, 267–271 (2009).

Alessi, D. et al. Efficient excitation of gain-saturated sub-9 nm wavelength tabletop soft-X-ray lasers and lasing down to 7.36 nm. Phys. Rev. X 1, 021023 10.1103/PhysRevX.1.021023(2011).

Reagan, B. A. et al. Demonstration of a 100 Hz repetition rate gain-saturated diode-pumped table-top soft X-ray laser. Opt. Lett. 37, 3624–3626 (2012).

Popmintchev, T., Chen, M.-C., Arpin, P., Murnane, M. M. & Kapteyn, H. C. The attosecond nonlinear optics of bright coherent X-ray generation. Nature Photon. 4, 822–832 (2010).

Takashi, E. J., Kanai, T., Ishikawa, K. L., Nabekawa, Y. & Midorikawa, K. Dramatic enhancement of high-order harmonic generation. Phys. Rev. Lett. 99, 053904 (2007).

Dromey, B. et al. High harmonic generation in the relativistic limit. Nature Phys. 2, 456–459 (2006).

Rus, B. et al. Multimillijoule, highly coherent X-ray laser at 21 nm operating in deep saturation through double-pass amplification. Phys. Rev. A 66, 063806 (2002).

Strickland, D. & Mourou, G. Compression of amplified chirped optical pulses. Opt. Commun. 56, 447–449 (1985).

Oliva, E. et al. Soft X-ray plasma-based seeded multistage amplification chain. Opt. Lett. 37, 4341–4343 (2012).

Wang, Y. et al. Measurement of 1-ps soft-X-ray laser pulses from an injection-seeded plasma amplifier. Phys. Rev. A 79, 023810 (2009).

Sureau, A. & Holden, P. B. From amplification of spontaneous emission to saturation in X-ray lasers: a Maxwell–Bloch treatment. Phys. Rev. A 52, 3110–3125 (1995).

Tallents, G. J. The physics of soft X-ray lasers pumped by electron collisions in laser plasmas. J. Phys. D 36, R259–R276 (2003).

Luther, B. M. et al. Saturated high-repetition-rate 18.9-nm tabletop laser in nickellike molybdenum. Opt. Lett. 30, 165–167 (2005).

Keenan, R. et al. High-repetition-rate grazing-incidence pumped X-ray laser operating at 18.9 nm. Phys. Rev. Lett. 94, 103901 (2005).

Oliva, E. et al. Comparison of natural and forced amplification regimes in plasma-based soft-X-ray lasers seeded by high-order harmonics. Phys. Rev. A 84, 013811 (2011).

Larroche, O. et al. Maxwell–Bloch modeling of X-ray-laser-signal buildup in single- and double-pass configurations. Phys. Rev. A 62, 043815 (2000).
Acknowledgements
The authors thank M. Fajardo and S. Sebban for discussions. This work was supported by the AMOS programme of the Office of Basic Energy Sciences, US Department of Energy, using equipment developed at the NSF ERC for Extreme Ultraviolet Science and Technology (NSF award MRI-ARRA 09-561) and by the LASERLAB3-INREX European project and SHYLAX plus CIBOR RTRA 'Triangle de la Physique' programmes.
Ethics declarations
Competing interests
The authors declare no competing financial interests.
Supplementary information
About this article
Cite this article
Wang, Y., Wang, S., Oliva, E. et al. Gain dynamics in a soft-X-ray laser amplifier perturbed by a strong injected X-ray field. Nature Photon 8, 381–384 (2014). https://doi.org/10.1038/nphoton.2014.79
Received:

Accepted:

Published:

Issue Date:

DOI: https://doi.org/10.1038/nphoton.2014.79
Further reading
Masaharu Nishikino
Tetsuya Kawachi

Nature Photonics (2014)