Elegant experiments performed with X-rays and a double slit formed from molecular oxygen have finally made it possible to realize and test a long-standing and famous gedanken experiment in quantum mechanics.
Access options
Subscribe to Journal
Get full journal access for 1 year
$99.00
only $8.25 per issue
All prices are NET prices.
VAT will be added later in the checkout.
Tax calculation will be finalised during checkout.
Buy article
Get time limited or full article access on ReadCube.
$32.00
All prices are NET prices.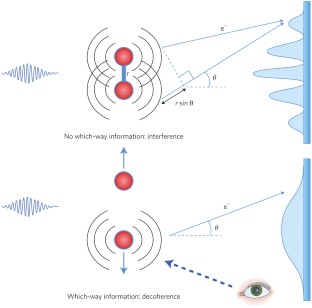 References
Feynman, R. P., Leighton R. B. & Sands, M. in Feynman Lectures on Physics Volume 3: Quantum Mechanics (Basic Books, 2011).

Bohr, N. in Quantum Theory and Measurement (eds Wheeler, J. A. & Zurek, W. H.) 9–49 (Princeton Univ. Press, 1983).

Liu, X-J. et al. Nature Photon. 9, 120–125 (2015).

Stolterfoht, N. et al. Phys. Rev. Lett. 87, 023201 (2001).

Rolles, D. et al. Nature 437, 711–715 (2005).

Fernández, J., Fojón, O., Palacios, A. & Martín, F. Phys. Rev. Lett. 98, 043005 (2007).

Cohen, H. D. & Fano, U. Phys. Rev. 150, 30–33 (1966).

Canton, S. E. et al. Proc. Natl Acad. Sci. USA 108, 7302–7306 (2011).

Argenti, L. et al. New J. Phys. 14, 033012 (2012).

Akoury, D. et al. Science 318, 949–952 (2007).
About this article
Cite this article
Martín, F. Thought experiments made real. Nature Photon 9, 76–77 (2015). https://doi.org/10.1038/nphoton.2014.325
Published:

Issue Date:

DOI: https://doi.org/10.1038/nphoton.2014.325