Abstract
High-speed photography1,2,3 is a powerful tool for studying fast dynamics in photochemistry4,5, spintronics6,7, phononics8,9, fluidics10,11 and plasma physics12. Currently, the pump–probe method is the gold standard for time-resolved imaging4,5,6,8,12,13,14,15,16,17, but it requires repetitive measurements for image construction and therefore falls short in probing non-repetitive or difficult-to-reproduce events. Here, we present a motion-picture camera that performs single-shot burst image acquisition without the need for repetitive measurements, yet with equally short frame intervals (4.4 trillion frames per second) and high pixel resolution (450 × 450 pixels). The principle of this method—'motion picture femtophotography'—is all-optical mapping of the target's time-varying spatial profile onto a burst stream of sequentially timed photographs with spatial and temporal dispersion. To show the camera's broad utility we use it to capture plasma dynamics and lattice vibrational waves, both of which were previously difficult to observe with conventional methods in a single shot and in real time.
Access options
Subscribe to Journal
Get full journal access for 1 year
$59.00
only $4.92 per issue
All prices are NET prices.
VAT will be added later in the checkout.
Tax calculation will be finalised during checkout.
Rent or Buy article
Get time limited or full article access on ReadCube.
from$8.99
All prices are NET prices.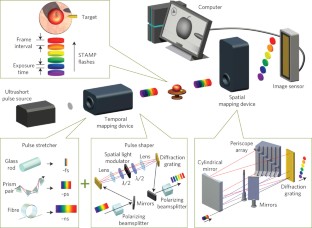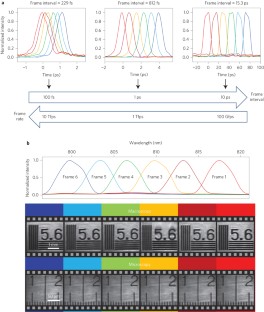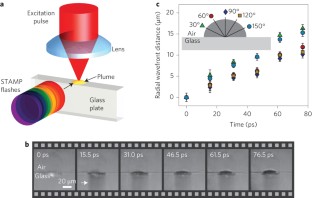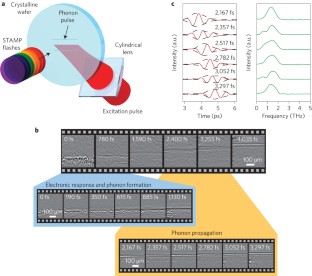 References
1

Edgerton, H. E. & Killian, J. R. Flash!: Seeing the Unseen by Ultra High-Speed Photography (Hale, Cushman & Flint, 1939).

2

Jussim, E., Kayafas, G. & Edgerton, H. Stopping Time: The Photographs of Harold Edgerton (Harry N. Abrams, 1987).

3

Ray, S. F. High Speed Photography and Photonics (SPIE Press, 2002).

4

Hockett, P., Bisgaard, C. Z., Clarkin, O. J. & Stolow, A. Time-resolved imaging of purely valence-electron dynamics during a chemical reaction. Nature Phys. 7, 612–615 (2011).

5

Wong, C. Y. et al. Electronic coherence lineshapes reveal hidden excitonic correlations in photosynthetic light harvesting. Nature Chem. 4, 396–404 (2012).

6

Acremann, Y. et al. Imaging precessional motion of the magnetization vector. Science 290, 492–495 (2000).

7

Radu, I. et al. Transient ferromagnetic-like state mediating ultrafast reversal of antiferromagnetically coupled spins. Nature 472, 205–208 (2011).

8

Feurer, T., Vaughan, J. C. & Nelson, K. A. Spatiotemporal coherent control of lattice vibrational waves. Science 299, 374–377 (2003).

9

Maldovan, M. Sound and heat revolutions in phononics. Nature 503, 209–217 (2013).

10

Goda, K. et al. High-throughput single-microparticle imaging flow analyzer. Proc. Natl Acad. Sci. USA 109, 11630–11635 (2012).

11

Okie, S. Traumatic brain injury in the war zone. N. Engl. J. Med. 352, 2043–2047 (2005).

12

Kodama, R. et al. Fast heating of ultrahigh-density plasma as a step towards laser fusion ignition. Nature 412, 798–802 (2001).

13

Velten, A. et al. Recovering three-dimensional shape around a corner using ultrafast time-of-flight imaging. Nature Commun. 3, 745 (2012).

14

Zewail, A. H. Laser femtochemistry. Science 242, 1645–1653 (1988).

15

Hajdu, J. et al. Analyzing protein functions in four dimensions. Nature Struct. Biol. 7, 1006–1012 (2000).

16

Zewail, A. H. Four-dimensional electron microscopy. Science 328, 187–193 (2010).

17

Barty, A. et al. Ultrafast single-shot diffraction imaging of nanoscale dynamics. Nature Photon. 2, 415–419 (2008).

18

Goda, K., Tsia, K. K. & Jalali, B. Serial time-encoded amplified imaging for real-time observation of fast dynamic phenomena. Nature 458, 1145–1149 (2009).

19

Diebold, E. D., Buckley, B. W., Gossett, D. R. & Jalali, B. Digitally synthesized beat frequency multiplexing for sub-millisecond fluorescence microscopy. Nature Photon. 7, 806–810 (2013).

20

Versluis, M. High-speed imaging in fluids. Exp. Fluids 54, 1458 (2013).

21

Matlis, N. H. et al. Snapshots of laser wakefields. Nature Phys. 2, 749–753 (2006).

22

Frühling, U. et al. Single-shot terahertz-field-driven X-ray streak camera. Nature Photon. 3, 523–528 (2009).

23

Ji, N., Magee, J. C. & Betzig, E. High-speed, low-photodamage nonlinear imaging using passive pulse splitters. Nature Methods 5, 197–202 (2008).

24

Gattass, R. R. & Mazur, E. Femtosecond laser micromachining in transparent materials. Nature Photon. 2, 219–225 (2008).

25

Zou, Y. et al. Developmental decline in neuronal regeneration by the progressive change of two intrinsic timers. Science 340, 372–376 (2013).

26

Bargheer, M. et al. Coherent atomic motions in a nanostructure studied by femtosecond X-ray diffraction. Science 306, 1771–1773 (2004).

27

Clark, J. N. et al. Ultrafast three-dimensional imaging of lattice dynamics in individual gold nanocrystals. Science 341, 56–59 (2013).

28

Minami, Y., Hayashi, Y., Takeda, J. & Katayama, I. Single-shot measurement of a terahertz electric-field waveform using a reflective echelon mirror. Appl. Phys. Lett. 103, 051103 (2013).

29

Feurer, T. et al. Terahertz polaritonics. Annu. Rev. Mater. Sci. 37, 317–350 (2007).

30

Agrawal, G. P. Nonlinear Fiber Optics (Academic, 2007).
Acknowledgements
The authors thank M. Kaneda, M. Kitajima, T. Suzuki, M. Katsuragawa, K. Minoshima and K. Yoshii for discussions and E. Okada for assisting with experiments. This work was supported in part by the Translational Systems Biology and Medicine Initiative from the Ministry of Education, Culture, Sports, Science and Technology (MEXT), Japan. K.N. was partly supported by a Grant-in-Aid from the Japan Society for the Promotion of Science (JSPS) Fellows. A.I. was partly supported by the Photon Frontier Network Program of MEXT. K.G. was partly supported by the Burroughs Wellcome Foundation.
Ethics declarations
Competing interests
The authors declare no competing financial interests.
Supplementary information
About this article
Cite this article
Nakagawa, K., Iwasaki, A., Oishi, Y. et al. Sequentially timed all-optical mapping photography (STAMP). Nature Photon 8, 695–700 (2014). https://doi.org/10.1038/nphoton.2014.163
Received:

Accepted:

Published:

Issue Date: