The development of hydrogel patches that both guide light and accommodate optogenetic cells could usher in a new breed of implantable systems for in-body optical sensing and therapy.
Access options
Subscribe to Journal
Get full journal access for 1 year
$187.00
only $15.58 per issue
All prices are NET prices.
VAT will be added later in the checkout.
Rent or Buy article
Get time limited or full article access on ReadCube.
from$8.99
All prices are NET prices.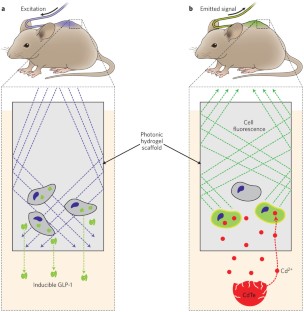 References
1

Bremer, C., Ntziachristos, V. & Weissleder, R. Eur. Radiol. 13, 231–243 (2003).

2

Cheong, W.-F., Prahl, S. A. & Welch, A. J. IEEE J. Quantum Electron. 26, 2166–2185 (1990).

3

Tromberg, B. J. et al. Neoplasia 2, 26–40 (2000).

4

Hilderbrand, S. A. & Weissleder, R. Curr. Opin. Chem. Biol. 14, 71–79 (2010).

5

Rizzo, M. A., Davidson, M. W. & Piston, D. W. Cold Spring Harbor Protocols 2009, pdb.top63 (2009).

6

Choi, M. et al. Nature Photon. http://dx.doi.org/10.1038/nphoton.2013.278 (2013).

7

Tsoi, K. M., Dai, Q, Alman, B. A. & Chan, W. C. W. Acc. Chem. Res. 46, 662–671 (2012).

8

Weber, W. & Fussenegger, M. Nature Rev. Genet. 13, 21–35 (2012).
About this article
Cite this article
Sykes, E., Albanese, A. & Chan, W. Implantable waveguides. Nature Photon 7, 940–941 (2013) doi:10.1038/nphoton.2013.308