Abstract
The evolution of bosons undergoing arbitrary linear unitary transformations quickly becomes hard to predict using classical computers as we increase the number of particles and modes. Photons propagating in a multiport interferometer naturally solve this so-called boson sampling problem1, thereby motivating the development of technologies that enable precise control of multiphoton interference in large interferometers2,3,4. Here, we use novel three-dimensional manufacturing techniques to achieve simultaneous control of all the parameters describing an arbitrary interferometer. We implement a small instance of the boson sampling problem by studying three-photon interference in a five-mode integrated interferometer, confirming the quantum-mechanical predictions. Scaled-up versions of this set-up are a promising way to demonstrate the computational advantage of quantum systems over classical computers. The possibility of implementing arbitrary linear-optical interferometers may also find applications in high-precision measurements and quantum communication5.
Relevant articles
Open Access articles citing this article.
Francesco Hoch

,

Simone Piacentini

…

Roberto Osellame

npj Quantum Information Open Access 12 May 2022

Davide Nigro

,

Vincenzo D'Ambrosio

…

Dario Gerace

Communications Physics Open Access 03 February 2022

Mrinal Kanti Giri

,

Suman Mondal

…

Tapan Mishra

Scientific Reports Open Access 11 November 2021
Access options
Subscribe to Journal
Get full journal access for 1 year
$99.00
only $8.25 per issue
All prices are NET prices.
VAT will be added later in the checkout.
Tax calculation will be finalised during checkout.
Buy article
Get time limited or full article access on ReadCube.
$32.00
All prices are NET prices.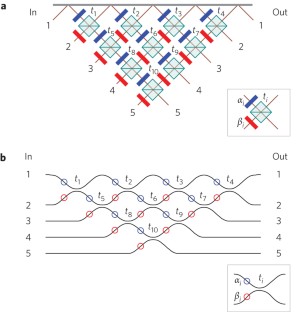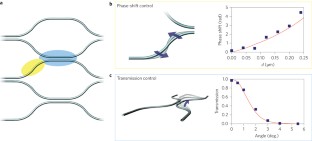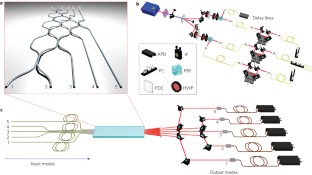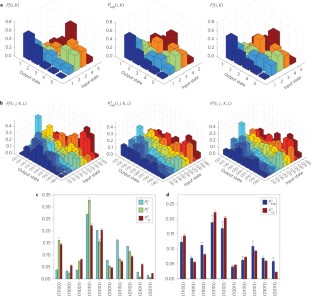 References
Aaronson, S. & Arkhipov, A. in Proceedings of the 43rd Annual ACM Symposium on Theory of Computing 333–342 (ACM Press, 2011).

Politi, A., Matthews, J. C. F. & O'Brien, J. L. Shor's quantum factoring algorithm on a photonic chip. Science 325, 1221 (2009).

Peruzzo, A. et al. Quantum walks of correlated photons. Science 17, 1500–1503 (2010).

Sansoni, L. et al. Two-particle bosonic–fermionic quantum walk via integrated photonics. Phys. Rev. Lett. 108, 010502 (2012).

O'Brien, J. L., Furusawa, A. & Vuckovic, J. Photonic quantum technologies. Nature Photon. 3, 687–695 (2009).

Shor, P. W. Polynomial-time algorithms for prime factorization and discrete logarithms on a quantum computer. SIAM J. Comput. 26, 1484–1509 (1997).

Ladd, T. D. et al. Quantum computers. Nature 264, 45–53 (2010).

Knill, E., Laflamme, R. & Milburn, G. J. A scheme for efficient quantum computation with linear optics. Nature 409, 46–52 (2001).

Kok, P. et al. Linear optical quantum computing with photonic qubits. Rev. Mod. Phys. 79, 135–174 (2007).

Valiant, L. G. The complexity of computing the permanent. Theor. Comput. Sci. 8, 189–201 (1979).

Matthews, J. C. F., Politi, A., Stefanov, A. & O'Brien, J. L. Manipulation of multiphoton entanglement in waveguide quantum circuits. Nature Photon. 3, 346–350 (2009).

Smith, B. J., Kundys, D., Thomas-Peter, N., Smith, P. G. R. & Walmsley, I. A. Phase-controlled integrated photonic quantum circuits. Opt. Express 17, 13516–13525 (2009).

Crespi, A. et al. Integrated photonics quantum gates for polarization qubits. Nature Commun. 2, 566 (2011).

Reck, M., Zeilinger, A., Bernstein, H. J. & Bertani, P. Experimental realization of any discrete unitary operator. Phys. Rev. Lett. 73, 58–61 (1994).

Meany, T. et al. Non-classical interference in integrated 3D multiports. Opt. Express 20, 26895–26905 (2012).

Spagnolo, N. et al. Three-photon bosonic coalescence in an integrated tritter. Nature Commun. 4, 1606 (2012).

Gattass, R. R. & Mazur, E. Femtosecond laser micromachining in transparent materials. Nature Photon. 2, 219–225 (2008).

Della Valle, G., Osellame, R. & Laporta, P. Micromachining of photonic devices by femtosecond laser pulses. J. Opt. A 11, 013001 (2009).

Szameit, A., Dreisow, F., Pertsch, T., Nolte, S. & Tünnermann, A. Control of directional evanescent coupling in fs laser written waveguides. Opt. Express 15, 1579–1587 (2007).

Rohde, P. P. & Ralph, T. C. Error tolerance of the boson-sampling model for linear optics quantum computing. Phys. Rev. A 85, 022332 (2012).

Laing, A. & O'Brien, J. L. Super-stable tomography of any linear optical device. Preprint at http://lanl.arxiv.org/abs/1208.2868v1 (2012).

Patel, R. B. et al. Two-photon interference of the emission from electrically tunable remote quantum dots. Nature Photon. 4, 632–635 (2010).

Divochiy, A. et al. Superconducting nanowire photon number resolving detector at telecom wavelength. Nature Photon. 2, 302–306 (2008).

Durt, T., Englert, B.-G., Bengtsson, I. & Życzkowski, K. On mutually unbiased bases. Int. J. Quant. Inf., 8, 535–640 (2010).

Broome, M. A. et al. Photonic boson sampling in a tunable circuit. Science 339, 794–798 (2013).

Spring, J. B. et al. Boson sampling on a photonic chip. Science 339, 798–801 (2013).

Tillmann, M. et al. Experimental boson sampling. Nature Photon. http://dx.doi.org/10.1038/nphoton.2013.102.

Troyansky, L. & Tishby, N. in Proceedings of Physics and Computation (PhysComp 96) 314–318 (New England Complex Systems Institute, 1996).

Scheel, S. Permanents in linear optical networks. Preprint at http://lanl.arxiv.org/abs/quant-ph/0406127v1 (2004).

Kwiat, P., Mattle, K., Weinfurter, H. & Zeilinger, A. New high-intensity source of polarization-entangled photon pairs. Phys. Rev. Lett. 75, 4337–4341 (1995).
Acknowledgements
This work was supported by the ERC-Starting Grant 3D-QUEST (3D-Quantum Integrated Optical Simulation; grant agreement no. 307783): http://www.3dquest.eu. D.B. and E.G. acknowledge support from the Brazilian National Institute for Science and Technology of Quantum Information (INCT-IQ/CNPq). The authors acknowledge support from G. Milani in assessing the data acquisition system.
Ethics declarations
Competing interests
The authors declare no competing financial interests.
Supplementary information
About this article
Cite this article
Crespi, A., Osellame, R., Ramponi, R. et al. Integrated multimode interferometers with arbitrary designs for photonic boson sampling. Nature Photon 7, 545–549 (2013). https://doi.org/10.1038/nphoton.2013.112
Received:

Accepted:

Published:

Issue Date:

DOI: https://doi.org/10.1038/nphoton.2013.112