Abstract
The realization of silicon-based light sources has been the subject of a major research and development effort worldwide. Such sources may help make integrated photonic and electronic circuitry more cost-effective, with higher performance and greater energy efficiency. The hybrid approach, in which silicon is integrated with a III–V gain medium, is an attractive route in the development of silicon lasers because of its potential for high efficiency. Hybrid lasers with good performance have been reported that are fabricated by direct growth or direct wafer-bonding of the gain medium to silicon. Here, we report a membrane reflector surface-emitting laser on silicon that is based on multilayer semiconductor nanomembrane stacking and a stamp-assisted transfer-printing process. The optically pumped laser consists of a transferred III–V InGaAsP quantum-well heterostructure as the gain medium, which is sandwiched between two thin, single-layer silicon photonic-crystal Fano resonance membrane reflectors. We also demonstrate high-finesse single- or multiwavelength vertical laser cavities.
Relevant articles
Open Access articles citing this article.
Ang Li

,

Chunhui Yao

…

Shilong Pan

Light: Science & Applications Open Access 07 June 2022

Zhiyuan Qian

,

Lingxiao Shan

…

Ying Gu

PhotoniX Open Access 16 September 2021

Ang Li

&

Yeshaiahu Fainman

Nature Communications Open Access 11 May 2021
Access options
Subscribe to Journal
Get full journal access for 1 year
$99.00
only $8.25 per issue
All prices are NET prices.
VAT will be added later in the checkout.
Tax calculation will be finalised during checkout.
Buy article
Get time limited or full article access on ReadCube.
$32.00
All prices are NET prices.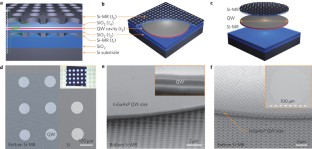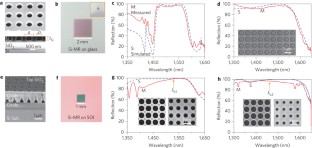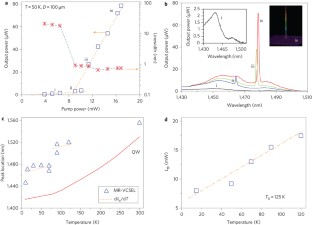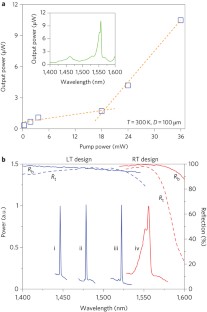 References
Maiman, T. H. Stimulated optical radiation in ruby. Nature 187, 493–494 (1960).

Miller, D. Device requirements for optical interconnects to silicon chips. Proc. IEEE 97, 1166–1185 (2009).

Soref, R. A. The past, present, and future of silicon photonics. IEEE J. Sel. Top. Quantum Electron. 12, 1678–1687 (2006).

Pavesi, L. Will silicon be the photonic material for the third millenium? J. Phys. Condens. Mattter 15, R1169–R1196 (2003).

Liu, J. F., Sun, X. C., Camacho-Aguilera, R., Kimerling, L. C. & Michel, J. Ge-on-Si laser operating at room temperature. Opt. Lett. 35, 679–681 (2010).

Boyraz, O. & Jalali, B. Demonstration of a silicon Raman laser. Opt. Express 12, 5269–5273 (2004).

Rong, H., Liu, A. & Paniccia, M. An all-silicon Raman laser. Nature 433, 292–294 (2005).

Chen, R. et al. Nanolasers grown on silicon. Nature Photon. 5, 170–175 (2011).

Mi, Z., Bhattacharya, P., Yang, J. & Pipe, K. P. Room-temperature self organized In0.5Ga0.5As quantum dot laser on silicon. Electron. Lett 41, 742–744 (2005).

Balakrishnan, G. et al. Room-temperature optically pumped (Al) GaSb vertical-cavity surface-emitting laser monolithically grown on an Si(100) substrate. IEEE J. Sel. Top. Quantum Electron. 12, 1636–1641 (2006).

Bowers, J. E. et al. Design and fabrication of optically pumped hybrid silicon–AlGaInAs evanescent lasers. IEEE J. Sel. Top. Quantum Electron. 12, 1657–1663 (2006).

Van Campenhout, J. et al. Electrically pumped InP-based microdisk lasers integrated with a nanophotonic silicon-on-insulator waveguide circuit. Opt. Express 15, 6744–6749 (2007).

Stankovic, S. et al. 1310 nm hybrid III–V/Si Fabry–Perot laser based on adhesive bonding. IEEE Photon. Technol. Lett. 23, 1781–1783 (2011).

Sciancalepore, C. in 8th IEEE International Conference on Group IV Photonics (GFP) 205–207 (IEEE, 2011).

Bakir, B. B. et al. Surface-emitting microlaser combining two-dimensional photonic crystal membrane and vertical Bragg mirror. Appl. Phys. Lett. 88, 081113 (2006).

Roelkens, G. et al. III–V/silicon photonics for on-chip and intra-chip optical interconnects. Laser Photon. Rev. 4, 751–779 (2010).

Moutanabbir, O. & Gösele, U. Heterogeneous integration of compound semiconductors. Annu. Rev. Mater. Res. 40, 469–500 (2010).

Fan, S. & Joannopoulos, J. D. Analysis of guided resonances in photonic crystal slabs. Phys. Rev. B 65, 235112 (2002).

Lousse, V. et al. Angular and polarization properties of a photonic crystal slab mirror. Opt. Express 12, 1575–1582 (2004).

Mateus, C. F. R., Huang, M. C. Y., Chen, L., Chang-Hasnain, C. J. & Suzuki, Y. Broadband mirror (1.12–1.62 µm) using single-layer sub-wavelength grating. IEEE Photon. Technol. Lett. 16, 1676–1678 (2004).

Boutami, S. et al. Broadband and compact 2-D photonic crystal reflectors with controllable polarization dependence. IEEE Photon. Technol. Lett. 18, 835–837 (2006).

Magnusson, R. & Shokooh-Saremi, M. Physical basis for wideband resonant reflectors. Opt. Express 16, 3456–3462 (2008).

Yang, H. et al. Resonance control of membrane reflectors with effective index engineering. Appl. Phys. Lett. 95, 023110 (2009).

Yang, H. et al. Broadband membrane reflectors on glass. IEEE Photon. Technol. Lett. 24, 476–478 (2012).

Huang, M. C. Y., Zhou, Y. & Chang-Hasnain, C. J. A surface-emitting laser incorporating a high-index-contrast subwavelength grating. Nature Photon. 1, 119–122 (2007).

Boutami, S., Bakir, B., Regreny, P., Leclercq, J. & Viktorovitch, P. Compact 1.55 µm room-temperature optically pumped VCSEL using photonic crystal mirror. Electron. Lett. 43, 282–283 (2007).

Meitl, M. A. et al. Transfer printing by kinetic control of adhesion to an elastomeric stamp. Nature Mater. 5, 33–38 (2006).

Sun, L., Qin, G., Celler, G. K., Zhou, W. & Ma, Z. 12-GHz thin-film transistors with transferrable silicon nanomembranes for high-performance massive flexible electronics (cover story). Small 6, 2553–2557 (2010).

Wilmsen, C. W., Temkin, H. & Coldren, L. A. Vertical-Cavity Surface-Emitting Lasers: Design, Fabrication, Characterization, and Applications Vol. 24 (Cambridge Univ. Press, 2001).

Zhao, D., Ma, Z. & Zhou, W. Field penetrations in photonic crystal Fano reflectors. Opt. Express 18, 14152–14158 (2010).

Yuan, H. C., Ma, Z., Roberts, M. M., Savage, D. E. & Lagally, M. G. High-speed strained-single-crystal-silicon thin-film transistors on flexible polymers. J. Appl. Phys. 100, 013708 (2006).

Zhou, W. et al. Flexible photonic-crystal Fano filters based on transferred semiconductor nanomembranes. J. Phys. D 42, 234007 (2009).

Rogers, J. A., Someya, T. & Huang, Y. Materials and mechanics for stretchable electronics. Science 327, 1603–1607 (2010).

Rogers, J. A., Lagally, M. G. & Nuzzo, R. G. Synthesis, assembly and applications of semiconductor nanomembranes. Nature 477, 45–53 (2011).

Zhang, K., Seo, J. H., Zhou, W. & Ma, Z. Fast flexible electronics using transferrable silicon nanomembranes (topical review). J. Phys. D 45, 143001 (2012).

Rapp, S. et al. All-epitaxial single-fused 1.55 µm vertical cavity laser based on an InP Bragg reflector. Jpn J. Appl. Phys 38, 1261–1264 (1999).
Acknowledgements
This work was supported by US AFOSR STTR programmes FA9550-09-C-0200 and FA9550-11-C-0026 and by US ARO (W911NF-09-1-0505). The silicon nanomembrane work was partially supported by an AFOSR MURI programme (FA9550-08-1-0337), and the initial membrane reflector work was supported by DARPA YFA (HR80011-08-1-0058). The AFOSR programme manager is G. Pomrenke and the ARO programme manager is M. Gerhold. The authors also acknowledge help and support from R. Soref, Z. Qiang, S. Fan, J. A. Rogers, S. Wang, R. Li, T. Saha, H. Mi and G. Gui on this project.
Ethics declarations
Competing interests
The authors declare no competing financial interests.
Supplementary information
About this article
Cite this article
Yang, H., Zhao, D., Chuwongin, S. et al. Transfer-printed stacked nanomembrane lasers on silicon. Nature Photon 6, 615–620 (2012). https://doi.org/10.1038/nphoton.2012.160
Received:

Accepted:

Published:

Issue Date:

DOI: https://doi.org/10.1038/nphoton.2012.160