Abstract
In cuprate superconductors, tunnelling between planes makes three-dimensional superconductive transport possible. However, the interlayer tunnelling amplitude is reduced when an order-parameter-phase gradient between planes is established. As such, interlayer superconductivity along the c-axis can be weakened if a strong electric field is applied along the c-axis. In this Letter, we use high-field single-cycle terahertz pulses to gate interlayer coupling in La1.84Sr0.16CuO4. We induce ultrafast oscillations between superconducting and resistive states and switch the plasmon response on and off, without reducing the density of Cooper pairs. In-plane superconductivity remains unperturbed, revealing a non-equilibrium state in which the dimensionality of the superconductivity is time-dependent. The gating frequency is determined by the electric field strength. Non-dissipative, bi-directional gating of superconductivity is of interest for device applications in ultrafast nanoelectronics and represents an example of how nonlinear terahertz physics can benefit nanoplasmonics and active metamaterials.
Access options
Subscribe to Journal
Get full journal access for 1 year
$99.00
only $8.25 per issue
All prices are NET prices.
VAT will be added later in the checkout.
Tax calculation will be finalised during checkout.
Rent or Buy article
Get time limited or full article access on ReadCube.
from$8.99
All prices are NET prices.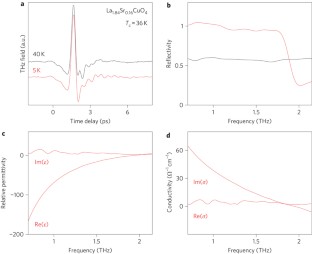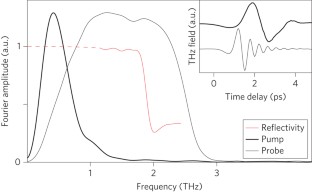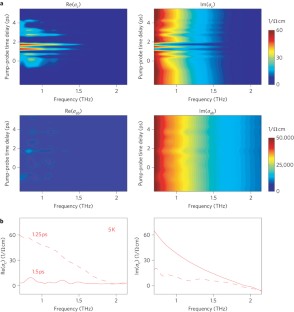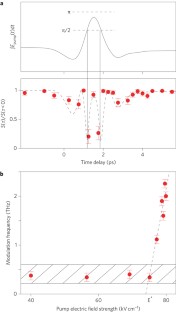 References
1

Orenstein, J. & Millis A. J. Advances in the physics of high-temperature superconductivity. Science 288, 468–474 (2000).

2

Tamasaku, K., Nakamura, Y. & Uchida, S. Charge dynamics across the CuO2 planes in La2–xSrxCuO4 . Phys. Rev. Lett. 69, 1455–1458 (1992).

3

Thorsmølle, V. K. et al. C-axis Josephson plasma resonance observed in Tl2Ba2CaCu2O8 superconducting thin films by use of terahertz time-domain spectroscopy. Opt. Lett. 26, 1292–1294 (2001).

4

Takagi, H. et al. Superconductor-to-nonsuperconductor transition in (La1–xSrx)2CuO4 as investigated by transport and magnetic measurements. Phys. Rev. B 40, 2254–2261 (1989).

5

Shibauchi, T. et al. Anisotropic penetration depth in La2–xSrxCuO4 . Phys. Rev. Lett. 72, 2263–2266 (1994).

6

Dordevic, S. V. et al. Josephson plasmon and inhomogeneous superconducting state in La2–xSrxCuO4 . Phys. Rev. Lett. 91, 167401 (2003).

7

Basov, D. N. et al. Sum rules and interlayer conductivity of high-Tc cuprates. Science 1, 49–52 (1999).

8

Anderson, P. W. c-Axis electrodynamics as evidence for the interlayer theory of high-temperature superconductivity. Science 20, 1196–1198 (1998).

9

Moler, K. A. et al. Images of interlayer Josephson vortices in Tl2Ba2CuO6+δ . Science 20, 1193–1196 (1998).

10

Tsvetkov, A. A. et al. Global and local measures of the intrinsic Josephson coupling in Tl2Ba2CuO6 as a test of the interlayer tunnelling model. Nature 395, 360–362 (1998).

11

Schafgans, A. A. et al. Towards a two-dimensional superconducting state of La2-xSrxCuO4 in a moderate external magnetic field. Phys. Rev. Lett. 104, 157002 (2010).

12

Kleiner, R. & Müller, P. Intrinsic Josephson effects in high-TC superconductors. Phys. Rev. B 49, 1327–1341 (1994).

13

Josephson, B. D. Coupled superconductors. Rev. Mod. Phys. 36, 216–220 (1964).

14

Josephson, B. D. Possible new effects in superconductive tunneling. Phys. Lett. 1, 251–253 (1962).

15

Hebling, J. et al. Generation of high-power terahertz pulses by tilted-pulse-front excitation and their application possibilities. J. Opt. Soc. Am. B 25, B6–B19 (2008).

16

Kindt, J. & Schuttenmaer, C. A. Theory for the determination of the low-frequency time-dependent response function in liquids using time-resolved terahertz pulse spectroscopy. J. Chem. Phys. 110, 8589–8596 (1999).

17

Fausti, D. et al. Light induced superconductivity in a striped cuprate. Science 331, 189–191 (2011).

18

Berg, E. et al. Dynamical layer decoupling in a stripe ordered high-Tc superconductor. Phys. Rev. Lett. 99, 127003 (2007).
Acknowledgements
Research at the University of Oxford was supported by a 2004 European Young Investigator Award, by the Royal Society through the 'Paul Instrument Fund' and by the EPSRC under the program 'Next Generation Facility Users'. Research at the MPSD-CFEL in Hamburg was funded through core support by the Max Planck Society and the University of Hamburg.
Ethics declarations
Competing interests
The authors declare no competing financial interests.
About this article
Cite this article
Dienst, A., Hoffmann, M., Fausti, D. et al. Bi-directional ultrafast electric-field gating of interlayer charge transport in a cuprate superconductor. Nature Photon 5, 485–488 (2011). https://doi.org/10.1038/nphoton.2011.124
Received:

Accepted:

Published:

Issue Date: