Abstract
The generation of random bit sequences based on non-deterministic physical mechanisms is of paramount importance for cryptography and secure communications. High data rates also require extremely fast generation rates and robustness to external perturbations. Physical generators based on stochastic noise sources have been limited in bandwidth to ∼100 Mbit s−1 generation rates. We present a physical random bit generator, based on a chaotic semiconductor laser, having time-delayed self-feedback, which operates reliably at rates up to 300 Gbit s−1. The method uses a high derivative of the digitized chaotic laser intensity and generates the random sequence by retaining a number of the least significant bits of the high derivative value. The method is insensitive to laser operational parameters and eliminates the necessity for all external constraints such as incommensurate sampling rates and laser external cavity round trip time. The randomness of long bit strings is verified by standard statistical tests.
This is a preview of subscription content
Access options
Subscribe to Journal
Get full journal access for 1 year
$99.00
only $8.25 per issue
All prices are NET prices.
VAT will be added later in the checkout.
Tax calculation will be finalised during checkout.
Buy article
Get time limited or full article access on ReadCube.
$32.00
All prices are NET prices.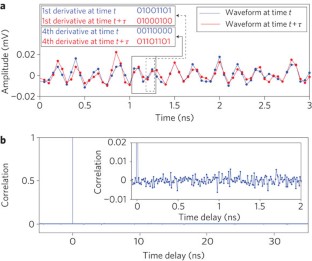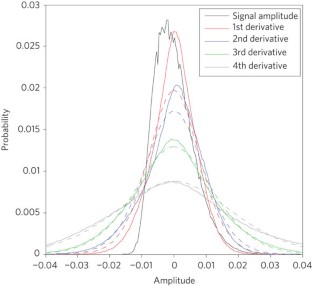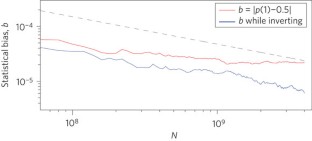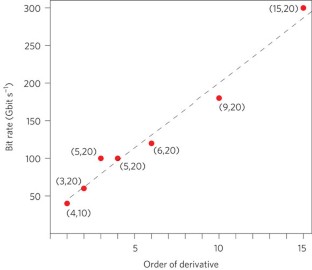 References
Metropolis, N. & Ulam, S. The Monte Carlo method. J. Am. Statist. Assoc. 44, 335–341 (1949).

Asmussen, S. & Glynn, P. W. Stochastic Simulation: Algorithms and Analysis (Springer-Verlag, 2007).

Nielsen, M. A. & Chuang, I. L. Quantum Computation and Quantum Information (Cambridge Univ. Press, 2000).

Stinson, D. R. Cryptography: Theory and Practice (CRC Press, 1995).

Gallager, R. G. Principles of Digital Communication (Cambridge Univ. Press, 2008).

Vincent, C. H. Precautions for accuracy in generation of truly random binary numbers. J. Phys. E 4, 825–828 (1971).

Maddocks, R. S., Vincent, C. H., Walker, E. W. & Matthews, S. Compact and accurate generator for truly random binary digits. J. Phys. E 5, 542–544 (1972).

Walker, J. HotBits: Genuine Random Numbers, Generated by Radioactive Decay <http://www.fourmilab.ch/hotbits/>.

Stefanov, A., Gisin, N., Guinnard, O., Guinnard, L. & Zbinden, H. Optical quantum random number generator. J. Modern Optics 47, 595–598 (2000).

Jennewein, T., Achleitner, U., Weihs, G., Weinfurter, H. & Zeilinger, A. A fast and compact quantum random number generator. Rev. Sci. Instrum. 71, 1675–1680 (2000).

Rand Corporation. A Million Random Digits with 100,000 Normal Deviates (Free Press, 1955).

Fairfield, R. C., Mortenson, R. L. & Coulthart, K. B. in Advances in Cryptology—Crypto '84 203–230 (Springer-Verlag, 1984).

Hales, J., Zhukov, A., Roy, R. & Dykman, M. I. Dynamics of activated escape and its observation in a semiconductor laser. Phys. Rev. Lett. 85, 78–81 (2000).

Rosenbluh, M. et al. Spiking optical patterns and synchronization. Phys. Rev. E 76, 046207 (2007).

Uchida, A. et al. Fast physical random bit generation with chaotic semiconductor lasers. Nature Photon. 2, 728–732 (2008).

Murphy, T. E. & Roy, R. Chaotic lasers: the world's fastest dice. Nature Photon. 2, 714–715 (2008).

NIST Statistical Tests Suite <http://csrc.nist.gov/groups/ST/toolkit/rng/documentation_software.html>.

Marsaglia, G. Diehard: A Battery of Tests of Randomness <http://www.stat.fsu.edu/pub/diehard/>.

Reidler, I., Aviad, Y., Rosenbluh, M. & Kanter, I. Ultrahigh-speed random number generation based on a chaotic semiconductor laser. Phys. Rev. Lett. 103, 024102 (2009).

Schuster, H. & Just, W. Deterministic Chaos (Wiley-VCH, 2005).

Pikovsky, A., Rosenblum, M. & Kurths, J. Synchronization: A Universal Concept in Nonlinear Sciences (Cambridge Univ. Press, 2001).

Knuth, D. E. The Art of Computer Programming 3rd edn (Addison-Wesley, 1997).
Ethics declarations
Competing interests
The authors declare no competing financial interests.
Supplementary information
About this article
Cite this article
Kanter, I., Aviad, Y., Reidler, I. et al. An optical ultrafast random bit generator. Nature Photon 4, 58–61 (2010). https://doi.org/10.1038/nphoton.2009.235
Received:

Accepted:

Published:

Issue Date:

DOI: https://doi.org/10.1038/nphoton.2009.235