Abstract
The unique optical properties of metals are at the core of many areas of research and applications, including plasmonics1,2,3,4, metamaterials5,6, superlensing and subdiffraction focusing7,8,9,10, optical antennas11,12,13,14 and surface enhanced Raman scattering15. One important length scale inherent in metamaterials and plasmonics research activities in the microwave5,16, terahertz17,18,19, infrared20,21, visible22 and ultraviolet ranges7 is the skin depth of metal, which remains at the submicrometre level throughout the broad spectral range. One prominent question is whether terahertz electromagnetic waves can be controlled on the nanoscale to achieve new functionalities in the sub-skin-depth regime. Here, we show that a λ/30,000 slit on metal film acts as a nanogap-capacitor charged by light-induced currents, enhancing the electric field by orders of magnitudes.
Relevant articles
Open Access articles citing this article.
Eugeniu Balaur

,

Catherine Sadatnajafi

&

Brian Abbey

Scientific Reports Open Access 29 July 2022

Changlong Liu

,

Yi Liu

…

Lin Wang

npj 2D Materials and Applications Open Access 08 April 2022

Lin Wang

,

Li Han

…

Wei Lu

Light: Science & Applications Open Access 10 March 2022
Access options
Subscribe to this journal
Receive 12 print issues and online access
$209.00 per year
only $17.42 per issue
Rent or buy this article
Get just this article for as long as you need it
$39.95
Prices may be subject to local taxes which are calculated during checkout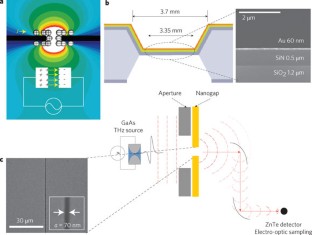 References
Ebbesen, T. W., Lezec, H. J., Chaemi, H. F., Thio, T. & Wolff, P. A. Extraordinary optical transmission through sub-wavelength hole arrays. Nature 391, 667–669 (1998).

Pendry, J. B., Martin-Moreno, L. & Garcia-Vidal, F. J. Mimicking surface plasmons with structured surfaces. Science 305, 847–848 (2004).

Barnes, W. L., Dereux, A. & Ebbesen, T. W. Surface plasmon subwavelength optics. Nature 424, 824–830 (2003).

Ozbay, E. Plasmonics: Merging photonics and electronics at nanoscale dimensions. Science 13, 189–193 (2006).

Smith, D. R., Pendry, J. B. & Wiltshire, M. C. K. Metamaterials and negative refractive index. Science 305, 788–792 (2004).

Lezec, H. J., Dionne, J. A. & Atwater, H. A. Negative refraction at visible frequencies. Science 316, 430–432 (2007).

Fang, N., Lee, H., Sun, C. & Zhang, X. Sub-diffraction-limited optical imaging with a silver superlens. Science 308, 534–537 (2005).

Melville, D. O. S. & Blaikie, R. J. Super-resolution imaging through a planar silver layer. Opt. Express 13, 2127–2134 (2005).

Grbic, A., Jiang, L. & Merlin, R. Near-field plates: subdiffraction focusing with patterned surfaces. Science 320, 511–513 (2008).

Maier, S. A., Andrews, S. R., Martı´n-Moreno, L. & Garcı´a-Vidal, F. J. Terahertz surface plasmon–polariton propagation and focusing on periodically corrugated metal wires. Phys. Rev. Lett. 97, 176805 (2006).

Mühlschlegel, P., Eisler, H.-J., Martin, O. J. F., Hecht, B. & Pohl, D. W. Resonant optical antenna. Science 308, 1607–1609 (2005).

Kim, S. et al. High-harmonic generation by resonant plasmon field enhancement. Nature 453, 757–760 (2008).

Alu, A. & Engheta, N. Tuning the scattering response of optical nanoantennas with nanocircuit loads. Nature Photon. 2, 307–310 (2008).

Hill, M. T. et al. Lasing in metallic-coated nanocavities. Nature Photon. 1, 589–594 (2007).

Nie, S. & Emory, S. R. Probing single molecules and single nanoparticles by surface-enhanced Raman scattering. Science 275, 1102–1106 (1997).

Hibbins, A. P., Evans, B. R. & Sambles, J. R. Experimental verification of designer surface plasmons. Science 308, 670–672 (2005).

Chen, H.-T. et al. Active terahertz metamaterials devices. Nature 444, 597–600 (2006).

Matsui, T., Agrawal, A., Nahata, A. & Vardeny, Z. V. Transmission resonances through aperiodic arrays of subwavelength apertures. Nature 446, 517–521 (2007).

Kawano, Y. & Ishibashi, K. An on-chip near-field terahertz probe and detector. Nature Photon. 2, 618–621 (2008).

Dolling, G., Enkrich, C., Wegener, M., Soukoulis, C. M. & Linden, S. Simultaneous negative phase and group velocity of light in a metamaterial. Science 312, 892–894 (2006).

Hillenbrand, R., Taubner, T. & Keilmann, F. Phonon-enhanced light–matter interaction at the nanometre scale. Nature 418, 159–162 (2002).

Shalaev, V. M. Optical negative-index metamaterials. Nature Photon. 1, 41–48 (2006).

Lee, J. W. et al. Terahertz electromagnetic wave transmission through random arrays of single rectangular holes and slits in thin metallic sheets. Phys. Rev. Lett. 99, 137401 (2007).

García de Abajo, F. J., Gómez-Medina, R. & Sáenz, J. J. Full transmission through perfect-conductor subwavelength hole arrays. Phys. Rev. E 72, 016608 (2005).

Garcia-Vidal, F. J., Moreno, E., Porto, J. A. & Martin-Moreno, L. Transmission of light through a single rectangular hole. Phys. Rev. Lett. 95, 103901 (2005).

Takakura, Y. Optical resonance in a narrow slit in a thick metallic screen. Phys. Rev. Lett. 86, 5601–5603 (2001).

Yang, F. & Sambles, J. R. Resonant transmission of microwaves through a narrow metallic slit. Phys. Rev. Lett. 89, 063901 (2002).

Liu, H. & Lalanne, P. Microscopic theory of the extraordinary optical transmission. Nature 452, 728–731 (2008).

Van Exter, M., Fattinger, C. & Grischkowsky, D. Terahertz time-domain spectroscopy of water vapor. Opt. Lett. 14, 1128–1130 (1989).

Wu, Q., Litz, M. & Zhang, X.-C. Broadband detection capability of ZnTe electro-optic field detectors. Appl. Phys. Lett. 68, 2924–2926 (1996).

Lee, J. W. et al. Shape resonance omni-directional terahertz filters with near-unity transmittance. Opt. Express 14, 1253–1259 (2006).

Lee, J. W. et al. Terahertz transparency at Fabry–Perot resonances of periodic slit arrays in a metal plate: experiment and theory. Opt. Express 14, 12637–12643 (2006).

Lee, J. W. et al. Invisible plasmonic meta-materials through impedance matching to vacuum. Opt. Express 13, 10681–10687 (2005).

Born, M. & Wolf, E. Principles of Optics: Electromagnetic Theory of Propagation, Interference and Diffraction of Light, 7th edn, ch. 11 (Cambridge Univ. Press, 1999).

Ordal, M. A. Optical properties of the metals Al, Co, Cu, Au, Fe, Pb, Ni, Pd, Pt, Ag, Ti and W in the infrared and far infrared. Appl. Opt. 22, 1099–1119 (1983).

Azad, A. K. & Zhang, W. Resonant terahertz transmission in subwavelength metallic hole arrays of sub-skin-depth thickness. Opt. Lett. 30, 2945–2947 (2005).

Miyazaki, H. T. & Kurokawa, Y. Squeezing visible light waves into a 3-nm-thick and 55-nm-long plasmon cavity. Phys. Rev. Lett. 96, 097401 (2006).

Miyazaki, H. T. & Kurokawa, Y. Metal–insulator–metal plasmon nanocavities: analysis of optical properties. Phys. Rev. B 75, 035411 (2007).

Taflove, A. & Hagness, S. C. Computational Electromagnetics: The Finite-Difference Time-Domain Method 852 (Artech House, 2000).

Danielson, J. R. et al. Interaction of strong single-cycle terahertz pulses with semiconductor quantum wells. Phys. Rev. Lett. 99, 237401 (2007).

Jackson, J. D. Classical Electrodynamics, 3rd edn, ch. 10 (John Wiley & Sons, 2001).
Acknowledgements
We acknowledge helpful discussions with J. B. Pendry, D. Grischkowsky and K. J. Ahn. H. Kim is also thanked for discussions concerning diffractive optics correction used in data analysis and for Kirchhoff formalism. This work was supported by the Korea Science and Engineering Foundation (KOSEF) grant funded by the Korea government (MEST), the Korea Research Foundation (KRF), KICOS (GRL, K20815000003) and the Seoul R&BD Program.
About this article
Cite this article
Seo, M., Park, H., Koo, S. et al. Terahertz field enhancement by a metallic nano slit operating beyond the skin-depth limit. Nature Photon 3, 152–156 (2009). https://doi.org/10.1038/nphoton.2009.22
Received:

Accepted:

Published:

Issue Date:

DOI: https://doi.org/10.1038/nphoton.2009.22