Abstract
State-of-the-art advances in nanoscale optomechanics allow light to be guided in free-standing waveguides or resonators1,2. In closely spaced devices, the coupling between the guided lightwaves gives rise to an optical force known as the 'optical bonding force'3,4,5,6. Indeed, attractive optical force has been observed in substrate coupled devices7. According to recent theoretical predictions3, the optical force should show bipolar behaviour depending on the relative phase between in-plane coupled lightwaves. So far, such an in-plane optical force has not been measured. Here, we experimentally demonstrate a bipolar optical force between planarly coupled nanophotonic waveguides. Both attractive and repulsive optical forces are obtained. The sign of the force can be switched reversibly by tuning the relative phase of the interacting lightwaves. This highly engineerable force of bipolar nature could be used as the operation principle for a new class of planar light force devices and circuits on a CMOS-compatible platform.
Relevant articles
Open Access articles citing this article.
Nikolaos K. Efremidis

&

Demetrios N. Christodoulides

Communications Physics Open Access 14 November 2022

Shangran Xie

,

Ran Gao

&

Yi Jiang

Communications Physics Open Access 30 May 2022

Yigit Ozer

&

Serdar Kocaman

Scientific Reports Open Access 31 January 2018
Access options
Subscribe to Journal
Get full journal access for 1 year
$99.00
only $8.25 per issue
All prices are NET prices.
VAT will be added later in the checkout.
Tax calculation will be finalised during checkout.
Buy article
Get time limited or full article access on ReadCube.
$32.00
All prices are NET prices.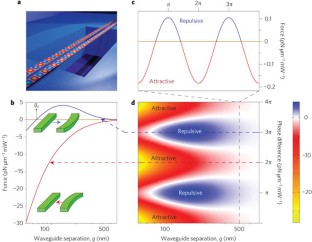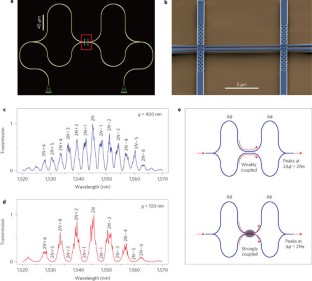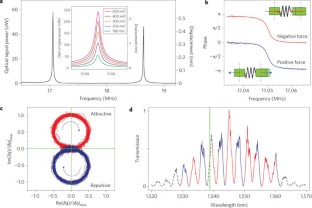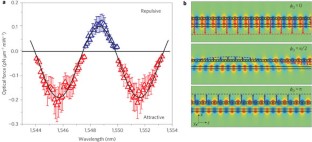 References
Kippenberg, T. J. & Vahala, K. J. Cavity optomechanics: back-action at the mesoscale. Science 321, 1172–1176 (2008).

Marquardt, F. & Girvin, S. M. Optomechanics. Physics 2, 40 (2009).

Povinelli, M. L. et al. Evanescent-wave bonding between optical waveguides. Opt. Lett. 30, 3042–3044 (2005).

Ng, J., Chan, C. T., Sheng, P. & Lin, Z. F. Strong optical force induced by morphology-dependent resonances. Opt. Lett. 30, 1956–1958 (2005).

Mizrahi, A. & Schachter, L. Mirror manipulation by attractive and repulsive forces of guided waves. Opt. Express 13, 9804–9811 (2005).

Rakich, P. T., Popovic, M. A., Soljacic, M. & Ippen, E. P. Trapping, corralling and spectral bonding of optical resonances through optically induced potentials. Nature Photon. 1, 658–665 (2007).

Li, M. et al. Harnessing optical forces in integrated photonic circuits. Nature 456, 480–484 (2008).

Casimir, H. B. G. & Polder, D. The Influence of retardation on the London–van der Waals forces. Phys. Rev. 73, 360–372 (1948).

Lamoreaux, S. K. Demonstration of the Casimir force in the 0.6 to 6 μm range. Phys. Rev. Lett. 78, 5–8 (1997).

Chan, H. B. Quantum mechanical actuation of microelectromechanical systems by the Casimir force. Science 293, 1766–1766 (2001).

Munday, J. N., Capasso, F. & Parsegian, V. A. Measured long-range repulsive Casimir–Lifshitz forces. Nature 457, 170–173 (2009).

Huang, M. C. Y., Zhou, Y. & Chang-Hasnain, C. J. A nanoelectromechanical tunable laser. Nature Photon. 2, 180–184 (2008).

Vlasov, Y., Green, W. M. J. & Xia, F. High-throughput silicon nanophotonic wavelength-insensitive switch for on-chip optical networks. Nature Photon. 2, 242–246 (2008).

Mizrahi, A. & Schachter, L. Two-slab all-optical spring. Opt. Lett. 32, 692–694 (2007).

Feynman, R. P., Leighton, R. B. & Sands, M. L. The Feynman Lectures on Physics Vol. I (Addison-Wesley, 1989).

Masmanidis, S. C. et al. Multifunctional nanomechanical systems via tunably coupled piezoelectric actuation. Science 317, 780–783 (2007).

Li, M., Pernice, W. H. P. & Tang, H. X. Broadband all-photonic transduction of nanocantilevers. Nature Nanotech. 4, 377–382 (2009).

Naik, A. et al. Cooling a nanomechanical resonator with quantum back-action. Nature 443, 193–196 (2006).

Wilson-Rae, I., Nooshi, N., Zwerger, W. & Kippenberg, T. J. Theory of ground state cooling of a mechanical oscillator using dynamical backaction. Phys. Rev. Lett. 99, 093901 (2007).

Thompson, J. D. et al. Strong dispersive coupling of a high-finesse cavity to a micromechanical membrane. Nature 452, 72–75 (2008).

Marquardt, F., Chen, J. P., Clerk, A. A. & Girvin, S. M. Quantum theory of cavity-assisted sideband cooling of mechanical motion. Phys. Rev. Lett. 99, 093902–093904 (2007).
Acknowledgements
We acknowledge a seedling grant from DARPA/MTO. H.X.T. acknowledges support from a CAREER award from the National Science Foundation (NSF). W.H.P.P. acknowledges support from the Alexander von Humboldt postdoctoral fellowship program. Part of the funding was provided by a seed grant offered by Yale Institute for Nanoscience and Quantum Information. The devices were fabricated at Yale University Center for Microelectronic Materials and Structures and the NSF-sponsored Cornell Nanoscale Facility.
Supplementary information
About this article
Cite this article
Li, M., Pernice, W. & Tang, H. Tunable bipolar optical interactions between guided lightwaves. Nature Photon 3, 464–468 (2009). https://doi.org/10.1038/nphoton.2009.116
Received:

Accepted:

Published:

Issue Date:

DOI: https://doi.org/10.1038/nphoton.2009.116