Researchers from Munich and Boston have shown that multispectral photoacoustic tomography can image fluorescent proteins buried deep in highly scattering living organisms.
Access options
Subscribe to Journal
Get full journal access for 1 year
$99.00
only $8.25 per issue
All prices are NET prices.
VAT will be added later in the checkout.
Tax calculation will be finalised during checkout.
Buy article
Get time limited or full article access on ReadCube.
$32.00
All prices are NET prices.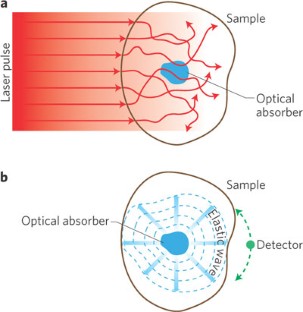 References
Bell, A. G. Am. J. Sci. 20, 305–324 (1880).

Xu, M. H. & Wang, L. V. Rev. Scient. Instr. 77, 041101 (2006).

Razansky, D. et al. Nature Photon. 3, 412–417 (2009).

Gusev, V. E. & Karabutov, A. A. Laser Optoacoustics (AIP-Press New York, 1993).

Wang, L. V. Med. Phys. 35, 5758–5767 (2008).

Li, M. et al. Proc. IEEE 96, 481–489 (2008).

Li, L., Zemp, R. J., Lungu, G., Stoica, G. & Wang, L. V. J. Biomed. Opt. 12, 020504 (2007).

Cox, B. T., Arridge, S. R., Kostli, K. P. & Beard, P. C. Appl. Opt. 45, 1866–1875 (2006).

Yin, B. et al. Phys. Med. Biol. 49, 1339–1346 (2004).
About this article
Cite this article
Burgholzer, P., Grün, H. & Sonnleitner, A. Sounding out fluorescent proteins. Nature Photon 3, 378–379 (2009). https://doi.org/10.1038/nphoton.2009.109
Issue Date:

DOI: https://doi.org/10.1038/nphoton.2009.109