Combining optical and X-ray lasers enables imaging with high temporal and spectral resolution. By taking pictures of a succession of exploding targets, a movie can be made charting the dynamics of the solid material on a 10-ps timescale.
Access options
Subscribe to Journal
Get full journal access for 1 year
$99.00
only $8.25 per issue
All prices are NET prices.
VAT will be added later in the checkout.
Tax calculation will be finalised during checkout.
Buy article
Get time limited or full article access on ReadCube.
$32.00
All prices are NET prices.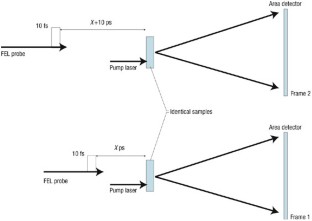 References
Barty, A. et al. Nature Photon. 2, 415–419 (2008).

Marchesini, S. Rev. Sci. Instr. 78, 011301 (2007).

Spence, J. C. H. in Science of Microscopy (eds Hawkes, P. & Spence, J. C. H.) 1196 (Springer, New York, 2008).

Neutze, R., Wouts, R., van der Spoel, D., Weckert, E. & Hajdu, J. Nature 406, 752–757 (2000).

Howells, M. et al. J. Elec. Spectrosc. Related Phenomena (in the press) http://arxiv.org/abs/physics/0502059.

Weierstall, U. et al. Exp. Fluids 44, 675–689 (2008).

Moffatt, K. et al. Curr. Opin. Struct. Biol. 15, 535–537 (2005).

Garret, B. et al. Chem. Rev. 105, 355–390 (2005).

Armstrong, M. R. et al. Ultramicrosc. 107, 356–367 (2007).

Zepf, M., Dromey, B., Landreman, M., Foster, P. & Hooker, S. M. Phys. Rev. Lett. 99, 143901 (2007).

Corkum, P. B. & Krausz, F. Nature Phys. 3, 381–387 (2007).

Tosa, V., Yakovlev, Y. S. & Krausz, F. New J. Phys. 10, 025016 (2008).
About this article
Cite this article
Spence, J. Ultrafast diffract-and-destroy movies. Nature Photon 2, 390–391 (2008). https://doi.org/10.1038/nphoton.2008.115
Issue Date:

DOI: https://doi.org/10.1038/nphoton.2008.115