A growing research and development sector is a sign of a healthy economy. South Africa hopes that a focus on photonics technologies will help drive the country's socio–economic development.
Access options
Subscribe to Journal
Get full journal access for 1 year
$187.00
only $15.58 per issue
All prices are NET prices.
VAT will be added later in the checkout.
Rent or Buy article
Get time limited or full article access on ReadCube.
from$8.99
All prices are NET prices.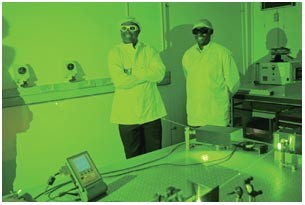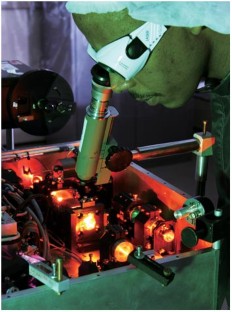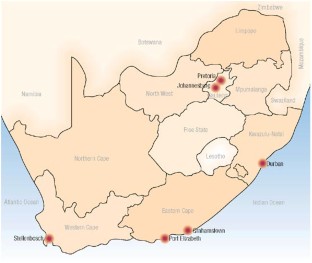 References
1

Department of Science and Technology, Annual report 2006/07 (Department of Science and Technology, Pretoria, 2007); <www.dst.gov.za/publications-policies/annual-reports>.

2

Michaelis, M. M. et al. Nature 353, 547–548 (1991).

3

Litvin, I. A., Burger, L. & Forbes, A. Opt. Express 15, 14065–14077 (2007).

4

Innovation Towards a Knowledge-Based Economy, Ten-Year Plan for South Africa (2008–2018) (Department of Science and Technology, August 2007); <www.nstf.org.za/content_main/ 10_YEAR_INNOVATION_PLAN14_AUGUST_2007.pdf>.

5

Review of the National Laser Centre Rental Pool Programme of the CSIR (CSIR, December 2005); <http://evaluation.nrf.ac.za/Content/Documents/Programme/ 2005_NLC_report.pdf>.

6

Seotsanyana-Mokhosi, I., Kresfelder, T., Abrahamse, H. & Nyokong, T. J. Photochem. Photobiol. B 83, 55–62 (2006).

7

NLC Rental Pool Programme Annual Report (National Research Foundation, 2006).

8

Cherry, M. Nature 449, 384 (2007).

9

National Research Foundation News: From Brain Drain to Brain Gain (September, 2007); <www.nrf.ac.za/media/2007_09_20.stm>.

10

Scheidt, T., Rohwer, E. G., von Bergmann, H. M. & Stafast, H. Phys. Rev. B 69, 165314–165321 (2005).

11

South Africa's Participation in Framework Programmes and ESASTAP's Progress; <www.esastap.org.za/esastap/stories/esastap2007.php>.

12

Burger, D. (ed.) 2006/2007 South Africa Yearbook Ch. 18 (Government Communication and Information System, Pretoria, 2007); <www.gcis.gov.za/docs/publications/yearbook.html>.

13

Maran, J.-N., Rohwer, E. G., Burger, J. P. & Botha, L. R. Opt.Photon. News 18, 17–23 (2007).
About this article
Cite this article
Bollig, C., Forbes, A. & Dlamini, T. Photonics in South Africa. Nature Photon 1, 673–675 (2007) doi:10.1038/nphoton.2007.234