Despite graphene's apparent potential for anti-corrosion coatings, it is cathodic to most metals and can promote corrosion at exposed graphene–metal interfaces. This may accelerate dangerous localized corrosion that can seriously weaken the coated metals.
Access options
Subscribe to Journal
Get full journal access for 1 year
$99.00
only $8.25 per issue
All prices are NET prices.
VAT will be added later in the checkout.
Tax calculation will be finalised during checkout.
Rent or Buy article
Get time limited or full article access on ReadCube.
from$8.99
All prices are NET prices.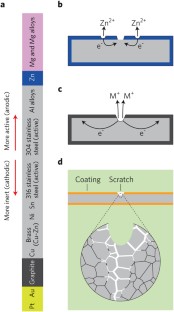 References
1

Bunch, J. S. et al. Nano Lett. 8, 2458–2462 (2008).

2

Bohm, S. Nat. Nanotech. 9, 741–742 (2014).

3

Fontana, M. G. Corrosion Engineering 3rd edn (McGraw-Hill, 1986).

4

Baboian, R. & Cliver, E. B. Mater. Perform. 25, 80–81 (1986).

5

Askeland, D. R. & Wright, W. J. The Science and Engineering of Materials 7th edn (Cengage Learning, 2016).

6

McCafferty, E. Introduction to Corrosion Science (Springer, 2010).

7

Schriver, M. et al. ACS Nano 7, 5763–5768 (2013).

8

Zhou, F., Li, Z. T., Shenoy, G. J., Li, L. & Liu, H. T. ACS Nano 7, 6939–6947 (2013).

9

Tavakkolizadeh, M. & Saadatmanesh, H. J. Compos. Constr. 5, 200–210 (2001).

10

Sun, W. et al. Chem. Mater. 27, 2367–2373 (2015).

11

Liu, Q. et al. US patent application 20,160,280,931 (2016).

12

Shchukin, D. & Mohwald, H. Science 341, 1458–1459 (2013).
Acknowledgements
We thank Y.W. Chung and A.R. Koltonow for helpful discussions, F. Frankel for advice on Fig. 1, and the Office of Naval Research (ONRN000141612838) for support.
About this article
Cite this article
Cui, C., Lim, A. & Huang, J. A cautionary note on graphene anti-corrosion coatings. Nature Nanotech 12, 834–835 (2017). https://doi.org/10.1038/nnano.2017.187