The time has come to implement a regulatory framework tailored to manufactured materials. I propose a new legislative framework that combines registration, evaluation, authorization and categorization of nanomaterials.
Access options
Subscribe to Journal
Get full journal access for 1 year
$169.00
only $14.08 per issue
All prices are NET prices.
VAT will be added later in the checkout.
Rent or Buy article
Get time limited or full article access on ReadCube.
from$8.99
All prices are NET prices.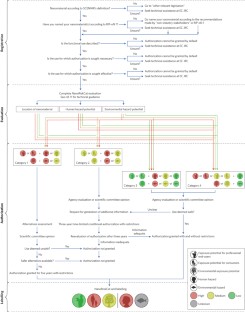 References
1

Maynard, A. & Aitken, R. J. Nat. Nanotech. 11, 998–1000 (2016).

2

Davies, J. C. Managing the Effects of Nanotechnology (Woodrow Wilson International Center for Scholars, 2006); http://go.nature.com/2udyt4T

3

Savolainen, K. et al. Nanosafety in Europe 2015–2025: Towards Safe and Sustainable Nanomaterials and Nanotechnology Innovations (Finnish Institute of Occupational Health, 2013); http://go.nature.com/2u8JTXX

4

Hansen. et al. Environ. Sci. Nano 4, 282–291 (2016).

5

Categorisation of Manufactured Nanomaterials: Workshop Report ENV/JM/MONO(2016)9 (OECD, 2016); http://go.nature.com/2uQY5lS

6

Hansen, S. F. Nat. Nanotech. 8, 305–306 (2013).

7

Scientific Basis for the Definition of the Term "Nanomaterial" (SCENIHR, 2010); http://go.nature.com/2uidBul

8

Commission Recommendation of 18 October 2011 on the Definition of Nanomaterial (European Commission, 2011); http://go.nature.com/2ue9FtB

9

Report on the Proposal for a Regulation of the European Parliament and of the Council on Novel Foods COM(2013).0894 – C7–0487/2013 – 2013/0435(COD) (European Parliament, 2014); http://go.nature.com/2terDYQ

10

REACH Implementation Project Substance Identification of Nanomaterials (RIP-oN 1) (European Commission Joint Research Centre, 2011); http://go.nature.com/2tI8hi8

11

Hansen, S. F., Jensen, K. A. & Baun, A. J. Nanopart. Res. 16, 2195 (2014).

12

Hjorth, R. et al. Integr. Environ. Assess. Manag. 13, 177–187 (2017).
Acknowledgements
I thank T. Dolin for technical assistance with the design of Fig. 1.
Supplementary information
About this article
Cite this article
Hansen, S. React now regarding nanomaterial regulation. Nature Nanotech 12, 714–716 (2017). https://doi.org/10.1038/nnano.2017.163