The first NanoCar Race was an opportunity to see how far we have come in manipulating single molecules. As the team with the fastest molecule in this race, we share the synthetic challenges to building a fast nanocar and the experimental approach needed for rapid translation across a surface.
Access options
Subscribe to Journal
Get full journal access for 1 year
$99.00
only $8.25 per issue
All prices are NET prices.
VAT will be added later in the checkout.
Tax calculation will be finalised during checkout.
Rent or Buy article
Get time limited or full article access on ReadCube.
from$8.99
All prices are NET prices.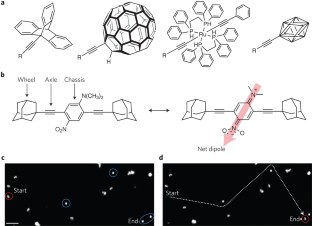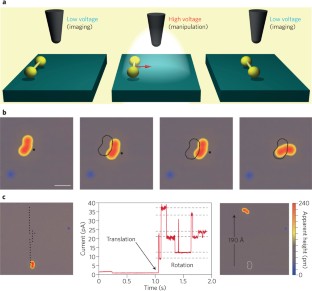 References
1

Rapenne, G. & Joachim, C. The first nanocar race, Nat. Rev. Mater. 2, 17040 (2017).

2

Rules of the Nanocar Race www.nanograz.com/nanocar-race-rules (CEMES-CNRS, accessed 19 May 2017).

3

Kassem, S. et al. Chem. Soc. Rev. 46, 2592–2621 (2017).

4

Chu, P.-L. et al. ACS Nano 7, 35–41 (2013).

5

Grill, L. et al. Nat. Nanotech. 2, 95–98 (2007).

6

Simpson, G., Garcia-Lopez, V., Petemeier, P., Grill, L. & Tour, J. M. How to Build and Race a Fast Nanocar: Synthesis Information http://tournas.rice.edu/website/documents/Experimental_Synthesis_Dipolar_Racer.pdf (accessed 10 June 2017).

7

Eigler, D. M. & Schweizer, E. K. Nature 344, 524–526 (1990).

8

Bartels, L., Meyer, G. & Rieder, K.-H. Phys. Rev. Lett. 79, 697–700 (1997).

9

Moresco, F. Phys. Rep. 399, 175–225 (2004).

10

Sasaki, T. & Tour, J. M. Tetrahedron Lett. 48, 5821–5824 (2007).

11

Celotta, R. J. et al. Rev. Sci. Instrum. 85, 121301 (2014).

12

Alemani, M. et al. Chem. Phys. Lett. 402, 180–185 (2005).

13

Saywell, A. et al. ACS Nano 10, 10945–10952 (2016).

14

Kudernac, T. et al. Nature 479, 208–211 (2011).
Acknowledgements
We acknowledge financial support from the Graz University Rector's office and thank S. Jaekel, C. Nacci and M. Schied for experimental support. The work at Rice University is supported by the Discovery Institute.
About this article
Cite this article
Simpson, G., García-López, V., Petermeier, P. et al. How to build and race a fast nanocar. Nature Nanotech 12, 604–606 (2017). https://doi.org/10.1038/nnano.2017.137
Further reading
Grant J. Simpson

,

Víctor García-López

,

A. Daniel Boese

,

James M. Tour

&

Leonhard Grill

Nature Communications (2019)