Photogenerated charge carriers from hundreds of self-assembled nanowires are harnessed to make a functional photovoltaic device.
Access options
Subscribe to Journal
Get full journal access for 1 year
$99.00
only $8.25 per issue
All prices are NET prices.
VAT will be added later in the checkout.
Tax calculation will be finalised during checkout.
Rent or Buy article
Get time limited or full article access on ReadCube.
from$8.99
All prices are NET prices.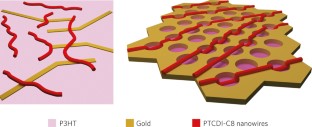 References
1

Hoeben, F. J. M., Jonkheijm, P., Meijer, E. W. & Schenning, A. P. H. J. Chem. Rev. 105, 1491–1546 (2005).

2

Schenning, A. P. H. J. & Meijer, E. W. Chem. Commun. 3245–3258 (2005).

3

Zhang, L. et al. Nat. Nanotech. 11, 900–906 (2016).

4

Moulin, E., Cid, J.-J. & Giuseppone, N. Adv. Mater. 25, 477–487 (2013).

5

Hulteen, J. C. & Vanduyne, R. P. J. Vac. Sci. Technol. A 13, 1553–1558 (1995).

6

Jain, A. & George, S. J. Mater. Today 18, 206–214 (May, 2015).
About this article
Cite this article
Jain, A., George, S. Meshing organic nanowires. Nature Nanotech 11, 843–844 (2016). https://doi.org/10.1038/nnano.2016.136