Measuring changes in the isotopic composition of silver offers clues on how silver nanoparticles are transformed in the environment.
Access options
Subscribe to Journal
Get full journal access for 1 year
$119.00
only $9.92 per issue
All prices are NET prices.
VAT will be added later in the checkout.
Tax calculation will be finalised during checkout.
Buy article
Get time limited or full article access on ReadCube.
$32.00
All prices are NET prices.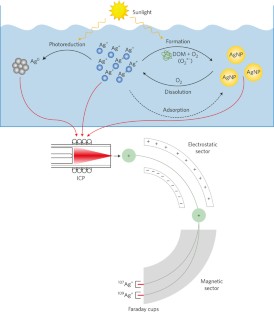 References
Lu, D. et al. Nature Nanotech. 11, 682–686 (2016).

Hoefs, J. Stable Isotope Geochemistry 5th edn (Springer, 2004).

Fry, B. Stable Isotope Ecology (Springer Science, 2006).

Weyer, S. et al. Geochim. Cosmochim. Acta 72, 345–359 (2008).

Walder, A. J. & Freedman, P. A. J. Anal. Atom. Spectrom. 3, 571–575 (1992).

Vanhaecke, F. & Degryse, P. (eds) Isotopic Analysis: Fundamentals and Applications using ICP-MS (Wiley, 2012).

Halliday, A. N. et al. Geochim. Cosmochim. Acta 62, 919–940 (1998).

Johnson, C. M. et al. (eds) Geochemistry of Non-Traditional Stable Isotopes (Mineralogical Society of America & Geochemical Society, 2004).

Blum, J. D. et al. Annu. Rev. Earth Planet. Sci. 42, 249–269 (2014).

Costas-Rodriguez, M. et al. Trends Anal. Chem. 76, 182–193 (2016).

Wang, W. & Tao, N. Anal. Chem. 86, 2–14 (2014).
About this article
Cite this article
Vanhaecke, F. Nanoparticle behaviour dissected. Nature Nanotech 11, 656–657 (2016). https://doi.org/10.1038/nnano.2016.119
Published:

Issue Date:

DOI: https://doi.org/10.1038/nnano.2016.119