Abstract
The optical and electrical properties of heterogeneous nanowires are profoundly related to their composition and nanoscale architecture1,2,3,4,5,6,7. However, the intrinsic constraints of conventional synthetic and lithographic techniques have limited the types of multi-compositional nanowire that can be created and studied in the laboratory. Here, we report a high-throughput technique that can be used to prepare coaxial nanowires with sub-10 nm control over the architectural parameters in both axial and radial dimensions. The method, termed coaxial lithography (COAL), relies on templated electrochemical synthesis and can create coaxial nanowires composed of combinations of metals, metal oxides, metal chalcogenides and conjugated polymers. To illustrate the possibilities of the technique, a core/shell semiconductor nanowire with an embedded plasmonic nanoring was synthesized—a structure that cannot be prepared by any previously known method—and its plasmon-excitation-dependent optoelectronic properties were characterized.
Your institute does not have access to this article
Relevant articles
Open Access articles citing this article.
Rui Xu

,

Zhiqiang Zeng

&

Yong Lei

Nature Communications Open Access 04 May 2022

Mana Iwai

,

Tatsuya Kikuchi

&

Ryosuke O. Suzuki

Scientific Reports Open Access 31 March 2021

Amalio Fernández-Pacheco

,

Robert Streubel

…

Russell P. Cowburn

Nature Communications Open Access 09 June 2017
Access options
Subscribe to Journal
Get full journal access for 1 year
$99.00
only $8.25 per issue
All prices are NET prices.
VAT will be added later in the checkout.
Tax calculation will be finalised during checkout.
Buy article
Get time limited or full article access on ReadCube.
$32.00
All prices are NET prices.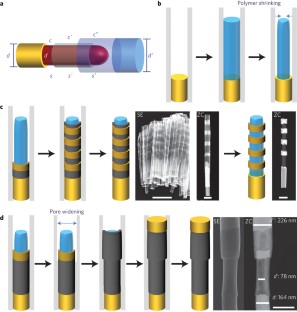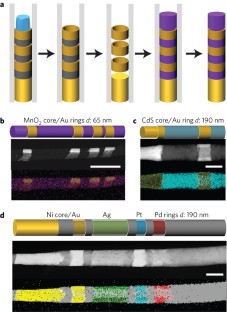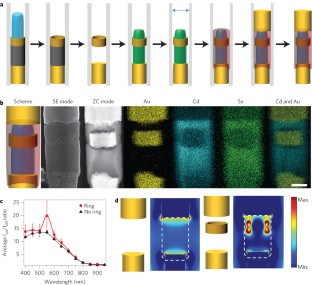 References
Garnett, C. E., Brongersma, M. L., Cui, Y. & McGehee, M. D. Nanowire solar cells. Annu. Rev. Mater. Res. 41, 269–295 (2011).

Jones, M. R., Osberg, K. D., MacFarlane, R. J., Langille, M. R. & Mirkin, C. A. Templated techniques for the synthesis and assembly of plasmonic nanostructures. Chem. Rev. 111, 3736–3827 (2011).

Stewart, M. E. et al. Nanostructured plasmonic sensors. Chem. Rev. 108, 494–521 (2008).

Ozbay, E. Plasmonics: merging photonics and electronics at nanoscale dimensions. Science 311, 189–193 (2006).

Tang, J., Huo, Z., Brittman, S., Gao, H. & Yang, P. Solution processed core-shell nanowires for efficient photovoltaic cells. Nature Nanotech. 6, 568–572 (2011).

Arico, A. S., Bruce, P., Scrosati, B., Tarascon, J. M. & van Schalkwijk, W. Nanostructured materials for advanced energy conversion and storage devices. Nature Mater. 4, 366–377 (2005).

Wallentin, J. et al. InP nanowire array solar cells achieving 13.8% efficiency by exceeding the ray optics limit. Science 339, 1057–1060 (2013).

Atwater, H. A. & Polman, A. Plasmonics for improved photovoltaic devices. Nature Mater. 9, 205–213 (2010).

Linic, S., Christopher, P. & Ingram, D. B. Plasmonic metal nanostructures for efficient conversion of solar to chemical energy. Nature Mater. 10, 911–921 (2011).

Bourret, G. R. et al. Long-range plasmophore rulers. Nano Lett. 13, 2270–2275 (2013).

Brittman, S., Gao, H., Garnett, E. C. & Yang, P. Absorption of light in a single-nanowire silicon solar cell decorated with an octahedral silver nanocrystal. Nano Lett. 11, 5189–5195 (2011).

Mubeen, S., Hernadez-Sosa, G., Moses, D., Lee, J. & Moskovits, M. Plasmonic photosensitization of a wide band gap semiconductor: converting plasmons to charge carriers. Nano Lett. 11, 5548–5552 (2011).

Mubeen, S. et al. An autonomous photosynthetic device in which all charge carriers derive from surface plasmons. Nature Nanotech. 8, 247–251 (2013).

Gao, H., Liu, C., Jeong, H. E. & Yang, P. Plasmon enhanced photocatalytic activity of iron oxide on gold nanopillars. ACS Nano 6, 234–240 (2012).

Thomann, I. et al. Plasmon enhanced solar-to-fuel energy conversion. Nano Lett. 11, 3440–3446 (2011).

Piner, R. D., Zhu, J., Xu, F., Hong, S. & Mirkin, C. A. Dip-pen nanolithography. Science 283, 661–663 (1999).

Chou, S. Y., Krauss, P. R. & Renstrom, P. J. Imprint lithography with 25-nanometer resolution. Science 272, 85–87 (1996).

Qin, L., Park, S., Huang, L. & Mirkin, C. A. On-wire lithography. Science 309, 113–115 (2005).

Tian, B. et al. Coaxial silicon nanowires as solar cells and nanoelectronic power sources. Nature 449, 885–889 (2007).

Dillen, D. C., Kim, K., Liu, E. & Tutuc, E. Radial modulation doping in core–shell nanowires. Nature Nanotech. 9, 116–120 (2014).

Zhu, F. Q. et al. Magnetic bistability and controllable reversal of asymmetric ferromagnetic nanorings. Phys. Rev. Lett. 96, 027205 (2006).

Penner, R. M. & Martin, C. R. Preparation and electrochemical characterization of ultramicroelectrode ensembles. Anal. Chem. 59, 2625–2630 (1987).

Martin, C. R. Nanomaterials: a membrane-based synthetic approach. Science 266, 1961–1966 (1994).

Routkevitch, D., Bigioni, T., Moskovits, M. & Xu, J. M. Electrochemical fabrication of CdS nanowire arrays in porous anodic aluminum oxide templates. J. Phys. Chem. 100, 14037–14047 (1996).

Martin, B. R. et al. Orthogonal self-assembly on colloidal gold–platinum nanorods. Adv. Mater. 11, 1021–1025 (1999).

Nicewarner-Pena, S. R. et al. Submicrometer metallic barcodes. Science 294, 137–141 (2001).

Mirkovic, T. et al. Hinged nanorods made using a chemical approach to flexible nanostructures. Nature Nanotech. 2, 565–569 (2007).

Banholzer, M. J., Qin, L., Millstone, J. E., Osberg, K. D. & Mirkin, C. A. On-wire lithography: synthesis, encoding, and biological applications of metal nanodisks and nanorods. Nature Protoc. 4, 838–848 (2009).

Osberg, K. D., Schmucker, A. L., Senesi, A. J. & Mirkin, C. A. One-dimensional nanorod arrays: independent control of composition, length, and interparticle spacing with nanometer precision. Nano Lett. 11, 820–824 (2011).

Liu, S. H., Tok, J. B. H. & Bao, Z. N. Nanowire lithography: fabricating controllable electrode gaps using Au–Ag–Au nanowires. Nano Lett. 5, 1071–1076 (2005).

Ozel, T., Bourret, G. R., Schmucker, A. L., Brown, K. A. & Mirkin, C. A. Hybrid semiconductor core–shell nanowires with tunable plasmonic nanoantennas. Adv. Mater. 25, 4515–4520 (2013).

Chen, X. et al. Plasmonic focusing in rod–sheath heteronanostructures. ACS Nano 3, 87–92 (2009).
Acknowledgements
The authors thank M. Jones, K. Brown, M. O'Brien and M. Ashley for helpful discussions and comments. This material is based upon work supported by the following: AFOSR FA9550-09-1-0294 and AOARD FA2386-13-1-4124; the Non-equilibrium Energy Research Center (NERC), an Energy Frontier Research Center funded by the US DoE, Office of Science, Office of Basic Energy Sciences DE-SC0000989; the Office of the Assistant Secretary of Defense for Research and Engineering, DoD/NSSEFF Program/NPS N00244-09-1-0012 and N00244-09-1-0071; and NSF MRSEC programme (DMR-1121262) at the Materials Research Center of NU. This work also made use of the EPIC facility (NUANCE Center-Northwestern University), which has received support from the MRSEC programme (NSF DMR-1121262) at the Materials Research Center and the Nanoscale Science and Engineering Center (EEC-0118025/003), both programmes of the National Science Foundation (NSF). The authors also acknowledge support from the State of Illinois and Northwestern University. T.O. acknowledges 3M for a science and technology fellowship, ECS for a summer fellowship and SPIE for an optics and photonics education scholarship.
Ethics declarations
Competing interests
The authors declare no competing financial interests.
Supplementary information
About this article
Cite this article
Ozel, T., Bourret, G. & Mirkin, C. Coaxial lithography. Nature Nanotech 10, 319–324 (2015). https://doi.org/10.1038/nnano.2015.33
Received:

Accepted:

Published:

Issue Date:

DOI: https://doi.org/10.1038/nnano.2015.33