Abstract
The spin–orbit interaction in two-dimensional electron systems provides an exceptionally rich area of research. Coherent spin precession in a Rashba effective magnetic field1,2 in the channel of a spin field-effect transistor3,4 and the spin Hall effect5,6,7 are the two most compelling topics in this area. Here, we combine these effects to provide a direct demonstration of the ballistic intrinsic spin Hall effect8 and to demonstrate a technique for an all-electric measurement of the Datta–Das3 conductance oscillation, that is, the oscillation in the source–drain conductance due to spin precession. Our hybrid device has a ferromagnet electrode as a spin injector and a spin Hall detector. Results from multiple devices with different channel lengths map out two full wavelengths of the Datta–Das oscillation. We also use the original Datta–Das technique with a single device of fixed length and measure the channel conductance as the gate voltage is varied. Our experiments show that the ballistic spin Hall effect can be used for efficient injection or detection of spin polarized electrons, thereby enabling the development of an integrated spin transistor.
Access options
Subscribe to Journal
Get full journal access for 1 year
$169.00
only $14.08 per issue
All prices are NET prices.
VAT will be added later in the checkout.
Rent or Buy article
Get time limited or full article access on ReadCube.
from$8.99
All prices are NET prices.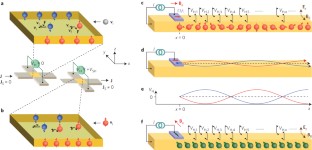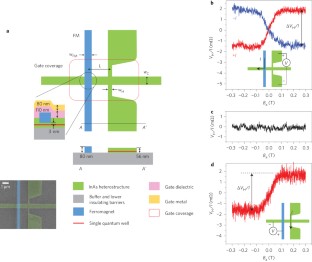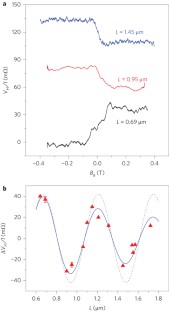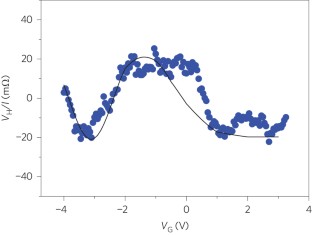 References
1

Bychkov Yu, A. & Rashba, E. I. Properties of a 2D electron gas with lifted spectral degeneracy. JETP Lett. 39, 78–81 (1984).

2

Vas'ko, F. T. Spin splitting in the spectrum of two-dimensional electrons due to the surface potential. JETP Lett. 30, 541–544 (1979).

3

Datta, S. & Das, B. Electronic analog of the electro-optic modulator. Appl. Phys. Lett. 56, 665–667 (1990).

4

Koo, H. C. et al. Control of spin precession in a spin-injected field effect transistor. Science 325, 1515–1518 (2009).

5

Dyakonov, M. I. & Perel, V. I. Possibility of orienting electron spins with current. JETP Lett. 13, 467–470 (1971).

6

Hirsch, J. E. Spin Hall effect. Phys. Rev. Lett. 83, 1834–1837 (1999).

7

Zhang, S. Spin Hall effect in the presence of spin diffusion. Phys. Rev. Lett. 85, 393–396 (2000).

8

Wunderlich, J., Kaestner, B., Sinova, J. & Jungwirth, T. Experimental observation of the spin-Hall effect in a two-dimensional spin–orbit coupled semiconductor system. Phys. Rev. Lett. 94, 047204 (2005).

9

Dyakonov, M. I. & Khaetskii, A. V. in Spin Physics in Semiconductors (ed. Dyakonov, M. I.) 211–243 (Springer Verlag, 2008).

10

Valenzuela, S. O. & Tinkham, M. Direct electronic measurement of the spin Hall effect. Nature 442, 176–179 (2006).

11

Seki, T. et al. Giant spin Hall effect in perpendicularly spin-polarized FePt/Au devices. Nature Mater. 7, 125–129 (2008).

12

Wunderlich, J. et al. Spin Hall effect transistor. Science 330, 1801–1804 (2010).

13

Brüne, C. et al. Evidence for the ballistic intrinsic spin Hall effect in HgTe nanostructures. Nature Phys. 6, 448–454 (2010).

14

Koo, H. C. et al. Electrical spin injection and detection in an InAs quantum well. Appl. Phys. Lett. 90, 022101 (2007).

15

Johnson, M. & Silsbee, R. H. Interfacial charge–spin coupling: injection and detection of spin magnetization in metals. Phys. Rev. Lett. 55, 1790–1793 (1985).

16

Lou, X. et al. Electrical detection of spin transport in lateral ferromagnet–semiconductor devices. Nature Phys. 3, 197–202 (2007).

17

Zainuddin, A. N. M., Hong, S., Siddiqui, L., Srinivasan, S. & Datta, S. Voltage-controlled spin precession. Phys. Rev. B 84, 165306 (2011).

18

Nikolíc, B. K., Souma, S., Zârbo, L. P. & Sinova, J. Nonequilibrium spin Hall accumulation in ballistic semiconductor nanostructures. Phys. Rev. Lett. 95, 046601 (2005).

19

Koo, H. C. et al. Gate modulation of spin precession in a semiconductor channel. J. Phys. D 44, 064006 (2011).

20

Wunderlich, J. et al. Spin-injection Hall effect in a planar photovoltaic cell. Nature Phys. 5, 675–681 (2009).

21

Liu, L., Moriyama, T., Ralph, D. C. & Buhrman, R. A. Spin–torque ferromagnetic resonance induced by the spin Hall effect. Phys. Rev. Lett. 106, 036601 (2011).

22

Garlid, E. S., Hu, Q. O., Chan, M. K., Palmstrøm, C. J. & Crowell, P. A. Electrical measurement of the direct spin Hall effect in Fe/InxGa1−xAs heterostructures. Phys. Rev. Lett. 105, 156602 (2010).

23

Ando, K. & Saitoh, E. Observation of the inverse spin Hall effect in silicon. Nature Phys. 3, 629 (2012).

24

Ford, A. et al. Diameter-dependent electron mobility of InAs nanowires. Nano Lett. 9, 360–365 (2009).

25

Nitta, J., Akazaki, T., Takayanagi, H. & Enoki, T. Gate control of spin–orbit interaction in an inverted In0.53Ga0.47As/In0.52Al0.48As heterostructure. Phys. Rev. Lett. 78, 1335–1338 (1997).
Acknowledgements
The authors thank S.Y. Park and Y. Jo for providing the physical property measurement system. This work was supported by a National Research Foundation of Korea (NRF) grant funded by the Korea government (MSIP) (no. 2010-0017457) and the KIST Institutional Program. W.C. and H.C.K. acknowledge support from the KU-KIST Institutional Program. M.J. acknowledges support from the Office of Naval Research and the Nanoscience Institute of the Naval Research Laboratory (no. ELN02414855).
Ethics declarations
Competing interests
The authors declare no competing financial interests.
Supplementary information
About this article
Cite this article
Choi, W., Kim, Hj., Chang, J. et al. Electrical detection of coherent spin precession using the ballistic intrinsic spin Hall effect. Nature Nanotech 10, 666–670 (2015). https://doi.org/10.1038/nnano.2015.107
Received:

Accepted:

Published:

Issue Date: