Abstract
Mixing of discretized states in quantum magnets has a radical impact on their properties. Managing this effect is key for spintronics in the quantum limit. Magnetic fields can modify state mixing and, for example, mitigate destabilizing effects in single-molecule magnets1,2. The exchange bias field3,4 has been proposed as a mechanism for localized control of individual nanomagnets5,6. Here, we demonstrate that exchange coupling with the magnetic tip of a scanning tunnelling microscope provides continuous tuning of spin state mixing in an individual nanomagnet. By directly measuring spin relaxation time with electronic pump–probe spectroscopy7, we find that the exchange interaction acts analogously to a local magnetic field that can be applied to a specific atom. It can be tuned in strength by up to several tesla and cancel external magnetic fields, thereby demonstrating the feasibility of complete control over individual quantum magnets with atomically localized exchange coupling.
Relevant articles
Open Access articles citing this article.
Rasa Rejali

,

David Coffey

…

Alexander F. Otte

npj Quantum Materials Open Access 27 August 2020

R. J. G. Elbertse

,

D. Coffey

…

A. F. Otte

Communications Physics Open Access 25 May 2020

Kai Yang

,

Hui Chen

…

Hong-Jun Gao

Nature Communications Open Access 09 August 2019
Access options
Subscribe to this journal
Receive 12 print issues and online access
$259.00 per year
only $21.58 per issue
Rent or buy this article
Prices vary by article type
from$1.95
to$39.95
Prices may be subject to local taxes which are calculated during checkout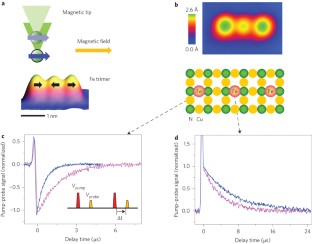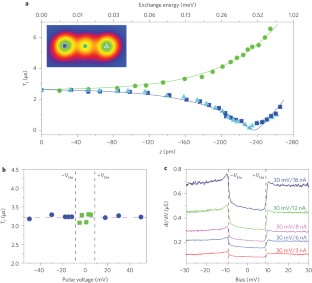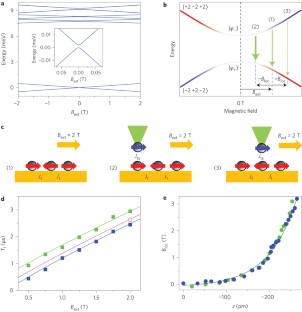 References
Gatteschi, D. & Sessoli, R. Quantum tunneling of magnetization and related phenomena in molecular materials. Angew. Chem. Int. Ed. 42, 268–297 (2003).

Leuenberger, M. N. & Loss, D. Quantum computing in molecular magnets. Nature 410, 789–793 (2001).

Nogués, J. & Schuller, I. K. Exchange bias. J. Magn. Magn. Mater. 192, 203–232 (1999).

Wolf, S. A. et al. Spintronics: a spin-based electronics vision for the future. Science 294, 1488–1495 (2001).

Wieser, R. et al. A theoretical study of the dynamical switching of a single spin by exchange forces. New J. Phys. 15, 013011 (2013).

Tao, K. et al. Switching a single spin on metal surfaces by a STM tip: ab initio studies. Phys. Rev. Lett. 103, 057202 (2009).

Loth, S., Etzkorn, M., Lutz, C. P., Eigler, D. M. & Heinrich, A. J. Measurement of fast electron spin relaxation times with atomic resolution. Science 329, 1628–1630 (2010).

Ardavan, A. et al. Will spin-relaxation times in molecular magnets permit quantum information processing? Phys. Rev. Lett. 98, 057201 (2007).

Meier, F., Levy, J. & Loss, D. Quantum computing with spin cluster qubits. Phys. Rev. Lett. 90, 047901 (2003).

McEnroe, S. A. et al. Magnetic exchange bias of more than 1 tesla in a natural mineral intergrowth. Nature Nanotech. 2, 631–634 (2007).

Kaiser, U., Schwarz, A. & Wiesendanger, R. Magnetic exchange force microscopy with atomic resolution. Nature 446, 522–525 (2007).

Schmidt, R. et al. Quantitative measurement of the magnetic exchange interaction across a vacuum gap. Phys. Rev. Lett. 106, 257202 (2011).

Bork, J. et al. A tunable two-impurity Kondo system in an atomic point contact. Nature Phys. 7, 901–906 (2011).

Lazo, C. & Heinze, S. First-principles study of magnetic exchange force microscopy with ferromagnetic and antiferromagnetic tips. Phys. Rev. B 84, 144428 (2011).

Loth, S., Baumann, S., Lutz, C. P., Eigler, D. M. & Heinrich, A. J. Bistability in atomic-scale antiferromagnets. Science 335, 196–199 (2012).

Khajetoorians, A. A. et al. Current-driven spin dynamics of artificially constructed quantum magnets. Science 339, 55–59 (2013).

Heinrich, B. W., Braun, L., Pascual, J. I. & Franke, K. J. Protection of excited spin states by a superconducting energy gap. Nature Phys. 9, 765–768 (2013).

Hirjibehedin, C. F. et al. Large magnetic anisotropy of a single atomic spin embedded in a surface molecular network. Science 317, 1199–1203 (2007).

Bryant, B., Spinelli, A., Wagenaar, J. J. T., Gerrits, M. & Otte, A. F. Local control of single atom magnetocrystalline anisotropy. Phys. Rev. Lett. 111, 127203 (2013).

Stipe, B. C., Rezaei, M. A. & Ho, W. Single-molecule vibrational spectroscopy and microscopy. Science 280, 1732–1735 (1998).

Heinrich, A. J., Gupta, J. A., Lutz, C. P. & Eigler, D. M. Single-atom spin-flip spectroscopy. Science 306, 466–469 (2004).

Loth, S. et al. Controlling the state of quantum spins with electric currents. Nature Phys. 6, 340–344 (2010).

Delgado, F. & Fernández-Rossier, J. Spin dynamics of current-driven single magnetic adatoms and molecules. Phys. Rev. B 82, 134414 (2010).

Oberg, J. C. et al. Control of single-spin magnetic anisotropy by exchange coupling. Nature Nanotech. 9, 64–68 (2014).

Otte, A F. et al. Spin excitations of a Kondo-screened atom coupled to a second magnetic atom. Phys. Rev. Lett. 103, 107203 (2009).

Weymouth, A. J., Hofmann, T. & Giessibl, F. J. Quantifying molecular stiffness and interaction with lateral force microscopy. Science 343, 1120–1122 (2014).

Horcas, I. et al. WSXM: a software for scanning probe microscopy and a tool for nanotechnology. Rev. Sci. Instrum. 78, 013705 (2007).
Acknowledgements
The authors thank S. Heinze, C. Hübner and D. Pfannkuche for discussions, and E. Weckert and H. Dosch (Deutsches Elektronen-Synchrotron) for providing laboratory space. D.J.C. and J.A.J.B. acknowledge postdoctoral fellowships from the Alexander von Humboldt Foundation. J.A.J.B. acknowledges support from the Natural Sciences and Engineering Research Council of Canada.
Ethics declarations
Competing interests
The authors declare no competing financial interests.
Supplementary information
About this article
Cite this article
Yan, S., Choi, DJ., Burgess, J. et al. Control of quantum magnets by atomic exchange bias. Nature Nanotech 10, 40–45 (2015). https://doi.org/10.1038/nnano.2014.281
Received:

Accepted:

Published:

Issue Date:

DOI: https://doi.org/10.1038/nnano.2014.281