The confluence of nanotechnology and biotechnology provides significant commercial opportunities. By identifying, classifying and tracking firms with capabilities in both biotechnology and nanotechnology over time, we analyse the emergence and evolution of the global nanobiotechnology industry.
Access options
Subscribe to Journal
Get full journal access for 1 year
$119.00
only $9.92 per issue
All prices are NET prices.
VAT will be added later in the checkout.
Tax calculation will be finalised during checkout.
Buy article
Get time limited or full article access on ReadCube.
$32.00
All prices are NET prices.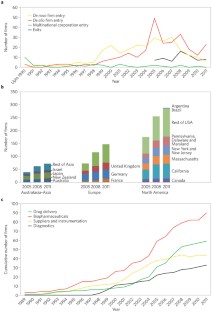 References
Lok, C. Nature 467, 18–21 (2010).

Helmus, M. Nature Nanotech. 1, 157–158 (2006).

Maine, E. Rev. Nanosci. Nanotechnol. 2, 300–305 (2013).

Wagner, V., Dullart, A., Bock, A. & Zweck, A. Nature Biotechnol. 24, 1211–1217 (2006).

Sharp, P. A. et al. The Third Revolution: The Convergence of the Life Sciences, Physical Sciences and Engineering (White Paper on Convergence, Massachusetts Institute of Technology, 2011).

Porter, A. L. & Youtie, J. Nature Nanotech. 4, 534–536 (2009).

Simonton, D. K. Creativity in Science: Chance, Logic, Genius, and Zeitgeist (Cambridge Univ. Press, 2004).

Maine, E., Thomas, V. J. & Utterback, J. J. Eng. Technol. Manage. http://dx.doi.org/10.1016/j.jengtecman.2013.10.007 (2013).

Wang, J. & Shapira, P. Small Bus. Econ. 38, 197–215 (2012).

Takeda, Y., Mae, S., Kajikawa, Y. & Matsushima, K. Scientometrics 80, 23–38 (2009).

Maine, E. R&D Management 38, 359–371 (2008).

Pisano, G. P. Ind. Corp. Change 19, 465–482 (2010).

Maine, E., Bliemel, M., Murira, A. & Utterback, J. Mater. Res. Soc. Proc. 1466, http://dx.doi.org/10.1557/opl.2012.1199 (2012).

AAAS Annual Meeting Session 5887 (2013); http://aaas.confex.com/aaas/2013/webprogram/Session5887.html

Kellogg, S. Nature 472, 379–380 (2011).

Porter, M. & Stern, S. MIT Sloan Manage. Rev. 42, 28–36 (2001).

Zucker, L. G., Darby, M. R. & Brewer, M. B. Am. Econ. Rev. 88, 290–306 (1998).

Utterback, J. M. Mastering the Dynamics of Innovation (Harvard Business Review Press, 1994).

Allen, T. M. & Cullis, P. R. Science 303, 1818–1822 (2004).

Farokhzad, O. & Langer, R. ACS Nano 3, 16–20 (2009).

Lewis, N. in AAAS Annual Meeting Paper 9351 (2013); http://aaas.confex.com/aaas/2013/webprogram/Paper9351.html

Sharp, P. A. & Langer, R. Science 333, 527 (2011).

Bollinger, L., Hope, K. & Utterback, J. M. Research Policy 12, 1–14 (1983).

Blank, R. in Forum for the Future of Higher Education 41–47 (Cambridge, 2011).
Acknowledgements
The authors would like to thank the participants of the American Association for the Advancement of Science Annual Meeting 2013, the Beedie Innovation Conference 2013 and the Materials Research Society Spring Meeting 2012. In addition, the authors are grateful for funding from the Social Science and Humanities Research Council of Canada (Grant #410-2006-2270), from the Beedie School of Business at Simon Fraser University and from the David J. McGrath Jr (1959) Chair in Management and Innovation at the Sloan School of Management at MIT.
Supplementary information
About this article
Cite this article
Maine, E., Thomas, V., Bliemel, M. et al. The emergence of the nanobiotechnology industry. Nature Nanotech 9, 2–5 (2014). https://doi.org/10.1038/nnano.2013.288
Published:

Issue Date:

DOI: https://doi.org/10.1038/nnano.2013.288