Research and teaching in nanoscience can, and should, be thought as one joint endeavour. nanoHUB, a cyberinfrastructure that aims to use interactive cloud-based software to meet the needs of both code developers and end-users, is redefining research and education in nanoscience and engineering.
Relevant articles
Open Access articles citing this article.
Victo José da Silva Neto

&

Tulio Chiarini

Minerva Open Access 28 October 2022
Access options
Subscribe to Journal
Get full journal access for 1 year
$119.00
only $9.92 per issue
All prices are NET prices.
VAT will be added later in the checkout.
Tax calculation will be finalised during checkout.
Buy article
Get time limited or full article access on ReadCube.
$32.00
All prices are NET prices.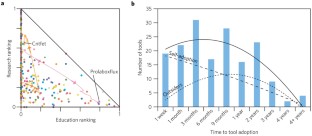 References
Wieman, C. E. & Perkins, K. K. Phys. Today 58, 36–41 (November, 2005).

Bainbridge, W. S. & Roco, M. C. (eds) in Managing Nano-Bio-Info-Cogno Innovations: Converging Technologies in Society Ch. 1, 1–7 (Springer, 2006).

Klimeck, G., McLennan, M., Brophy, S. B., Adams, G. B. III & Lundstrom, M. S. Computing Sci. Eng. 10, 17–23 (2008).

Kapadia, N. H., Fortes, J. B. & Lundstrom, M. S. ACM Trans. Model. Computer Simulations 10, 39–57 (2000).

McLennan, M. & Kennell, R. Computing Sci. Eng. 12, 48–53 (2010).

Klimeck, G. et al. Quantum Dot Lab (2011); https://nanohub.org/resources/qdot

Steiger, S., Povolotskyi, M., Park, H-H., Kubis, T. & Klimeck, G. IEEE Trans. Nanotechnol. 10, 1464–1474 (November, 2011); http://dx.doi.org/10.1109/TNANO.2011.2166164

Boyer Commission on Educating Undergraduates in the Research University Reinventing Undergraduate Education: A Blueprint for America's Research Universities (1998); http://www.niu.edu/engagedlearning/research/pdfs/Boyer_Report.pdf

Bransford, J. D., Brown, A. L. & Cocking, R. R. How People Learn (National Academy Press, 2000).

Mehrotra, S., Zentner, L., Klimeck, G. & Vasileska, D. IEEE Nanotechnol. Conf. 932–936 (2011); http://dx.doi.org/10.1109/NANO.2011.6144581

Diefes-Dux, H. A., Hjalmarson, M. A. & Zawojewski, J. S. J. Eng. Edu. 102, 179–216 (2013).

National Academy of Engineering Grand Challenges for Engineering in the 21st Century (2008); http://www.engineeringchallenges.org/

Millard, D. L., Chouikha, M. & Berry, F. in Annu. Conf. Am. Soc. Eng. Edu. AC2007–1222 (2007); http://go.nature.com/2NTtgz

Borgman, C. L. et al. Fostering Learning in a Networked World: The Cyberlearning Opportunity and Challenge (National Science Foundation, 2008); http://www.nsf.gov/pubs/2008/nsf08204/nsf08204.pdf
Acknowledgements
nanoHUB spans a 15-year effort and involves contributions from over 1,000 people. As such it is impossible to list all contributors. We recognize and acknowledge: M. S. Lundstrom the creator of nanoHUB, M. McLennan who created Rappture and directs the HUBzero effort, R. Kennell who created the middleware that currently powers all nanoHUB simulations, and finally S. Datta who embraced nanoHUB for the development of all his fascinating quantum transport classes over the past 10 years. This work was supported with funding from NSF grants EEC-0228390, EEC-0634750, OCI-0438246, OCI-0721680, EEC-0956819, and EEC-1227110. The visionary leadership of L. Preston and M. Roco is also gratefully acknowledged.
About this article
Cite this article
Madhavan, K., Zentner, M. & Klimeck, G. Learning and research in the cloud. Nature Nanotech 8, 786–789 (2013). https://doi.org/10.1038/nnano.2013.231
Published:

Issue Date:

DOI: https://doi.org/10.1038/nnano.2013.231