Abstract
Nanoparticles coated with DNA molecules can be programmed to self-assemble into three-dimensional superlattices. Such superlattices can be made from nanoparticles with different functionalities and could potentially exploit the synergetic properties of the nanoscale components. However, the approach has so far been used primarily with single-component systems. Here, we report a general strategy for the creation of heterogeneous nanoparticle superlattices using DNA and carboxylic-based conjugation. We show that nanoparticles with all major types of functionality—plasmonic (gold), magnetic (Fe2O3), catalytic (palladium) and luminescent (CdSe/Te@ZnS and CdSe@ZnS)—can be incorporated into binary systems in a rational manner. We also examine the effect of nanoparticle characteristics (including size, shape, number of DNA per particle and DNA flexibility) on the phase behaviour of the heterosystems, and demonstrate that the assembled materials can have novel optical and field-responsive properties.
Relevant articles
Open Access articles citing this article.
Lior Shani

,

Aaron N. Michelson

…

Oleg Gang

Nature Communications Open Access 10 November 2020

Shunzhi Wang

,

Sarah S. Park

…

Chad A. Mirkin

Nature Communications Open Access 19 May 2020

Sha Sun

,

Shize Yang

…

Oleg Gang

Nature Communications Open Access 08 May 2020
Access options
Subscribe to Journal
Get full journal access for 1 year
$119.00
only $9.92 per issue
All prices are NET prices.
VAT will be added later in the checkout.
Tax calculation will be finalised during checkout.
Buy article
Get time limited or full article access on ReadCube.
$32.00
All prices are NET prices.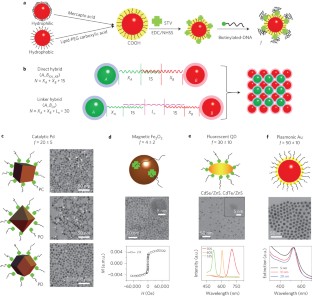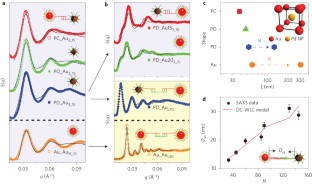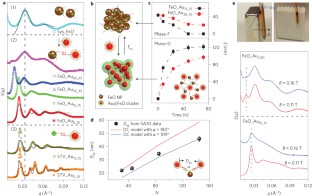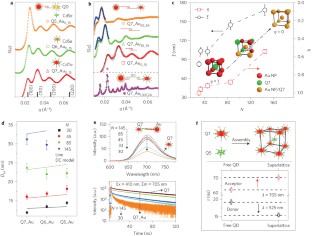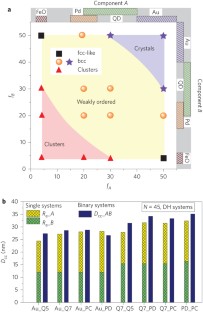 References
Nykypanchuk, D., Maye, M. M., van der Lelie, D. & Gang, O. DNA-guided crystallization of colloidal nanoparticles. Nature 451, 549–552 (2008).

Park, S. Y. et al. DNA-programmable nanoparticle crystallization. Nature 451, 553–556 (2008).

Courty, A., Mermet, A., Albouy, P. A., Duval, E. & Pileni, M. P. Vibrational coherence of self-organized silver nanocrystals in f.c.c. supra-crystals. Nature Mater. 4, 395–398 (2005).

Sun, S. H., Murray, C. B., Weller, D., Folks, L. & Moser, A. Monodisperse FePt nanoparticles and ferromagnetic FePt nanocrystal superlattices. Science 287, 1989–1992 (2000).

Cheon, J. et al. Magnetic superlattices and their nanoscale phase transition effects. Proc. Natl Acad. Sci. USA 103, 3023–3027 (2006).

Maye, M. M., Nykypanchuk, D., Cuisinier, M., van der Lelie, D. & Gang, O. Stepwise surface encoding for high-throughput assembly of nanoclusters. Nature Mater. 8, 388–391 (2009).

Xiong, H. M., Sfeir, M. Y. & Gang, O. Assembly, structure and optical response of three-dimensional dynamically tunable multicomponent superlattices. Nano Lett. 10, 4456–4462 (2010).

Kuzyk, A. et al. DNA-based self-assembly of chiral plasmonic nanostructures with tailored optical response. Nature 483, 311–314 (2012).

Severac, F., Alphonse, P., Esteve, A., Bancaud, A. & Rossi, C. High-energy Al/CuO nanocomposites obtained by DNA-directed assembly. Adv. Funct. Mater. 22, 323–329 (2012).

Podsiadlo, P. et al. High-pressure structural stability and elasticity of supercrystals self-assembled from nanocrystals. Nano Lett. 11, 579–588 (2011).

Redl, F. X., Cho, K. S., Murray, C. B. & O'Brien, S. Three-dimensional binary superlattices of magnetic nanocrystals and semiconductor quantum dots. Nature 423, 968–971 (2003).

Shevchenko, E. V., Talapin, D. V., Kotov, N. A., O'Brien, S. & Murray, C. B. Structural diversity in binary nanoparticle superlattices. Nature 439, 55–59 (2006).

Kalsin, A. M. et al. Electrostatic self-assembly of binary nanoparticle crystals with a diamond-like lattice. Science 312, 420–424 (2006).

Evers, W. H., Friedrich, H., Filion, L., Dijkstra, M. & Vanmaekelbergh, D. Observation of a ternary nanocrystal superlattice and its structural characterization by electron tomography. Angew. Chem. Int. Ed. 48, 9655–9657 (2009).

Maye, M. M., Gang, O. & Cotlet, M. Photoluminescence enhancement in CdSe/ZnS–DNA linked-Au nanoparticle heterodimers probed by single molecule spectroscopy. Chem. Commun. 46, 6111–6113 (2010).

Hiroi, K., Komatsu, K. & Sato, T. Superspin glass originating from dipolar interaction with controlled interparticle distance among γ-Fe2O3 nanoparticles with silica shells. Phys. Rev. B 83, 224423 (2011).

Vermolen, E. C. M. et al. Fabrication of large binary colloidal crystals with a NaCl structure. Proc. Natl Acad. Sci. USA 106, 16063–16067 (2009).

Gardner, D. F., Evans, J. S. & Smalyukh, I. I. Towards reconfigurable optical metamaterials: colloidal nanoparticle self-assembly and self-alignment in liquid crystals. Mol. Cryst. Liq. Cryst. 545, 1227–1245 (2011).

Alivisatos, A. P. et al. Organization of 'nanocrystal molecules' using DNA. Nature 382, 609–611 (1996).

Mirkin, C. A., Letsinger, R. L., Mucic, R. C. & Storhoff, J. J. A DNA-based method for rationally assembling nanoparticles into macroscopic materials. Nature 382, 607–609 (1996).

Tkachenko, A. V. Morphological diversity of DNA-colloidal self-assembly. Phys. Rev. Lett. 89, 148303 (2002).

Dai, W., Hsu, C. W., Sciortino, F. & Starr, F. W. Valency dependence of polymorphism and polyamorphism in DNA-functionalized nanoparticles. Langmuir 26, 3601–3608 (2010).

Macfarlane, R. J. et al. Establishing the design rules for DNA-mediated colloidal crystallization. Angew. Chem. Int. Ed. 49, 4589–4592 (2010).

Xiong, H. M., van der Lelie, D. & Gang, O. Phase behavior of nanoparticles assembled by DNA linkers. Phys. Rev. Lett. 102, 015504 (2009).

Jones, M. R. et al. DNA–nanoparticle superlattices formed from anisotropic building blocks. Nature Mater. 9, 913–917 (2010).

Macfarlane, R. J. et al. Nanoparticle superlattice engineering with DNA. Science 334, 204–208 (2011).

Cigler, P., Lytton-Jean, A. K. R., Anderson, D. G., Finn, M. G. & Park, S. Y. DNA-controlled assembly of a NaTl lattice structure from gold nanoparticles and protein nanoparticles. Nature Mater. 9, 918–922 (2010).

Sun, D. Z. & Gang, O. Binary heterogeneous superlattices assembled from quantum dots and gold nanoparticles with DNA. J. Am. Chem. Soc. 133, 5252–5254 (2011).

Tikhomirov, G. et al. DNA-based programming of quantum dot valency, self-assembly and luminescence. Nature Nanotech. 6, 485–490 (2011).

Sun, D. Z. et al. Heterogeneous nanoclusters assembled by PNA-templated double-stranded DNA. Nanoscale 4, 6722–6725 (2012).

Ye, X. C., Chen, J. & Murray, C. B. Polymorphism in self-assembled AB(6) binary nanocrystal superlattices. J. Am. Chem. Soc. 133, 2613–2620 (2011).

Kang, Y. J. et al. Design of Pt–Pd binary superlattices exploiting shape effects and synergistic effects for oxygen reduction reactions. J. Am. Chem. Soc. 135, 42–45 (2013).

Zhang, C. et al. A general approach to DNA-programmable atom equivalents. Nature Mater. 12, 741–746 (2013).

Xiong, H. M., van der Lelie, D. & Gang, O. DNA linker-mediated crystallization of nanocolloids. J. Am. Chem. Soc. 130, 2442–2443 (2008).

Damasceno, P. F., Engel, M. & Glotzer, S. C. Predictive self-assembly of polyhedra into complex structures. Science 337, 453–457 (2012).

Ye, X. C. et al. Competition of shape and interaction patchiness for self-assembling nanoplates. Nature Chem. 5, 466–473 (2013).

Zhang, Y. G., Lu, F., van der Lelie, D. & Gang, O. Continuous phase transformation in nanocube assemblies. Phys. Rev. Lett. 107, 135701 (2011).

Vial, S., Nykypanchuk, D., Yager, K. G., Tkachenko, A. V. & Gang, O. Linear mesostructures in DNA–nanorod self-assembly. ACS Nano 7, 5437–5445 (2013).

Chi, C., Vargas-Lara, F., Tkachenko, A. V., Starr, F. W. & Gang, O. Internal structure of nanoparticle dimers linked by DNA. ACS Nano 6, 6793–6802 (2012).

Sun, D. Z. & Gang, O. DNA-functionalized quantum dots: fabrication, structural, and physicochemical properties. Langmuir 29, 7038–7046 (2013).

Knorowski, C., Burleigh, S. & Travesset, A. Dynamics and statics of DNA-programmable nanoparticle self-assembly and crystallization. Phys. Rev. Lett. 106, 215501 (2011).

Krishnamoorthy, H. N. S., Jacob, Z., Narimanov, E., Kretzschmar, I. & Menon, V. M. Topological transitions in metamaterials. Science 336, 205–209 (2012).

Wilson, O. M., Knecht, M. R., Garcia-Martinez, J. C. & Crooks, R. M. Effect of Pd nanoparticle size on the catalytic hydrogenation of allyl alcohol. J. Am. Chem. Soc. 128, 4510–4511 (2006).
Acknowledgements
Research carried out at the Center for Functional Nanomaterials and National Synchrotron Light Source (Brookhaven National Laboratory) was supported by the US Department of Energy, Office of Basic Energy Sciences (contract no. DE-AC02-98CH10886).
Ethics declarations
Competing interests
The authors declare no competing financial interests.
Supplementary information
About this article
Cite this article
Zhang, Y., Lu, F., Yager, K. et al. A general strategy for the DNA-mediated self-assembly of functional nanoparticles into heterogeneous systems. Nature Nanotech 8, 865–872 (2013). https://doi.org/10.1038/nnano.2013.209
Received:

Accepted:

Published:

Issue Date:

DOI: https://doi.org/10.1038/nnano.2013.209