By using lanthanide-doped upconversion nanoparticles, fibre-optic sensors can display sensitivities several orders of magnitude greater than those of existing fluorescent techniques.
Access options
Subscribe to Journal
Get full journal access for 1 year
$119.00
only $9.92 per issue
All prices are NET prices.
VAT will be added later in the checkout.
Tax calculation will be finalised during checkout.
Buy article
Get time limited or full article access on ReadCube.
$32.00
All prices are NET prices.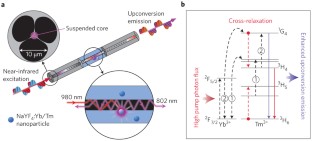 References
Schartner, E. P., Ebendorff-Heidepriem, H., Warren-Smith, S. C., White, R. T. & Monro, T. M. Sensors 11, 2961–2971 (2011).

Wang, F. et al. Nature 463, 1061–1065 (2010).

Auzel, F. Chem. Rev. 104, 139–174 (2004).

Boyer, J.-C. & van Veggel, F. C. J. M. Nanoscale 2, 1417–1419 (2010).

Zhao, J. et al. Nature Nanotech. 8, 729–734 (2013).

Yin, A., Zhang, Y., Sun, L. & Yan, C. Nanoscale 2, 953–959 (2010).

Liu, H. et al. Nanoscale 5, 4770–4775 (2013).

Su, Q. et al. J. Am. Chem. Soc. 134, 20849–20857 (2012).

Zhou, B., Lin, H. & Pun, E.-Y. B. Opt. Express 18, 18805–18810 (2010).
About this article
Cite this article
Zhang, Y., Liu, X. Shining a light on upconversion. Nature Nanotech 8, 702–703 (2013). https://doi.org/10.1038/nnano.2013.199
Published:

Issue Date:

DOI: https://doi.org/10.1038/nnano.2013.199