Abstract
A major challenge in using spins in the solid state for quantum technologies is protecting them from sources of decoherence. This is particularly important in nanodevices where the proximity of material interfaces, and their associated defects, can play a limiting role. Spin decoherence can be addressed to varying degrees by improving material purity or isotopic composition1,2, for example, or active error correction methods such as dynamic decoupling3,4 (or even combinations of the two5,6). However, a powerful method applied to trapped ions in the context of atomic clocks7,8 is the use of particular spin transitions that are inherently robust to external perturbations. Here, we show that such 'clock transitions' can be observed for electron spins in the solid state, in particular using bismuth donors in silicon9,10. This leads to dramatic enhancements in the electron spin coherence time, exceeding seconds. We find that electron spin qubits based on clock transitions become less sensitive to the local magnetic environment, including the presence of 29Si nuclear spins as found in natural silicon. We expect the use of such clock transitions will be of additional significance for donor spins in nanodevices11, mitigating the effects of magnetic or electric field noise arising from nearby interfaces and gates.
Relevant articles
Open Access articles citing this article.
Jaewook Lee

,

Huijin Park

&

Hosung Seo

npj 2D Materials and Applications Open Access 07 September 2022

Krishnendu Ghosh

,

He Ma

…

Giulia Galli

npj Computational Materials Open Access 29 July 2021

M. H. Abobeih

,

J. Cramer

…

T. H. Taminiau

Nature Communications Open Access 29 June 2018
Access options
Subscribe to Journal
Get full journal access for 1 year
$119.00
only $9.92 per issue
All prices are NET prices.
VAT will be added later in the checkout.
Tax calculation will be finalised during checkout.
Buy article
Get time limited or full article access on ReadCube.
$32.00
All prices are NET prices.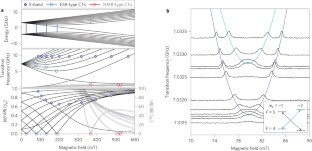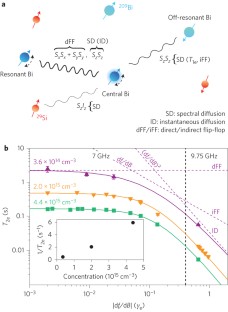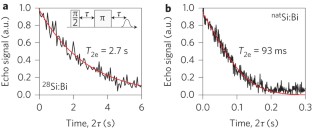 References
Tyryshkin, A. M. et al. Electron spin coherence exceeding seconds in high-purity silicon. Nature Mater. 11, 143–147 (2012).

Balasubramanian, G. et al. Ultralong spin coherence time in isotopically engineered diamond. Nature Mater. 8, 383–387 (2009).

Viola, L. & Lloyd, S. Dynamical suppression of decoherence in two-state quantum systems. Phys. Rev. A 58, 2733–2744 (1998).

Bluhm, H. et al. Dephasing time of GaAs electron-spin qubits coupled to a nuclear bath exceeding 200 µs. Nature Phys. 7, 109–113 (2011).

Steger, M. et al. Quantum information storage for over 180 s using donor spins in a 28Si 'semiconductor vacuum'. Science 336, 1280–1283 (2012).

Maurer, P. C. et al. Room-temperature quantum bit memory exceeding one second. Science 336, 1283–1286 (2012).

Bollinger, J., Prestage, J., Itano, W. & Wineland, D. Laser-cooled-atomic frequency standard. Phys. Rev. Lett. 54, 1000–1003 (1985).

Fisk, P. T. H. et al. Very high Q microwave spectroscopy on trapped 171Yb+ ions: application as a frequency standard. IEEE Trans. Instrum. Meas. 44, 113–116 (1995).

George, R. E. et al. Electron spin coherence and electron nuclear double resonance of Bi donors in natural Si. Phys. Rev. Lett. 105, 067601 (2010).

Morley, G. W. et al. The initialization and manipulation of quantum information stored in silicon by bismuth dopants. Nature Mater. 9, 725–729 (2010).

Pla, J. J. et al. A single-atom electron spin qubit in silicon. Nature 489, 541–545 (2012).

Haljan, P. et al. Entanglement of trapped-ion clock states. Phys. Rev. A 72, 062316 (2005).

Langer, C. et al. Long-lived qubit memory using atomic ions. Phys. Rev. Lett. 95, 060502 (2005).

Schenkel, T. et al. Electrical activation and electron spin coherence of ultralow dose antimony implants in silicon. Appl. Phys. Lett. 88, 112101 (2006).

Vion, D. et al. Manipulating the quantum state of an electrical circuit. Science 296, 886–889 (2002).

Koch, J. et al. Charge-insensitive qubit design derived from the Cooper pair box. Phys. Rev. A 76, 042319 (2007).

Longdell, J., Alexander, A. & Sellars, M. Characterization of the hyperfine interaction in europium-doped yttrium orthosilicate and europium chloride hexahydrate. Phys. Rev. B 74, 195101 (2006).

McAuslan, D., Bartholomew, J., Sellars, M. & Longdell, J. Reducing decoherence in optical and spin transitions in rare-earth-metal-ion-doped materials. Phys. Rev. A 85, 032339 (2012).

Wolfowicz, G. et al. Decoherence mechanisms of 209Bi donor electron spins in isotopically pure 28Si. Phys. Rev. B 86, 245301 (2012).

Mohammady, M. H., Morley, G. W., Nazir, A. & Monteiro, T. S. Analysis of quantum coherence in bismuth-doped silicon: a system of strongly coupled spin qubits. Phys. Rev. B 85, 094404 (2012).

Morley, G. W. et al. Quantum control of hybrid nuclear–electronic qubits. Nature Mater. 12, 103–107 (2013).

Schuster, D. et al. High-cooperativity coupling of electron–spin ensembles to superconducting cavities. Phys. Rev. Lett. 105, 140501 (2010).

Kubo, Y. et al. Storage and retrieval of a microwave field in a spin ensemble. Phys. Rev. A 85, 012333 (2012).

Riemann, H., Abrosimov, N. & Noetzel, N. Doping of silicon crystals with Bi and other volatile elements by the pedestal growth technique. ECS Trans. 3, 53–59 (2006).

Feher, G. Electron spin resonance experiments on donors in silicon. I. Electronic structure of donors by the electron nuclear double resonance technique. Phys. Rev. 114, 1219–1244 (1959).

Salikhov, K., Dzuba, S. & Raitsimring, A. The theory of electron spin-echo signal decay resulting from dipole–dipole interactions between paramagnetic centers in solids. J. Magn. Reson. 42, 255276 (1981).

Schweiger, A. & Jeschke, G. Principles of Pulse Electron Paramagnetic Resonance Ch. 8.1.5, 216 (Oxford Univ. Press, 2001).

Balian, S. J. et al. Measuring central-spin interaction with a spin-bath by pulsed ENDOR: towards suppression of spin diffusion decoherence. Phys. Rev. B 86, 104428 (2012).

Witzel, W., Carroll, M., Morello, A., Cywinski, L. & Das Sarma, S. Electron spin decoherence in isotope-enriched silicon. Phys. Rev. Lett. 105, 187602 (2010).

Fraval, E., Sellars, M. & Longdell, J. Dynamic decoherence control of a solid-state nuclear-quadrupole qubit. Phys. Rev. Lett. 95, 030506 (2005).
Acknowledgements
The authors thank S. Simmons, T. Monteiro and S. Balian for discussions. This research is supported by the Engineering and Physical Sciences Research Council through the Materials World Network (EP/I035536/1) and a Doctoral Training Award, as well as by the European Research Council under the European Community's Seventh Framework Programme (FP7/2007–2013)/ERC (grant agreement no. 279781). Work at Princeton was supported by the National Science Foundation through Materials World Network (DMR-1107606) and through the Princeton Materials Research Science and Engineering Center (DMR-0819860) and the National Security Agency/Laboratory for Physical Sciences through Lawrence Berkley National Laboratory (6970579). J.J.L.M. is supported by the Royal Society.
Ethics declarations
Competing interests
The authors declare no competing financial interests.
Supplementary information
About this article
Cite this article
Wolfowicz, G., Tyryshkin, A., George, R. et al. Atomic clock transitions in silicon-based spin qubits. Nature Nanotech 8, 561–564 (2013). https://doi.org/10.1038/nnano.2013.117
Received:

Accepted:

Published:

Issue Date:

DOI: https://doi.org/10.1038/nnano.2013.117