Abstract
Nanoparticles have been proposed as carriers for drugs, genes and therapies to treat various diseases1,2. Many strategies have been developed to target nanomaterials to specific or over-expressed receptors in diseased cells, and these typically involve functionalizing the surface of nanoparticles with proteins, antibodies or other biomolecules. Here, we show that the targeting ability of such functionalized nanoparticles may disappear when they are placed in a biological environment. Using transferrin-conjugated nanoparticles, we found that proteins in the media can shield transferrin from binding to both its targeted receptors on cells and soluble transferrin receptors. Although nanoparticles continue to enter cells, the targeting specificity of transferrin is lost. Our results suggest that when nanoparticles are placed in a complex biological environment, interaction with other proteins in the medium and the formation of a protein corona3,4 can 'screen' the targeting molecules on the surface of nanoparticles and cause loss of specificity in targeting.
Relevant articles
Open Access articles citing this article.
Cancer Cell International Open Access 23 August 2022

Mingyang Li

,

Xinyang Jin

…

Lihua Yang

Nature Communications Open Access 16 July 2022

Matilde Durán-Lobato

,

Josefa Álvarez-Fuentes

…

Lucía Martín-Banderas

Scientific Reports Open Access 25 January 2022
Access options
Subscribe to Journal
Get full journal access for 1 year
$119.00
only $9.92 per issue
All prices are NET prices.
VAT will be added later in the checkout.
Tax calculation will be finalised during checkout.
Buy article
Get time limited or full article access on ReadCube.
$32.00
All prices are NET prices.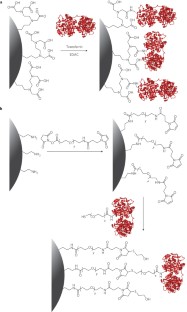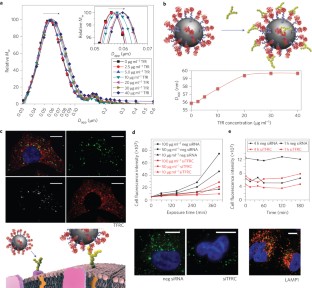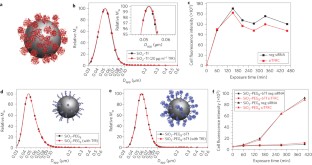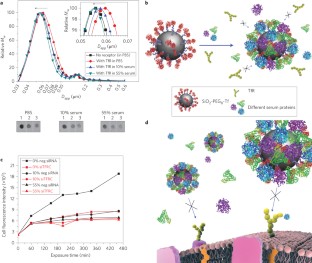 References
Ruoslahti, E., Bhatia, S. N. & Sailor, M. J. Targeting of drugs and nanoparticles to tumors. J. Cell Biol. 188, 759–768 (2010).

Ferrari, M. Cancer nanotechnology: opportunities and challenges. Nature Rev. Cancer 5, 161–171 (2005).

Cedervall, T. et al. Understanding the nanoparticle–protein corona using methods to quantify exchange rates and affinities of proteins for nanoparticles. Proc. Natl Acad. Sci. USA 104, 2050–2055 (2007).

Nel, A. E. et al. Understanding biophysicochemical interactions at the nano–bio interface. Nature Mater. 8, 543–557 (2009).

Hrkach, J. et al. Preclinical development and clinical translation of a PSMA-targeted docetaxel nanoparticle with a differentiated pharmacological profile. Sci. Transl. Med. 4, 128–139 (2012).

Davis, M. E. et al. Evidence of RNAi in humans from systemically administered siRNA via targeted nanoparticles. Nature 464, 1067–1070 (2010).

Keystone, E. et al. Certolizumab pegol plus methotrexate is significantly more effective than placebo plus methotrexate in active rheumatoid arthritis: findings of a fifty-two-week, phase III, multicenter, randomized, double-blind, placebo-controlled, parallel-group study. Arthritis Rheum. 58, 3319–3329 (2008).

Ferrari, M. Frontiers in cancer nanomedicine: directing mass transport through biological barriers. Trends Biotechnol. 28, 181–188 (2010).

Nie, S., Xing, Y., Kim, G. J. & Simons, J. W. Nanotechnology applications in cancer. Annu. Rev. Biomed. Eng. 9, 257–288 (2007).

Zamboni, W. C. et al. Best practices in cancer nanotechnology: perspective from NCI Nanotechnology Alliance. Clin. Cancer Res. 18, 3229–3241 (2012).

Jain, R. K. & Stylianopoulos, T. Delivering nanomedicine to solid tumors. Nature Rev. Clin. Oncol. 7, 653–664 (2010).

Moghimi, S. M., Hunter, A. C. & Murray, J. C. Nanomedicine: current status and future prospects. FASEB J. 19, 311–330 (2005).

Salvati, A. et al. Experimental and theoretical comparison of intracellular import of polymeric nanoparticles and small molecules: toward models of uptake kinetics. Nanomedicine NBM 7, 818–826 (2011).

Iversen, T-G., Skotland, T. & Sandvig, K. Endocytosis and intracellular transport of nanoparticles: present knowledge and need for future studies. Nano Today 6, 176–185 (2011).

Mitragotri, S. & Lahann, J. Physical approaches to biomaterial design. Nature Mater. 8, 15–23 (2009).

Petros, R. A. & DeSimone, J. M. Strategies in the design of nanoparticles for therapeutic applications. Nature Rev. Drug Discov. 9, 615–627 (2010).

Decuzzi, P. et al. Size and shape effects in the biodistribution of intravascularly injected particles. J. Control. Rel. 141, 320–327 (2010).

Barenholz, Y. Liposome application: problems and prospects. Curr. Opin. Colloid Interface Sci. 6, 66–77 (2001).

Farma, J. M. et al. Direct evidence for rapid and selective induction of tumor neovascular permeability by tumor necrosis factor and a novel derivative, colloidal gold bound tumor necrosis factor. Int. J. Cancer 120, 2474–2480 (2007).

Paciotti, G. F. et al. Colloidal gold: a novel nanoparticle vector for tumor directed drug delivery. Drug Del. 11, 169–183 (2004).

Deng, Z. J. et al. Nanoparticle-induced unfolding of fibrinogen promotes Mac-1 receptor activation and inflammation. Nature Nanotech. 6, 39–44 (2011).

Wang, J. et al. Soft interactions at nanoparticles alter protein function and conformation in a size dependent manner. Nano Lett. 11, 4985–4991 (2011).

Otsuka, H., Nagasaki, Y. & Kataoka, K. PEGylated nanoparticles for biological and pharmaceutical applications. Adv. Drug Del. Rev. 55, 403–419 (2003).

Hamad, I. et al. Distinct polymer architecture mediates switching of complement activation pathways at the nanosphere-serum interface: implications for stealth nanoparticle engineering. ACS Nano 4, 6629–6638 (2010).

Daniels, T. R., Delgado, T., Helguera, G. & Penichet, M. L. The transferrin receptor part II: targeted delivery of therapeutic agents into cancer cells. Clin. Immunol. 121, 159–176 (2006).

Thorstensen, K. & Romslo, I. The role of transferrin in the mechanism of cellular iron uptake. Biochem. J. 271, 1–10 (1990).

Kumar, R. et al. Covalently dye-linked, surface-controlled, and bioconjugated organically modified silica nanoparticles as targeted probes for optical imaging. ACS Nano 2, 449–456 (2008).

Högemann-Savellano, D. et al. The transferrin receptor: a potential molecular imaging marker for human cancer. Neoplasia 5, 495–506 (2003).

Qian, J. et al. Bio-molecule-conjugated fluorescent organically modified silica nanoparticles as optical probes for cancer cell imaging. Opt. Express 16, 19568–19578 (2008).

Wu, J., Ye, Z., Wang, G. & Yuan, J. Multifunctional nanoparticles possessing magnetic, long-lived fluorescence and bio-affinity properties for time-resolved fluorescence cell imaging. Talanta 72, 1693–1697 (2007).

Kim, J. A., Åberg, C., Salvati, A. & Dawson, K. A. Role of cell cycle on the cellular uptake and dilution of nanoparticles in a cell population. Nature Nanotech. 7, 62–68 (2012).

Shibuya-Fujiwara, N. et al. Phagocytosis in vitro of polyethylene glycol-modified liposome-encapsulated hemoglobin by human peripheral blood monocytes plus macrophages through scavenger receptors. Life Sci. 70, 291–300 (2001).

Walczyk, D. et al. What the cell 'sees' in bionanoscience. J. Am. Chem. Soc. 132, 5761–5768 (2010).

Chakravarty, P. et al. Thermal ablation of tumor cells with antibody-functionalized single-walled carbon nanotubes. Proc. Natl Acad. Sci. USA 105, 8697–8702 (2008).

Hirsch, L. R. et al. Nanoshell-mediated near-infrared thermal therapy of tumors under magnetic resonance guidance. Proc. Natl Acad. Sci. USA 100, 13549–13554 (2003).
Acknowledgements
Funding for this project was provided by the INSPIRE (Integrated NanoScience Platform for Ireland) programme (funded by the Irish Government's Programme for Research in Third Level Institutions, Cycle 4, National Development Plan 2007-2013), the Irish Research Council for Science, Engineering and Technology, the Helmholtz-Gemeinschaft Deutscher Forschungszentren e. V. Virtual Institute grant Nano Tracking (agreement no. VH-VI-421) and Science Foundation Ireland (09/RFP/MTR2425). This work was based on work supported by the Small Collaborative projects NeuroNano (NNP4-SL-2008-214547) and NanoTransKinetics (NMP4-2010-EU-US-266737), as well as the projects 3micron (NMP-2009-LARGE-3-246479) and NAMDIATREAM (NMP4-LA-2010-246479), funded by the European Commission 7th Framework Programme. The ESF Research Networking Programme EpitopeMap is also acknowledged, as well as use of the Conway Institute Flow Cytometry and Imaging Facilities and the Biological Imaging Suite at University College Dublin. J.C. Simpson is thanked for assistance with RNA interference experiments.
Supplementary information
About this article
Cite this article
Salvati, A., Pitek, A., Monopoli, M. et al. Transferrin-functionalized nanoparticles lose their targeting capabilities when a biomolecule corona adsorbs on the surface. Nature Nanotech 8, 137–143 (2013). https://doi.org/10.1038/nnano.2012.237
Received:

Accepted:

Published:

Issue Date:

DOI: https://doi.org/10.1038/nnano.2012.237