Abstract
The electrocatalytic properties of nanoparticles depend on their size, shape and composition1,2. These properties are typically probed by measuring the total electrocatalytic reaction current of a large number of nanoparticles, but this approach is time-consuming and can only measure the average catalytic activity of the nanoparticles under study. However, the identification of new catalysts requires the ability to rapidly measure the properties of nanoparticles synthesized under various conditions and, ideally, to measure the electrocatalytic activity of individual nanoparticles. Here, we show that a plasmonic-based electrochemical current-imaging technique3 can simultaneously image and quantify the electrocatalytic reactions of an array of 1.6 × 105 platinum nanoparticles printed on an electrode surface, which could facilitate high-throughput screening of the catalytic activities of nanoparticles. We also show that the approach can be used to image the electrocatalytic reaction current and measure the cyclic voltammograms of single nanoparticles.
Relevant articles
Open Access articles citing this article.
Zhiyuan Qian

,

Lingxiao Shan

…

Ying Gu

PhotoniX Open Access 16 September 2021

Dinumol Devasia

,

Andrew J. Wilson

…

Prashant K. Jain

Nature Communications Open Access 10 May 2021

Nareg Ohannesian

,

Ibrahim Misbah

…

Wei-Chuan Shih

Nature Communications Open Access 16 November 2020
Access options
Subscribe to Journal
Get full journal access for 1 year
$119.00
only $9.92 per issue
All prices are NET prices.
VAT will be added later in the checkout.
Tax calculation will be finalised during checkout.
Buy article
Get time limited or full article access on ReadCube.
$32.00
All prices are NET prices.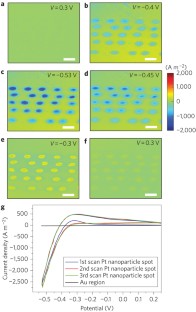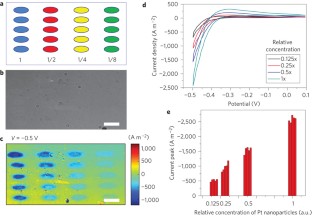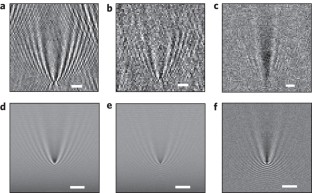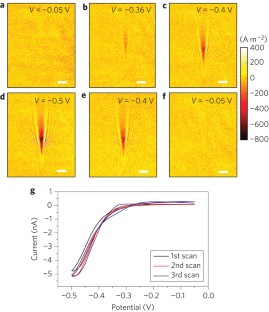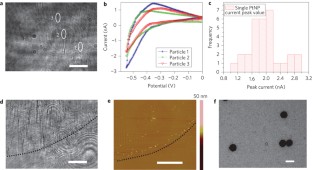 References
Zhou, Z. Y., Tian, N., Li, J. T., Broadwell, I. & Sun, S. G. Nanomaterials of high surface energy with exceptional properties in catalysis and energy storage. Chem. Soc. Rev. 40, 4167–4185 (2011).

Shan, X. N. et al. Measuring surface charge density and particle height using surface plasmon resonance technique. Anal. Chem. 82, 234–240 (2010).

Shan, X. N., Patel, U., Wang, S. P., Iglesias, R. & Tao, N. J. Imaging local electrochemical current via surface plasmon resonance. Science 327, 1363–1366 (2010).

Bard, A. J. et al. Chemical imaging of surfaces with the scanning electrochemical microscope. Science 254, 68–74 (1991).

Lu, X., Wang, Q. & Liu, X. Review: recent applications of scanning electrochemical microscopy to the study of charge transfer kinetics. Anal. Chim. Acta 601, 10–25 (2007).

Xiao, X. Y. & Bard, A. J. Observing single nanoparticle collisions at an ultramicroelectrode by electrocatalytic amplification. J. Am. Chem. Soc. 129, 9610–9612 (2007).

Xiao, X. Y., Fan, F. R. F., Zhou, J. P. & Bard, A. J. Current transients in single nanoparticle collision events. J. Am. Chem. Soc. 130, 16669–16677 (2008).

Li, Y. X., Cox, J. T. & Zhang, B. Electrochemical responses and electrocatalysis at single Au nanoparticles. J. Am. Chem. Soc. 132, 3047–3054 (2010).

Zhou, X. et al. Quantitative super-resolution imaging uncovers reactivity patterns on single nanocatalysts. Nature Nanotech. 7, 237–241 (2012).

Foley, K. J., Shan, X. & Tao, N. J. Surface impedance imaging technique. Anal. Chem. 80, 5146–5151 (2008).

Shan, X. N., Wang, S. P., Wang, W. & Tao, N. J. Plasmonic-based imaging of local square wave voltammetry. Anal. Chem. 83, 7394–7399 (2011).

Wang, S. P., Huang, X. P., Shan, X. N., Foley, K. J. & Tao, N. J. Electrochemical surface plasmon resonance: basic formalism and experimental validation. Anal. Chem. 82, 935–941 (2010).

Boyer, D., Tamarat, P., Maali, A., Lounis, B. & Orrit, M. Photothermal imaging of nanometer-sized metal particles among scatterers. Science 297, 1160–1163 (2002).

Gaiduk, A., Yorulmaz, M., Ruijgrok, P. V. & Orrit, M. Room-temperature detection of a single molecule's absorption by photothermal contrast. Science 330, 353–356 (2010).

Huang, M. H. et al. Alternate assemblies of platinum nanoparticles and metalloporphyrins as tunable electrocatalysts for dioxygen reduction. Langmuir 21, 323–329 (2005).

Rothenhausler, B. & Knoll, W. Surface-plasmon microscopy. Nature 332, 615–617 (1988).

Huang, B., Yu, F. & Zare, R. N. Surface plasmon resonance imaging using a high numerical aperture microscope objective. Anal. Chem. 79, 2979–2983 (2007).

Wang, S. et al. Label-free imaging, detection, and mass measurement of single viruses by surface plasmon resonance. Proc. Natl Acad. Sci. USA 107, 16028–16032 (2010).

Wang, L., Gu, Y., Hu, X. & Gong, Q. Long-range surface plasmon polariton modes with a large field localized in a nanoscale gap. Appl. Phys. B 104, 919–924 (2011).

Zayats, A. V., Smolyaninov, I. I. & Maradudin, A. A. Nano-optics of surface plasmon polaritons. Phys. Rep. Rev. Sec. Phys. Lett. 408, 131–314 (2005).
Acknowledgements
This work was supported by the National Science Foundation (CHE-1105588), the National Natural Science Foundation of China (no. 11121091), the National Basic Research Program of China (no. 2011CB935704) and the Natural Science Foundation of China (no. 20975060). I.D.P. thanks the Ramony Cajal program from the Spanish Government and EU International Reintegration Grant (FP7-PEOPLE-2010-RG-277182) for financial support. The authors thank Zhengtao Deng for his help to obtain TEM images of platinum nanoparticle.
Ethics declarations
Competing interests
The authors declare no competing financial interests.
Supplementary information
Supplementary information (PDF 983 kb)
Supplementary Movie S1 (AVI 15325 kb)
Supplementary Movie S2 (AVI 3032 kb)
About this article
Cite this article
Shan, X., Díez-Pérez, I., Wang, L. et al. Imaging the electrocatalytic activity of single nanoparticles. Nature Nanotech 7, 668–672 (2012). https://doi.org/10.1038/nnano.2012.134
Received:

Accepted:

Published:

Issue Date:

DOI: https://doi.org/10.1038/nnano.2012.134