Abstract
In recent years, various single-molecule electronic components have been demonstrated1. However, it remains difficult to predict accurately the conductance of a single molecule and to control the lateral coupling between the π orbitals of the molecule and the orbitals of the electrodes attached to it. This lateral coupling is well known to cause broadening and shifting of the energy levels of the molecule; this, in turn, is expected to greatly modify the conductance of an electrode–molecule–electrode junction2,3,4,5,6. Here, we demonstrate a new method, based on lateral coupling, to mechanically and reversibly control the conductance of a single-molecule junction by mechanically modulating the angle between a single pentaphenylene molecule bridged between two metal electrodes. Changing the angle of the molecule from a highly tilted state to an orientation nearly perpendicular to the electrodes changes the conductance by an order of magnitude, which is in qualitative agreement with theoretical models of molecular π-orbital coupling to a metal electrode. The lateral coupling is also directly measured by applying a fast mechanical perturbation in the horizontal plane, thus ruling out changes in the contact geometry or molecular conformation as the source for the conductance change.
Access options
Subscribe to Journal
Get full journal access for 1 year
$99.00
only $8.25 per issue
All prices are NET prices.
VAT will be added later in the checkout.
Tax calculation will be finalised during checkout.
Rent or Buy article
Get time limited or full article access on ReadCube.
from$8.99
All prices are NET prices.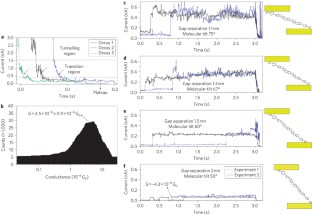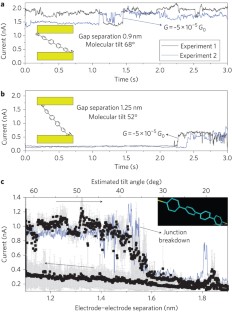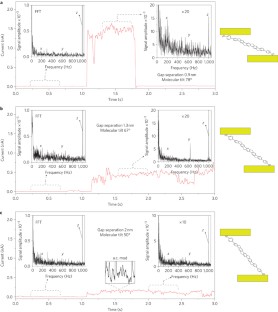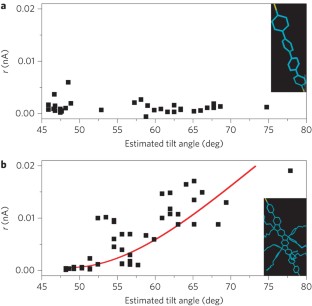 References
1

Tao, N. J. Electron transport in molecular junctions. Nature Nanotech. 1, 173–181 (2006).

2

Kornilovitch, P. E. & Bratkovsky, A. M. Orientational dependence of current through molecular films. Phys. Rev. B 64, 195413 (2001).

3

Bratkovsky, A. M. & Kornilovitch, P. E. Effects of gating and contact geometry on current through conjugated molecules covalently bonded to electrodes. Phys. Rev. B 67, 115307 (2003).

4

Geng, W. T., Nara, J. & Ohno, T. Impacts of metal electrode and molecule orientation on the conductance of a single molecule. Appl. Phys. Lett. 85, 5992–5994 (2004).

5

Haiss, W. et al. Precision control of single-molecule electrical junctions. Nature Mater. 5, 995–1002 (2006).

6

Basch, H., Cohen, R. & Ratner, M. A. Interface geometry and molecular junction conductance: geometric fluctuation and stochastic switching. Nano Lett. 5, 1668–1675 (2005).

7

Toyoda, K., Morimoto, K. & Morita, K. First-principles study on current through a single π conjugate molecule for analysis of carrier injection through an organic/metal interface. Surf. Sci. 600, 5080–5083 (2006).

8

Wang, L., Liu, L., Chen, W., Feng, Y. & Wee, A. T. S. Configuration-dependent interface charge transfer at a molecule–metal junction. J. Am. Chem. Soc. 128, 8003–8007 (2006).

9

Temirov, R., Lassise, A., Anders, F. B. & Tautz, F. S. Kondo effect by controlled cleavage of a single-molecule contact. Nanotechnology 19, 065401 (2008).

10

Lafferentz, L. et al. Conductance of a single conjugated polymer as a continuous function of its length. Science 323, 1193–1197 (2009).

11

Kamenetska, M. et al. Conductance and geometry of pyridine-linked single-molecule junctions. J. Am. Chem. Soc. 132, 6817–6821 (2010).

12

Quek, S. Y. et al. Mechanically controlled binary conductance switching of a single-molecule junction. Nature Nanotech. 4, 230–234 (2009).

13

Kamenetska, M. et al. Formation and evolution of single-molecule junctions. Phys. Rev. Lett. 102, 126803 (2009).

14

Venkataraman, L., Klare, J. E., Nuckolls, C., Hybertsen, M. S. & Steigerwald, M. L. Dependence of single-molecule junction conductance on molecular conformation. Nature 442, 904–907 (2006).

15

Hines, T. et al. Transition from tunneling to hopping in single molecular junctions by measuring length and temperature dependence. J. Am. Chem. Soc. 132, 11658–11664 (2010).

16

Wu, S. M. et al. Molecular junctions based on aromatic coupling. Nature Nanotech. 3, 569–574 (2008).

17

Xu, B. & Tao, N. J. Measurement of single-molecule resistance by repeated formation of molecular junctions. Science 301, 1221–1223 (2003).

18

Li, X., He, J., Hihath, J., Xu, B., Lindsay, S. M. & Tao, N. J. Conductance of single alkanedithiols: conduction mechanism and effect of molecule–electrode contacts. J. Am. Chem. Soc. 128, 2135–2141 (2006).

19

Huang, Z., Chen, F., Bennett, P. A. & Tao, N. J. Single molecule junctions formed via Au–thiol contact: stability and breakdown mechanism. J. Am. Chem. Soc. 129, 13225–13231 (2007).

20

Haiss, W. et al. Measurement of single molecule conductivity using the spontaneous formation of molecular wires. Phys. Chem. Chem. Phys. 6, 4330–4337 (2004).

21

Xia, J. L., Diez-Perez, I. & Tao, N. J. Electron transport in single molecules measured by a distance-modulation assisted break junction method. Nano Lett. 8, 1960–1964 (2008).

22

Perrine, T. M. & Dunietz, B. D. Carbonyl mediated conductance through metal bound peptides: a computational study. Nanotechnology 18, 424003 (2007).

23

Li, Z. & Kosov, D. S. Nature of well-defined conductance of amine-anchored molecular junctions: density functional calculations. Phys. Rev. B 76, 035415 (2007).

24

Li, C. et al. Charge transport in single Au/alkanedithiol /Au junctions: coordination geometries and conformational degrees of freedom. J. Am. Chem. Soc. 130, 318–326 (2008).
Acknowledgements
The authors acknowledge support from the Office of Basic Energy Sciences, US Department of Energy (grant DE-FG03-01ER45943). I.D.-P. thanks the EU International Outgoing Marie Curie Programme for financial support.
Ethics declarations
Competing interests
The authors declare no competing financial interests.
Supplementary information
About this article
Cite this article
Diez-Perez, I., Hihath, J., Hines, T. et al. Controlling single-molecule conductance through lateral coupling of π orbitals. Nature Nanotech 6, 226–231 (2011). https://doi.org/10.1038/nnano.2011.20
Received:

Accepted:

Published:

Issue Date: