A CMOS-capable silicon nanowire transistor has been fabricated without any junctions, simplifying its manufacture and improving its performance relative to traditional devices.
Access options
Subscribe to Journal
Get full journal access for 1 year
$187.00
only $15.58 per issue
All prices are NET prices.
VAT will be added later in the checkout.
Rent or Buy article
Get time limited or full article access on ReadCube.
from$8.99
All prices are NET prices.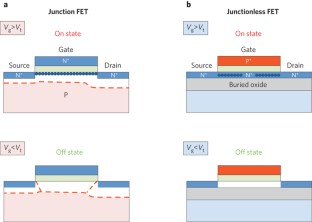 References
1

Lilienfeld, J. E. Method and apparatus for controlling electric current. US patent 1,745,175 (1925).

2

Shan, Y., Ashok, S. & Fonash, S. J. Appl. Phys. Lett. 91, 093518 (2007).

3

Lin, Y.-W., Marek-Sadowska, M., Maly, W., Pfitzner, A. & Kasprowicz, D. in Int. Conf. Computer Design 557–562 (IEEE, 2008).

4

Soree, B. & Magnus, W. in 10th Int. Conf. Ultimate Integration of Silicon 245–248 (IEEE, 2009).

5

Lee, C. W. et al. Appl. Phys. Lett. 94, 053511 (2009).

6

Colinge, J. P. et al. Nature Nanotech. 5, 225–229 (2010).

7

Tsutsui, K. et al. in Int. Workshop Nano CMOS 56–68 (IEEE, 2006).

8

Aoyama, T. et al. in Int. Workshop Junction Technol. 110–115 (IEEE, 2009).
About this article
Cite this article
Ionescu, A. Nanowire transistors made easy. Nature Nanotech 5, 178–179 (2010). https://doi.org/10.1038/nnano.2010.38