Abstract
Self-assembled quasi one-dimensional nanostructures of π-conjugated molecules1,2,3,4,5,6,7,8,9,10,11,12,13,14,15 may find a use in devices owing to their intriguing optoelectronic properties, which include sharp exciton transitions1,2,3,4,5, strong circular dichroism5,6,7, high exciton mobilities8,9 and photoconductivity10. However, many applications require immobilization of these nanostructures on a solid substrate, which is a challenge to achieve without destroying their delicate supramolecular structure. Here, we use a drop-flow technique to immobilize double-walled tubular J-aggregates of amphiphilic cyanine dyes without affecting their morphological or optical properties. High-resolution images of the topography and exciton fluorescence of individual J-aggregates are obtained simultaneously with polarization-resolved near-field scanning optical microscopy. These images show remarkably uniform supramolecular structure, both along individual nanotubes and between nanotubes in an ensemble, demonstrating their potential for light harvesting and energy transport.
Relevant articles
Open Access articles citing this article.
Xu Zhou

,

Su Lin

&

Hao Yan

Journal of Nanobiotechnology Open Access 03 June 2022

Sundar Raj Krishnaswamy

,

Ivo A. Gabrovski

…

Maxim S. Pshenichnikov

Scientific Reports Open Access 01 April 2022

Katherine Herman

,

Holm Kirmse

…

Jürgen P. Rabe

Colloid and Polymer Science Open Access 12 June 2020
Access options
Subscribe to Journal
Get full journal access for 1 year
$119.00
only $9.92 per issue
All prices are NET prices.
VAT will be added later in the checkout.
Tax calculation will be finalised during checkout.
Buy article
Get time limited or full article access on ReadCube.
$32.00
All prices are NET prices.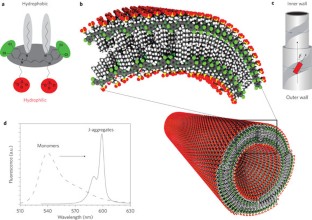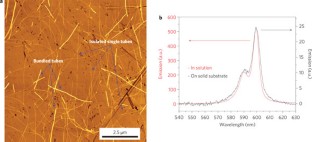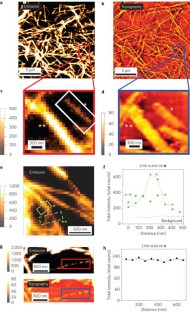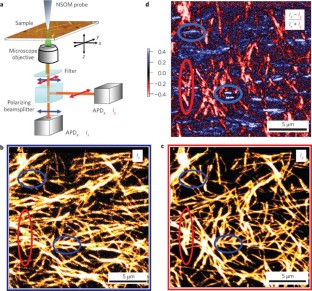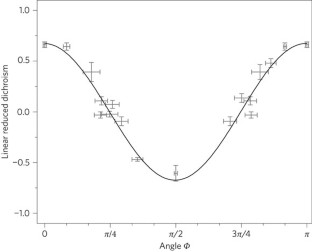 References
Scholes, G. D. & Rumbles, G. Excitons in nanoscale systems. Nature Mater. 5, 683–696 (2006).

Hoeben, F. J. M., Jonkheijm, P., Meijer, E. W. & Schenning, A. P. H. J. About supramolecular assemblies of π-conjugated systems. Chem. Rev. 105, 1491–1546 (2005).

Hofmann, C. et al. Single-molecule study of the electronic couplings in a circular array of molecules: light-harvesting-2 complex from rhodospirillum molischianum. Phys. Rev. Lett. 90, 013004 (2003).

Lang, E., Sorokin, A., Drechsler, M., Malyukin, Y. V. & Köhler, J. Optical spectroscopy on individual amphi-pic j-aggregates. Nano Lett. 5, 2635–2640 (2005).

Didraga, C. et al. Structure, spectroscopy and microscopic model of tubular carbocyanine dye aggregates. J. Phys. Chem. B 108, 14976–14985 (2004).

Röger, C., Miloslavina, Y., Brunner, D., Holzwarth, A. R. & Würthner, F. Self-assembled zinc chlorin rod antennae powered by peripheral light-harvesting chromophores. J. Am. Chem. Soc. 130, 5929–5939 (2008).

von Berlepsch, H., Kirstein, S., Hania, R., Pugzlys, A. & Böttcher, C. Modification of the nanoscale structure of the j-aggregate of a sulfonate-substituted amphiphilic carbocyanine dye through incorporation of surface-active additives. J. Phys. Chem. B 111, 1701–1711 (2007).

Psencik, J., Ma, Y.-Z., Arellano, J. B., Hala, J. & Gillbro, T. Excitation energy transfer dynamics and excited-state structure in chlorosomes of chlorobium phaeobacteroides. Biophys. J. 84, 1161–1179 (2003).

Beljonne, D. et al. Excitation migration along oligophenylenevinylene-based chiral stacks: delocalization effects on transport dynamics. J. Phys. Chem. B 109, 10594–10604 (2005).

Yamamoto, Y. et al. Photoconductive coaxial nanotubes of molecularly connected electron donor and acceptor layers. Science 314, 1761–1764 (2006).

Kaiser, T. E., Wang, H., Stepanenko, V. & Würthner, F. Supramolecular construction of fluorescent j-aggregates based on hydrogen-bonded perylene dyes. Angew Chem. Int. Ed. 46, 5541–5544 (2007).

Cacialli, F. et al. Cyclodextrin-threaded conjugated polyrotaxanes as insulated molecular wires with reduced interstrand interactions. Nature Mater. 1, 160–164 (2002).

Samori, P., Francke, V., Müllen, K. & Rabe, J. P. Self-assembly of a conjugated polymer: from molecular rods to a nanoribbon architecture with molecular dimensions. Chem. Eur. J. 5, 2312–2317 (1999).

Bredas, J. L., Beljonne, D., Coropceanu, V. & Cornil, J. Charge-transfer and energy-transfer processes in π-conjugated oligomers and polymers: a molecular picture. Chem. Rev. 104, 4971–5003, (2004).

Jahnke, E., Severin, N., Kreutzkamp, P., Rabe, J. P. & Frauenrath, H. Molecular level control over hierarchical structure formation and polymerization of oligopeptide–polymer conjugates. Adv. Mater. 20, 409–414, (2008).

De Rossi, U., Dähne, S., Meskers, S. C. J. & Dekkers, H. P. J. M. Spontaneous formation of chirality in j-aggregates showing Davydov splitting. Angew Chem. Int. Ed. Engl. 35, 760–763 (1996).

Oostergetel, G. T. et al. Long-range organization of bacteriochlorophyll in chlorosomes of Chlorobium tepidum investigated by cryo-electron microscopy. FEBS Lett. 581, 5435–5439 (2007).

Balaban, T. S., Tamiaki, H. & Holzwarth, A. R. in Supermolecular Dye Chemistry (ed. F. Würthner) 1–38 (Topics in Current Chemistry Vol. 258, Springer Verlag, 2005).

Lyon, J. L. et al. Spectroelectrochemical investigation of double-walled tubular j-aggregates of amphiphilic cyanine dyes. J. Phys. Chem. C 112, 1260–1268 (2008).

Higgins, D. A., Kerimo, J., Vanden Bout, D. A. & Barbara, P. F. A molecular yarn: near-field optical studies of self-assembled, flexible, fluorescent fibers. J. Am. Chem. Soc. 118, 4049–4058 (1996).

Teetsov, J. A. & Vanden Bout, D. A. Imaging molecular and nanoscale order in conjugated polymer thin films with near-field scanning optical microscopy. J. Am. Chem. Soc. 123, 3605–3606 (2001).

Taminiau, T. H., Stefani, F. D., Segerink, F. B. & Van Hulst, N. F. Optical antennas direct single-molecule emission. Nature Photon. 2, 234–237 (2008).

Hamanaka, Y., Kawasaki, O., Yamauchi, T. & Nakamura, A. Morphology of self-assembled merocyanine j-aggregates in films studied by scanning near-field optical microscope. Chem. Phys. Lett. 378, 47–54 (2003).

Vacha, M. et al. Optical properties of individual nanostructures of molecular j-aggregates. J. Lumin. 98, 35–40 (2002).

Malyukin, Y. V., Sorokin, A. V., Yefimova, S. L. & Lebedenko, A. Photo-induced reorganization of molecular packing of amphi-pic j-aggregates (single j-aggregate spectroscopy). J. Lumin. 112, 429–433 (2005).

Didraga, C. & Knoester, J. Optical spectra and localization of excitons in inhomogeneous helical cylindrical aggregates. J. Chem. Phys. 121, 10687–10698 (2004).

Hofmann, C., Aartsma, T. J., Michel, H. & Köhler, J. Direct observation of tiers in the energy landscape of a chromoprotein: a single-molecule study. Proc. Natl Acad. Sci. USA 100, 15534–15538 (2003).

Cotlet, M. et al. Identification of different emitting species in the red fluorescent protein DsRed by means of ensemble and single-molecule spectroscopy. Proc. Natl Acad. Sci. USA 98, 14398–14403 (2001).

Hernando, J. et al. Effect of disorder on ultrafast exciton dynamics probed by single molecule spectroscopy. Phys. Rev. Lett. 97, 216403 (2006).

Zhuang, W. et al. SFM characterization of poly(isocyanodipeptide) single polymer chains in controlled environments: effect of tip adhesion and chain swelling. Macromolecules 38, 473–480 (2005).
Acknowledgements
Financial support for this work was provided by the R.A. Welch Foundation (grant no. F-1377) and Deutsche Forschungsgemeinschaft (Sfb 448 Mesoscopically Organized Composites).
Supplementary information
About this article
Cite this article
Eisele, D., Knoester, J., Kirstein, S. et al. Uniform exciton fluorescence from individual molecular nanotubes immobilized on solid substrates. Nature Nanotech 4, 658–663 (2009). https://doi.org/10.1038/nnano.2009.227
Received:

Accepted:

Published:

Issue Date:

DOI: https://doi.org/10.1038/nnano.2009.227