Abstract
Solution-processed semiconductors are compatible with a range of substrates, which enables their direct integration with organic circuits1,2, microfluidics3,4, optical circuitry1,5 and commercial microelectronics. Ultrasensitive photodetectors based on solution-process colloidal quantum dots operating in both the visible and infrared have been demonstrated6,7, but these devices have poor response times (on the scale of seconds) to changes in illumination, and rapid-response devices based on a photodiode architecture suffer from low sensitivity8. Here, we show that the temporal response of these devices is determined by two components—electron drift, which is a fast process, and electron diffusion, which is a slow process. By building devices that exclude the diffusion component, we are able to demonstrate a >1,000-fold improvement in the sensitivity–bandwidth product of tuneable colloidal-quantum-dot photodiodes operating in the visible and infrared6,7,8.
Relevant articles
Open Access articles citing this article.
Min-Seung Jo

,

Hyeon-Joo Song

…

Jun-Bo Yoon

Scientific Reports Open Access 10 February 2022

Riccardo Ollearo

,

Junke Wang

…

Gerwin H. Gelinck

Nature Communications Open Access 14 December 2021

Wen Zhou

,

Li Zheng

…

Yuehui Yu

Nature Communications Open Access 18 November 2021
Access options
Subscribe to Journal
Get full journal access for 1 year
$119.00
only $9.92 per issue
All prices are NET prices.
VAT will be added later in the checkout.
Tax calculation will be finalised during checkout.
Buy article
Get time limited or full article access on ReadCube.
$32.00
All prices are NET prices.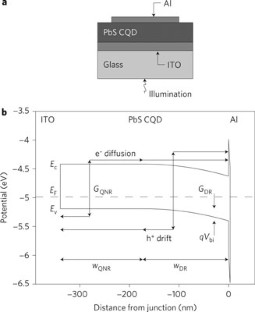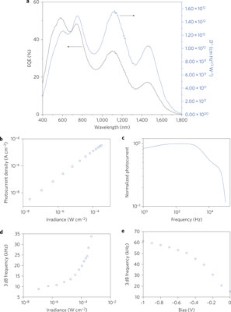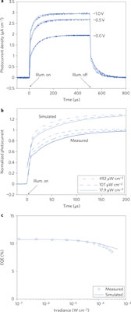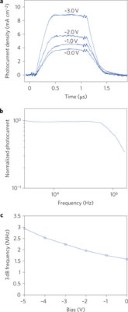 References
Xue, J. & Forrest, S. R. Organic optical bistable switch. Appl. Phys. Lett. 82, 136–138 (2003).

Kymissis, I., Sodini, C. G., Akinwande, A. I. & Bulovic, V. An organic semiconductor based process for photodetecting applications. 2004 IEDM Tech. Dig., 377–380 (2004).

Hofmann, O. et al. Thin-film organic photodiodes as integrated detectors for microscale chemiluminescence assays. Sens. Actuators B 106, 878–884 (2005).

Wang, X. Integrated thin-film polymer/fullerene photodetectors for on-chip microfluidic chemiluminescence detection. Lab. Chip 7, 58–63 (2007).

Morimune, T., Kajii, H. & Ohmori, Y. Semitransparent organic photodetectors utilizing sputter-deposited indium tin oxide for top contact electrode. Jpn J. Appl. Phys. 44, 2815–2817 (2005).

Konstantatos, G. et al. Ultrasensitive solution-cast quantum dot photodetectors. Nature 442, 180–183 (2006).

Konstantatos, G., Clifford, J. P., Levina, L. & Sargent, E. H. Sensitive solution-processed visible-wavelength photodetectors. Nature Photon. 1, 531–534 (2007).

Oertel, D. C., Bawendi, M. G., Arango, A. C. & Bulovic, V. Photodetectors based on treated CdSe quantum-dot films. Appl. Phys. Lett. 87, 2135051 (2005).

Wise, F. W. Lead salt quantum dots: the limit of strong quantum confinement. Acc. Chem. Res. 33, 773–780 (2000).

Jones, A. V. The infrared spectrum of the airglow. Space Science Rev. 15, 355–400 (1973).

Sargent, E. H. Infrared quantum dots. Adv. Mater. 17, 515–522 (2005).

Kim, S. et al. Near-infrared fluorescent type II quantum dots for sentinel lymph node mapping. Nature Biotechnol. 22, 93–97 (2004).

Jarosz, M. V., Porter, V. J., Fisher, B. R., Kastner, M. A. & Bawendi, M. G. Photoconductivity studies of treated CdSe quantum dot films exhibiting increased exciton ionization efficiency. Phys. Rev. B 70, 195327 (2004).

Luther, J. M. et al. Structural, optical and electrical properties of self-assembled films of PbSe nanocrystals treated with 1,2-ethanedithiol. ACS Nano 2, 271–280 (2008).

Talapin, D. V. & Murray, C. B. PbSe nanocrystal solids for n- and p-channel thin film field-effect transistors. Science 310, 86–89 (2005).

Clifford, J. P., Johnston, K. W., Levina, L. & Sargent, E. H. Schottky barriers to colloidal quantum dot films. Appl. Phys. Lett. 91, 2531171 (2007).
Acknowledgements
The authors thank D. Grozea for performing the XPS measurements.
Supplementary information
About this article
Cite this article
Clifford, J., Konstantatos, G., Johnston, K. et al. Fast, sensitive and spectrally tuneable colloidal-quantum-dot photodetectors. Nature Nanotech 4, 40–44 (2009). https://doi.org/10.1038/nnano.2008.313
Received:

Accepted:

Published:

Issue Date:

DOI: https://doi.org/10.1038/nnano.2008.313