Researchers have shown that it is possible to control the coupling between two quantum dots in a semiconducting nanowire, and also to count the charges on these dots with a third quantum dot in a different nanowire.
Access options
Subscribe to Journal
Get full journal access for 1 year
$187.00
only $15.58 per issue
All prices are NET prices.
VAT will be added later in the checkout.
Rent or Buy article
Get time limited or full article access on ReadCube.
from$8.99
All prices are NET prices.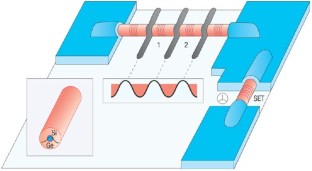 References
1

Hu, Y. et al. Nature Nanotech. advance online publication, 30 September 2007 (doi:10.1038/nnano.2007.302).

2

Nielsen, M. A. & Chuang, I. L. Quantum Computation and Quantum Information (Cambridge Univ. Press, Cambridge, UK, 2000).

3

Kane, B. E., Nature 393, 133–136 (1998).

4

Shaji, N. et al. preprint at <http://aps.arxiv.org/abs/0708.0794> (2007).

5

Kouwenhoven, L. P., Austing, D. G. & Tarucha, S. Rep. Prog. Phys. 64, 701–736 (2001).

6

Loss D. & DiVincenzo, D. P. Phys. Rev. A 57, 120–126 (1998).

7

Elzerman, J. M. et al. Nature 430, 431–435 (2004).

8

Petta, J. R. et al. Science 309, 2180–2184 (2005).
About this article
Cite this article
Eriksson, M., Friesen, M. Nanowires charge towards integration. Nature Nanotech 2, 595–596 (2007) doi:10.1038/nnano.2007.314
Further reading
A. K. Srivastava

,

S. Madhavi

&

R. V. Ramanujan

Applied Physics A (2010)

Michael Klein

,

R. D. Levine

&

F. Remacle

Journal of Applied Physics (2008)