The combination of two scanning probe microscopy techniques has led to a label-free method of detecting charged molecules at the nanoscale and offers a general approach to biosensing with improved resolution, sensitivity and speed.
Access options
Subscribe to Journal
Get full journal access for 1 year
$187.00
only $15.58 per issue
All prices are NET prices.
VAT will be added later in the checkout.
Rent or Buy article
Get time limited or full article access on ReadCube.
from$8.99
All prices are NET prices.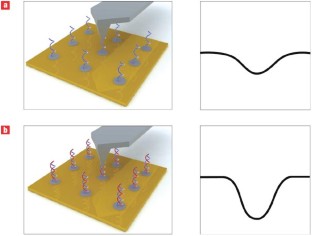 References
1

Wu, G. H. et al. Proc. Natl Acad. Sci. USA 98, 1560–1564 (2001).

2

Nonnenmacher, M., O'Boyle, M. P. & Wickramasinghe, H. K. Appl. Phys. Lett. 58, 2921–2923 (1991).

3

Sinensky, A. K. & Belcher, A. M. Nature Nanotech. advance online publication, 23 September 2007 (10.1038/nnano.2007.293).

4

Ginger, D. S., Zhang, H. & Mirkin, C. A. Angew. Chem. Int. Edn 43, 30–45 (2004).

5

Sauer, S. et al. Nature Rev. Genet. 6, 465–476 (2005).

6

Zheng, G., Patolsky, F., Cui, Y., Wang, W. U. & Lieber, C. M. Nature Biotechnol. 23, 1294–1301 (2005).

7

Besteman, K., Lee, J. O., Wiertz, F. G. M., Heering, H. A. & Dekker, C. Nano Lett. 3, 727–730 (2003).

8

Georganopoulou, D. G. et al. Proc. Natl Acad. Sci. USA 102, 2273–2276 (2005).
About this article
Cite this article
Kinsella, J., Ivanisevic, A. Taking charge of biomolecules. Nature Nanotech 2, 596–597 (2007) doi:10.1038/nnano.2007.313