Abstract
In the urinary bladder, the capsaicin-gated ion channel TRPV1 is expressed both within afferent nerve terminals and within the epithelial cells that line the bladder lumen. To determine the significance of this expression pattern, we analyzed bladder function in mice lacking TRPV1. Compared with wild-type littermates, trpv1−/− mice had a higher frequency of low-amplitude, non-voiding bladder contractions. This alteration was accompanied by reductions in both spinal cord signaling and reflex voiding during bladder filling (under anesthesia). In vitro, stretch-evoked ATP release and membrane capacitance changes were diminished in bladders excised from trpv1−/− mice, as was hypoosmolality-evoked ATP release from cultured trpv1−/− urothelial cells. These findings indicate that TRPV1 participates in normal bladder function and is essential for normal mechanically evoked purinergic signaling by the urothelium.
This is a preview of subscription content
Access options
Subscribe to Journal
Get full journal access for 1 year
$59.00
only $4.92 per issue
All prices are NET prices.
VAT will be added later in the checkout.
Tax calculation will be finalised during checkout.
Buy article
Get time limited or full article access on ReadCube.
$32.00
All prices are NET prices.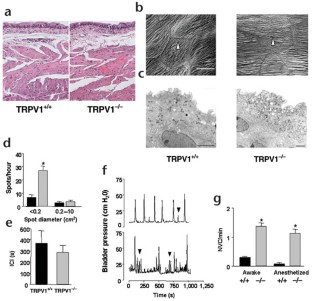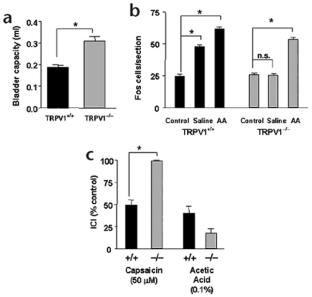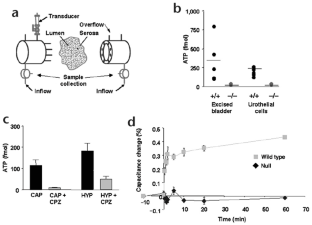 References
de Groat, W.C. & Yoshimura, N. Pharmacology of the lower urinary tract. Annu. Rev. Pharmacol. Toxicol. 41, 691–721 (2001).

Caterina, M.J. & Julius, D. Sense and specificity: a molecular identity for nociceptors. Curr. Opin. Neurobiol. 9, 525–530 (1999).

Chuang, Y.C. et al. Analysis of the afferent limb of the vesicovascular reflex using neurotoxins, resiniferatoxin and capsaicin. Am. J. Physiol. 281, R1302–R1310 (2001).

Chancellor, M.B. Discussion: resiniferatoxin-preliminary data. Urology 55 (Suppl.), 65–66 (2000).

Birder, L.A. et al. Vanilloid receptor expression suggests a sensory role for urinary bladder epithelial cells. Proc. Natl. Acad. Sci. USA 98, 13396–13401 (2001).

Avelino, A., Cruz, C., Nagy, I. & Cruz, F. Vanilloid receptor 1 expression in the rat urinary tract. Neuroscience 109, 787–798 (2002).

Caterina, M.J. et al. Impaired nociception and pain sensation in mice lacking the capsaicin receptor. Science 288, 306–313 (2000).

Namasivavayam, S., Eardley, I. & Morrison, J.F. Purinergic sensitive neurotransmission in the urinary bladder: an in vitro study in the rat. BJU Int. 84, 854–860 (1999).

Ferguson, D.R., Kennedy, I. & Burton, T.J. ATP is released from rabbit urinary bladder epithelial cells by hydrostatic pressure changes—a possible sensory mechanism? J. Physiol. 505, 503–511 (1997).

Vlaskovska, M. et al. P2X3 knock-out mice reveal a major sensory role for urothelially released ATP. J. Neurosci. 21, 5670–5677 (2001).

Cockayne, D.A. et al. Urinary bladder hyporeflexia and reduced pain-related behavior in P2X3-deficient mice. Nature 407, 1011–1015 (2000).

Bodin, P. & Burnstock, G. Evidence that release of adenosine triphosphate from endothelial cells during increased shear stress is vesicular. J. Cardiovasc. Pharmacol. 38, 900–908 (2001).

Bodin, P. & Burnstock, G. Purinergic signaling: ATP release. Neurochem. Res. 26, 959–969 (2001).

Burnstock, G. Purine-mediated signalling in pain and visceral perception. Trends Pharmacol. Sci. 22, 182–188 (2001).

Truschel, S.T. et al. Stretch-regulated exocytosis/endocytosis in bladder umbrella cells. Mol. Biol. Cell 13, 830–846 (2002).

Lecci, A. et al. Urodynamic effects induced by intravesical capsaicin in rats and hamsters. Auton. Neurosci. 91, 37–46 (2001).

Fovaeus, M., Fujiwara, M., Hogestatt, E.D., Persson, K. & Andersson, K.E. A non-nitrergic smooth muscle relaxant factor released from the contracting rat urinary bladder. Acta Physiol. Scand. 162, 115–116 (1998).

Cheng, C.L., Lui, J.C., Chang, S.Y., Ma, C.P. & de Groat, W.C. Effect of capsaicin on the micturition reflex in normal and chronic spinal cord injured cats. Am. J. Physiol. 277, R786–R794 (1999).

Santicioli, P., Maggi, C.A. & Meli, A. The effect of capsaicin pretreatment on the cystometrograms of urethane anesthetized rats. J. Urol. 133, 700–703 (1985).

Maggi, C.A., Santicioli, P., Giuliani, S., Furio, M. & Meli, A. The capsaicin-sensitive innervation of the rat urinary bladder: further studies on mechanisms regulating micturition threshold. J. Urol. 136, 696–700 (1986).

Maggi, C.A., Santicioli, P. & Meli, A. The effects of topical capsaicin on rat urinary bladder motility in vivo. Eur. J. Pharmacol. 103, 41–50 (1984).

Strotmann, R., Harteneck, C., Nunnenmacher, K., Schultz, G. & Plant, T.D. OTRPC4, a nonselective cation channel that confers sensitivity to extracellular osmolarity. Nat. Cell Biol. 2, 695–702 (2000).

Liedtke, W. et al. Vanilloid receptor-related osmotically activated channel (VR-OAC), a candidate vertebrate osmoreceptor. Cell 103, 525–535 (2000).

Lazzeri, M. et al. Intravesical capsaicin for treatment of severe bladder pain: a randomized placebo controlled study. J. Urol. 156, 947–952 (1996).

Fowler, C.J. Intravesical treatment of overactive urinary bladder. Urology 55, 60–64 (2000).

Birder, L.A., Apodaca, G., de Groat, W.C. & Kanai, A.J. Adrenergic- and capsaicin-evoked nitric oxide release from urothelium and afferent nerves in urinary bladder. Am. J. Physiol. 275, F226–F229 (1998).
Acknowledgements
This work was supported by NIH grants R01 DK54824 and R01 DK57284 (to L.A.B.), R01 DK54425 (to G.A.), R01 HL57985 (to A.J.K.) and by grants from The American Cancer Society (RSG-01-063-01-CSM) and the Blaustein Pain Research Fund (to M.J.C.). We thank R.T. Evans and J. Wang for expert technical assistance, W. Shaner for assistance with graphics, K. Gabrielson for assistance with pathology and C.A. Maggi for his critical comments.
Ethics declarations
Competing interests
M. J. Caterina is an inventor on a patent for the use of the TRPV1 cDNA.
About this article
Cite this article
Birder, L., Nakamura, Y., Kiss, S. et al. Altered urinary bladder function in mice lacking the vanilloid receptor TRPV1. Nat Neurosci 5, 856–860 (2002). https://doi.org/10.1038/nn902
Received:

Accepted:

Published:

Issue Date:

DOI: https://doi.org/10.1038/nn902