Abstract
During the viewing of certain patterns, widely known as ambiguous or puzzle figures, perception lapses into a sequence of spontaneous alternations, switching every few seconds between two or more visual interpretations of the stimulus. Although their nature and origin remain topics of debate, these stochastic switches are generally thought to be the automatic and inevitable consequence of viewing a pattern without a unique solution. We report here that in humans such perceptual alternations can be slowed, and even brought to a standstill, if the visual stimulus is periodically removed from view. We also show, with a visual illusion, that this stabilizing effect hinges on perceptual disappearance rather than on actual removal of the stimulus. These findings indicate that uninterrupted subjective perception of an ambiguous pattern is required for the initiation of the brain-state changes underlying multistable vision.
This is a preview of subscription content
Access options
Subscribe to Journal
Get full journal access for 1 year
$59.00
only $4.92 per issue
All prices are NET prices.
VAT will be added later in the checkout.
Tax calculation will be finalised during checkout.
Buy article
Get time limited or full article access on ReadCube.
$32.00
All prices are NET prices.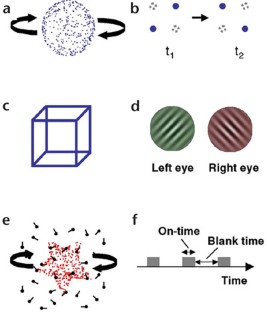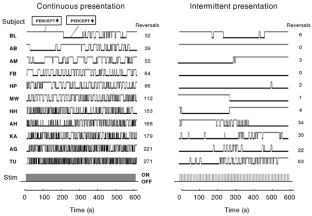 References
Rock, I. Perception (Scientific American Library, New York, 1984).

Gregory, R. Eye and Brain: The Psychology of Seeing 5th edn. (Princeton Univ. Press, Princeton, NJ, 1997).

Logothetis, N.K. & Schall, J.D. Neuronal correlates of subjective visual perception. Science 245, 761–763 (1989).

Leopold, D.A. & Logothetis, N.K. Activity changes in early visual cortex reflect monkeys' percepts during binocular rivalry. Nature 379, 549–553 (1996).

Sheinberg, D.L. & Logothetis, N.K. The role of temporal cortical areas in perceptual organization. Proc. Natl. Acad. Sci. USA 94, 3408–3413 (1997).

Bradley, D.C., Chang, G.C. & Andersen, R.A. Encoding of three-dimensional structure-from-motion by primate area MT neurons. Nature 392, 714–717 (1998).

Dodd, J.V., Krug, K., Cumming, B.G. & Parker, A.J. Perceptually bistable three-dimensional figures evoke high choice probabilities in cortical area MT. J. Neurosci. 21, 4809–4821 (2001).

Polonsky, A., Blake, R., Braun, J. & Heeger, D.J. Neuronal activity in human primary visual cortex correlates with perception during binocular rivalry. Nat. Neurosci. 3, 1153–1159 (2000).

Tononi, G., Srinivasan, R., Russell, D.P. & Edelman, G.M. Investigating neural correlates of conscious perception by frequency-tagged neuromagnetic responses. Proc. Natl. Acad. Sci. USA 95, 3198–3203 (1998).

Brown, R.J. & Norcia, A.M. A method for investigating binocular rivalry in real-time with the steady-state VEP. Vision Res. 37, 2401–2408 (1997).

Attneave, F. Multistability in perception. Sci. Am. 225, 63–71 (1971).

Mueller, T.J. A physiological model of binocular rivalry. Vis. Neurosci. 4, 63–73 (1990).

Lumer, E.D., Friston, K.J. & Rees, G. Neural correlates of perceptual rivalry in the human brain. Science 280, 1930–1934 (1998).

Pettigrew, J.D. Searching for the switch: neural bases for perceptual rivalry alternations. Brain Mind 2, 85–118 (2001).

Leopold, D.A. & Logothetis, N.K. Multistable phenomena: changing views in perception. Trends Cogn. Sci. 3, 254–264 (1999).

Bonneh, Y.S., Cooperman, A. & Sagi, D. Motion-induced blindness in normal observers. Nature 411, 798–801 (2001).

Wallach, H. & O'Connell, D.N. The kinetic depth effect. J. Exp. Psychol. 45, 205–217 (1953).

Necker, L.A. Observations on some remarkable optical phenomena seen in Switzerland; and on an optical phenomenon which occurs on viewing a figure of a crystal or geometrical solid. Lond. Edinburgh Phil. Magazine J. Sci. 1, 329–337 (1832).

von Schiller, P. Stroboskopische Alternativversuche. Psychol. Forsch. 17, 179–214 (1933).

Dutour, E.F. Discussion d'une question d'optique [Discussion on a question of optics]. l'Academie des Sciences. Memoires de Mathematique et de physique presentes par Divers Savants 3, 514–530 (1760).

Lehky, S.R. An astable multivibrator model of binocular rivalry. Perception 17, 215–228 (1988).

Miller, S.M. et al. Interhemispheric switching mediates perceptual rivalry. Curr. Biol. 10, 383–392 (2000).

Borsellino, A., De Marco, A., Allazetta, A., Rinesi, S. & Bartolini, B. Reversal time distribution in the perception of visually ambiguous stimuli. Kybernetik 10, 139–144 (1972).

Fox, R. & Herrmann, J. Stochastic properties of binocular rivalry alternations. Percept. Psychophys. 2, 432–436 (1967).

Carlson, V.R. Satiation in a reversible perspective figure. J. Exp. Psychol. 45, 442–448 (1953).

Wolfe, J.M. Reversing ocular dominance and suppression in a single flash. Vision Res. 24, 471–478 (1984).

Nawrot, M. & Blake, R. Neural integration of information specifying structure from stereopsis and motion. Science 244, 716–718 (1989).

Blake, R., Westendorf, D. & Fox, R. Temporal perturbations of binocular rivalry. Percept. Psychophys. 48, 593–602 (1990).

Lumer, E.D. & Rees, G. Covariation of activity in visual and prefrontal cortex associated with subjective visual perception. Proc. Natl. Acad. Sci. USA 96, 1669–1673 (1999).
Acknowledgements
The authors would like to thank M. Sereno for suggestions and help with the structure from motion stimuli, A. Gail for discussion regarding the binocular rivalry experiment and J. Werner for technical assistance. This work was supported by the Max Planck Society.
Ethics declarations
Competing interests
The authors declare no competing financial interests.
About this article
Cite this article
Leopold, D., Wilke, M., Maier, A. et al. Stable perception of visually ambiguous patterns. Nat Neurosci 5, 605–609 (2002). https://doi.org/10.1038/nn0602-851
Received:

Accepted:

Published:

Issue Date:

DOI: https://doi.org/10.1038/nn0602-851