Abstract
Olfactory receptor (OR) genes are the largest gene superfamily in vertebrates. We have identified the mouse OR genes from the nearly complete Celera mouse genome by a comprehensive data mining strategy. We found 1,296 mouse OR genes (including ∼20% pseudogenes), which can be classified into 228 families. OR genes are distributed in 27 clusters on all mouse chromosomes except 12 and Y. One OR gene cluster matches a known locus mediating a specific anosmia, indicating the anosmia may be due directly to the loss of receptors. A large number of apparently functional 'fish-like' Class I OR genes in the mouse genome may have important roles in mammalian olfaction. Human ORs cover a similar 'receptor space' as the mouse ORs, suggesting that the human olfactory system has retained the ability to recognize a broad spectrum of chemicals even though humans have lost nearly two-thirds of the OR genes as compared to mice.
Relevant articles
Open Access articles citing this article.
Dania Jundi

,

Jean-Pierre Coutanceau

…

Elim Hong

Scientific Reports Open Access 21 March 2023

Sho Kurihara

,

Masayoshi Tei

…

Hirotaka James Okano

Communications Biology Open Access 06 September 2022

Josefina del Mármol

,

Mackenzie A. Yedlin

&

Vanessa Ruta

Nature Open Access 04 August 2021
Access options
Subscribe to this journal
Receive 12 print issues and online access
$209.00 per year
only $17.42 per issue
Rent or buy this article
Prices vary by article type
from$1.95
to$39.95
Prices may be subject to local taxes which are calculated during checkout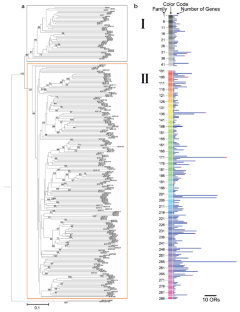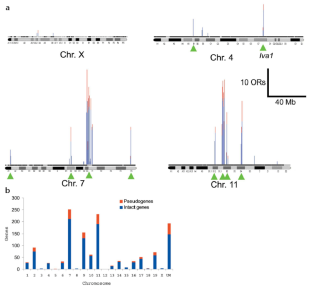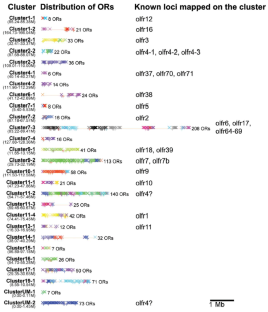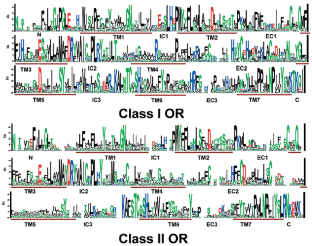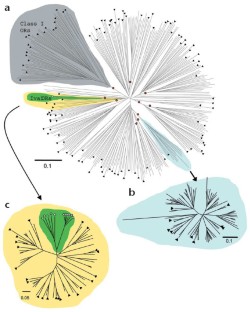 Accession codes
Accessions
GenBank/EMBL/DDBJ
References
Gibson, A. D. & Garbers, D. L. Guanylyl cyclases as a family of putative odorant receptors. Annu. Rev. Neurosci. 23, 417–439 (2000).

Buck, L. & Axel, R. A novel multigene family may encode odorant receptors: a molecular basis for odor recognition. Cell 65, 175–187 (1991).

Mombaerts, P. Seven-transmembrane proteins as odorant and chemosensory receptors. Science 286, 707–711 (1999).

Buck, L. B. Information coding in the vertebrate olfactory system. Annu. Rev. Neurosci. 19, 517–544 (1996).

Mombaerts, P. Molecular biology of odorant receptors in vertebrates. Annu. Rev. Neurosci. 22, 487–509 (1999).

Glusman, G. et al. Sequence, structure, and evolution of a complete human olfactory receptor gene cluster. Genomics 63, 227–245 (2000).

Glusman, G., Clifton, S., Roe, B. & Lancet, D. Sequence analysis in the olfactory receptor gene cluster on human chromosome 17: recombinatorial events affecting receptor diversity. Genomics 37, 147–160 (1996).

Glusman, G., Yanai, I., Rubin, I. & Lancet, D. The complete human olfactory subgenome. Genome Res. 11, 685–702 (2001).

Zozulya, S., Echeverri, F. & Nguyen, T. The human olfactory receptor repertoire. Genome Biol. 2, 0018.0011–00180012 (2001).

Xie, S. Y., Feinstein, P. & Mombaerts, P. Characterization of a cluster comprising approximately 100 odorant receptor genes in mouse. Mamm. Genome 11, 1070–1078 (2000).

Hoppe, R., Weimer, M., Beck, A., Breer, H. & Strotmann, J. Sequence analyses of the olfactory receptor gene cluster mOR37 on mouse chromosome 4. Genomics 66, 284–295 (2000).

Lane, R. P. et al. Genomic analysis of orthologous mouse and human olfactory receptor loci. Proc. Natl. Acad. Sci. USA 98, 7390–7395 (2001).

Skoufos, E. et al. Olfactory Receptor Database: a database of the largest eukaryotic gene family. Nucleic Acids Res. 27, 343–345 (1999).

Ngai, J., Dowling, M. M., Buck, L., Axel, R. & Chess, A. The family of genes encoding odorant receptors in the channel catfish. Cell 72, 657–666 (1993).

Freitag, J., Krieger, J., Strotmann, J. & Breer, H. Two classes of olfactory receptors in Xenopus laevis. Neuron 15, 1383–1392 (1995).

Freitag, J., Ludwig, G., Andreini, I., Rossler, P. & Breer, H. Olfactory receptors in aquatic and terrestrial vertebrates. J. Comp. Physiol. [A] 183, 635–650 (1998).

Ehlers, A. et al. MHC-linked olfactory receptor loci exhibit polymorphism and contribute to extended HLA/OR-haplotypes. Genome Res. 10, 1968–1978 (2000).

Younger, R. M. et al. Characterization of clustered MHC-linked olfactory receptor genes in human and mouse. Genome Res. 11, 519–530 (2001).

Brosius, J. Many G-protein-coupled receptors are encoded by retrogenes. Trends. Genet. 15, 304–305 (1999).

Gentles, A. J. & Karlin, S. Why are human G-protein-coupled receptors predominantly intronless? Trends. Genet. 15, 47–49 (1999).

Griff, I. C. & Reed, R. R. The genetic basis for specific anosmia to isovaleric acid in the mouse. Cell 83, 407–414 (1995).

Wysocki, C. J., Whitney, G. & Tucker, D. Specific anosmia in the laboratory mouse. Behav. Genet. 7, 171–188 (1977).

Wang, H. W., Wysocki, C. J. & Gold, G. H. Induction of olfactory receptor sensitivity in mice. Science 260, 998–1000 (1993).

Pilpel, Y. & Lancet, D. The variable and conserved interfaces of modeled olfactory receptor proteins. Protein Sci. 8, 969–977 (1999).

Krautwurst, D., Yau, K. W. & Reed, R. R. Identification of ligands for olfactory receptors by functional expression of a receptor library. Cell 95, 917–926 (1998).

Glusman, G. et al. The olfactory receptor gene superfamily: data mining, classification, and nomenclature. Mamm. Genome 11, 1016–1023 (2000).

Lapidot, M. et al. Mouse–human orthology relationships in an olfactory receptor gene cluster. Genomics 71, 296–306 (2001).

Copeland, N. G. et al. A genetic linkage map of the mouse: current applications and future prospects. Science 262, 57–66 (1993).

Sullivan, S. L., Adamson, M. C., Ressler, K. J., Kozak, C. A. & Buck, L. B. The chromosomal distribution of mouse odorant receptor genes. Proc. Natl. Acad. Sci. USA 93, 884–888 (1996).

Carver, E. A., Issel-Tarver, L., Rine, J., Olsen, A. S. & Stubbs, L. Location of mouse and human genes corresponding to conserved canine olfactory receptor gene subfamilies. Mamm. Genome 9, 349–354 (1998).

Strotmann, J. et al. Small subfamily of olfactory receptor genes: structural features, expression pattern and genomic organization. Gene 236, 281–291 (1999).

Asai, H. et al. Genomic structure and transcription of a murine odorant receptor gene: differential initiation of transcription in the olfactory and testicular cells. Biochem. Biophys. Res. Commun. 221, 240–247 (1996).

Bulger, M. et al. Conservation of sequence and structure flanking the mouse and human beta-globin loci: the β-globin genes are embedded within an array of odorant receptor genes. Proc. Natl. Acad. Sci. USA 96, 5129–5134 (1999).

Zheng, C., Feinstein, P., Bozza, T., Rodriguez, I. & Mombaerts, P. Peripheral olfactory projections are differentially affected in mice deficient in a cyclic nucleotide–gated channel subunit. Neuron 26, 81–91 (2000).

Conzelmann, S. et al. A novel brain receptor is expressed in a distinct population of olfactory sensory neurons. Eur. J. Neurosci. 12, 3926–3934 (2000).

Malnic, B., Hirono, J., Sato, T. & Buck, L. B. Combinatorial receptor codes for odors. Cell 96, 713–723 (1999).

Raming, K., Konzelmann, S. & Breer, H. Identification of a novel G-protein coupled receptor expressed in distinct brain regions and a defined olfactory zone. Receptors Channels 6, 141–151 (1998).

Touhara, K. et al. Functional identification and reconstitution of an odorant receptor in single olfactory neurons. Proc. Natl. Acad. Sci. USA 96, 4040–4045 (1999).

Kajiya, K. et al. Molecular bases of odor discrimination: reconstitution of olfactory receptors that recognize overlapping sets of odorants. J. Neurosci. 21, 6018–6025 (2001).

Mezler, M., Fleischer, J. & Breer, H. Characteristic features and ligand specificity of the two olfactory receptor classes from Xenopus laevis. J. Exp. Biol. 204, 2987–2997 (2001).
Acknowledgements
We wish to thank P. Feinstein, P. Mombaerts and the members of the Firestein lab for critical comments on the manuscript. This work was supported by grants from US NIDCD and HFSP. This data was generated through use of the Celera Discovery System and Celera's associated databases made possible in part by the AMDeC Foundation, Inc.
Supplementary information
Supplementary Figure 1. Profile HMM OR classifier. Two profile HMMs were built with intact human ORs (49 Class I and 273 Class II ORs). Query sequences were compared with both profile HMMs. E-values and log likelihood ratio (log10EI/EII) were calculated. OR versus non-OR was determined by the smaller E-value, and Class I versus Class II was determined by the log likelihood ratio. (JPG 49 kb)
About this article
Cite this article
Zhang, X., Firestein, S. The olfactory receptor gene superfamily of the mouse. Nat Neurosci 5, 124–133 (2002). https://doi.org/10.1038/nn800
Received:

Accepted:

Published:

Issue Date:

DOI: https://doi.org/10.1038/nn800