Abstract
Human ability to detect stimulus changes (ΔC) decreases with increasing reference level (C). Because detection performance reflects the signal-to-noise ratio within the relevant sensory brain module, this behavior can be accounted for in two extreme ways: first, the internal response change ΔR evoked by a constant ΔC decreases with C (that is, the transducer R = f(C) displays a compressive nonlinearity), whereas the internal noise is independent of R; second, ΔR is constant with C but the noise level increases with R. A newly discovered constraint on human decision-making helps solve this century-old problem: in a detection task where multiple changes occur with equal probabilities, observers use a unique response criterion to decide whether a change has occurred. For contrast discrimination, our results supported the first account above: human performance was limited by the contrast transducer nonlinearity and an almost constant noise.
This is a preview of subscription content
Access options
Subscribe to Journal
Get full journal access for 1 year
$59.00
only $4.92 per issue
All prices are NET prices.
VAT will be added later in the checkout.
Tax calculation will be finalised during checkout.
Buy article
Get time limited or full article access on ReadCube.
$32.00
All prices are NET prices.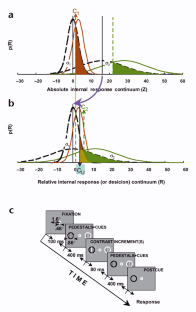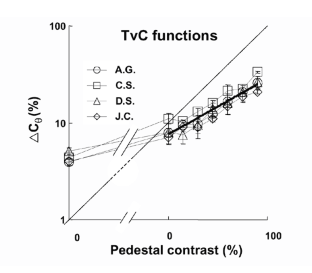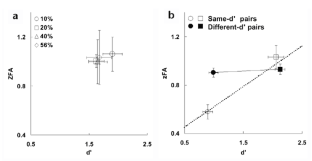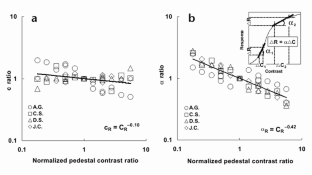 References
Green, D. M. & Swets, J. A. Signal Detection Theory (Wiley, New York, 1966).

Fechner, G. T. Elemente der Psychophysik (Breitkopf and Härtel, Leipzig, 1860).

Falmagne, J.-C. Elements of Psychophysical Theory (eds. Broadbent, D. E. et al., Oxford Univ. Press, New York, 1985).

Lamming, D. The Measurement of Sensation (eds. Nicholas, J. M. et al.) (Oxford Univ. Press, Oxford, 1997).

Barlow, H. B. Increment thresholds at low intensities considered as signal/noise discrimination. J. Physiol. (Lond.) 136, 469–488 (1957).

Barlow, H. B. in Vertebrate Photoreception (eds. Barlow, H. B. & Fatt, P.) (Academic, New York, 1977).

Foley, J. M. Human luminance pattern-vision mechanisms: masking experiments require a new model. J. Opt. Soc. Am. A 11, 1710–1719 (1994).

Itti, L., Koch, C. & Braun, J. Revisiting spatial vision: toward a unifying model. J. Opt. Soc. Am. A 17, 1899–1917 (2000).

Kontsevich, L. & Tyler, C. Measuring the separate internal response nonlinearities of signal and noise. Vision Res. (in press).

Nachmias, J. & Sansbury, R. V. Grating contrast: discrimination may be better than detection. Vision Res. 14, 1039–1042 (1974).

Stevens, S. S. On the psychophysical law. Psychol. Rev. 64, 153–181 (1957).

Wilson, H. R. A transducer function for threshold and suprathreshold human vision. Biol. Cybern. 38, 171–178 (1980).

Gorea, A. & Sagi, D. Failure to handle more than one internal representation in visual detection tasks. Proc. Natl. Acad. Sci. USA 97, 12380–12384 (2000).

Legge, G. E. & Foley, J. M. Contrast masking in human vision. J. Opt. Soc. Am. 70, 1458–1471 (1980).

Legge, G. E. A power law for contrast discrimination. Vision Res. 21, 457–467 (1981).

Sagi, D. & Hochstein, S. Discriminability of suprathreshold compound spatial frequency gratings. Vision Res. 23, 1595–1606 (1983).

Eskew, J., Rhea, T., Stromeyer C. F. III, Picotte, C. J. & Kronauer, R. E. Detection uncertainty and the facilitation of chromatic detection by luminance contours. J. Opt. Soc. Am. A 8, 394–403 (1991).

Nachmias, J. & Kocher, E. C. Visual detection and discrimination of luminance increments. J. Opt. Soc. Am. 60, 382–389 (1970).

Lu, Z.-L. & Dosher, B. A. Characterizing human inefficiencies with equivalent internal noise. J. Opt. Soc. Am. A 16, 764–778 (1999).

Lu, Z. & Dosher, B. A. External noise distinguishes attention mechanisms. Vision Res. 38, 1183–1198 (1998).

Legge, G. E., Kersten, D. & Burgess, A. E. Contrast discrimination in noise. J. Opt. Soc. Am. A 4, 391–404 (1987).

Tolhurst, D. J., Movshon, J. A. & Dean, A. F. The statistical reliability of signals in single neurons in cat and monkey visual cortex. Vision Res. 23, 775–785 (1983).

Geisler, W. S. & Albrecht, D. G. Visual cortex neurons in monkeys and cats: detection, discrimination, and identification. Vis. Neurosci. 14, 897–919 (1997).

Softky, W. R. & Koch, C. The highly irregular firing of cortical cells is inconsistent with temporal integration of random EPSPs. J. Neurosci. 13, 334–350 (1993).

Barlow, H. B., Kaushal, T. P., Hawken, M. & Parker, A. J. Human contrast discrimination and the threshold of cortical neurons. J. Opt. Soc. Am. A 4, 2366–2371 (1987).

Shadlen, M. N. & Newsome, W. T. The variable discharge of cortical neurons: implications for connectivity, computation, and information coding. J. Neurosci. 18, 3870–3896 (1998).

Teich, M. C., Heneghan, C., Lowen, S. B., Ozaki, T. & Kaplan, E. Fractal character of the neural spike train in the visual system of the cat. J. Opt. Soc. Am. A 14, 529–546 (1997).

Barlow, H. B. Retinal noise and absolute threshold. J. Opt. Soc. Am. 46, 634–639 (1956).

Ahumada, J. A. J. & Watson, A. B. Equivalent-noise model for contrast detection and discrimination. J. Opt. Soc. Am. A 2, 1133–1139 (1985).

Pelli, D. G. in Psychology (Cambridge, Cambridge, UK, 1981).

Pelli, D. G. in Vision: Coding and Efficiency (ed. Blakemore, C.) 3–24 (Cambridge Univ. Press, New York, 1990).

Rose, A. The relative sensitivities of television pickup tubes, photographic film, and the human eye. Proc. IRE 30, 293–300 (1942).

Rose, A. The sensitivity performance of the human eye on an absolute scale. J. Opt. Soc. Am. 38, 196–208 (1948).

de Vries, H. L. The quantum character of light and its bearing upon threshold of vision, the differential sensitivity and visual acuity of the eye. Physica 10, 553–564 (1943).

Krauskopf, J. & Reeves, A. Measurement of the effect of photon noise on detection. Vision Res. 20, 193–196 (1980).
Acknowledgements
We thank E. Ahissar, H. Barlow, D. Foster, C. Lorenzi, Z.-L. Lu, M. Morgan, A. Reeves, J. Solomon, J. Thomas and C. Tyler for their comments.
About this article
Cite this article
Gorea, A., Sagi, D. Disentangling signal from noise in visual contrast discrimination. Nat Neurosci 4, 1146–1150 (2001). https://doi.org/10.1038/nn741
Received:

Accepted:

Published:

Issue Date:

DOI: https://doi.org/10.1038/nn741