Abstract
Post-traumatic stress disorder (PTSD) is an often debilitating mental illness that is characterized by recurrent distressing memories of traumatic events. PTSD is associated with hypoactivity in the ventromedial prefrontal cortex (vmPFC), hyperactivity in the amygdala and reduced volume in the hippocampus, but it is unknown whether these neuroimaging findings reflect the underlying cause or a secondary effect of the disorder. To investigate the causal contribution of specific brain areas to PTSD symptoms, we studied a unique sample of Vietnam War veterans who suffered brain injury and emotionally traumatic events. We found a substantially reduced occurrence of PTSD among those individuals with damage to one of two regions of the brain: the vmPFC and an anterior temporal area that included the amygdala. These results suggest that the vmPFC and amygdala are critically involved in the pathogenesis of PTSD.
This is a preview of subscription content
Access options
Subscribe to Journal
Get full journal access for 1 year
$59.00
only $4.92 per issue
All prices are NET prices.
VAT will be added later in the checkout.
Tax calculation will be finalised during checkout.
Buy article
Get time limited or full article access on ReadCube.
$32.00
All prices are NET prices.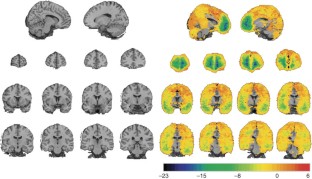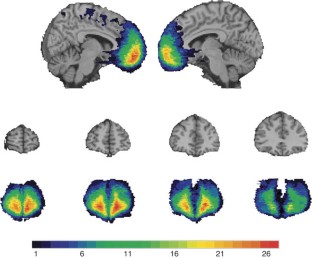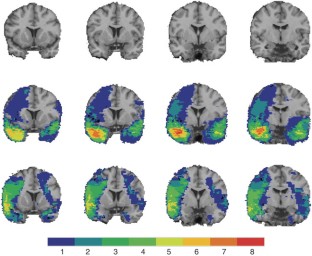 References
American Psychiatric Association. Diagnostic and Statistical Manual of Mental Disorders, Fourth Edition, Text Revision (DSM-IV-TR) (American Psychiatric Association, Washington, DC, 2000).

Alonso, J. et al. Disability and quality of life impact of mental disorders in Europe: results from the European Study of the Epidemiology of Mental Disorders (ESEMeD) project. Acta Psychiatr. Scand. Suppl. 420, 38–46 (2004).

Ayuso-Mateos, J.L. Global Burden of Post-traumatic Stress Disorder in the Year 2000: Version 1 Estimates (World Health Organization, Geneva, 2002).

Rauch, S.L., Shin, L.M. & Phelps, E.A. Neurocircuitry models of posttraumatic stress disorder and extinction: human neuroimaging research—past, present, and future. Biol. Psychiatry 60, 376–382 (2006).

Shin, L.M., Rauch, S.L. & Pitman, R.K. Amygdala, medial prefrontal cortex, and hippocampal function in PTSD. Ann. NY Acad. Sci. 1071, 67–79 (2006).

Aggleton, J.P. The Amygdala: A Functional Analysis (Oxford University Press, Oxford, 2000).

Eichenbaum, H. A cortical-hippocampal system for declarative memory. Nat. Rev. Neurosci. 1, 41–50 (2000).

Aggleton, J.P., Burton, M.J. & Passingham, R.E. Cortical and subcortical afferents to the amygdala of the rhesus monkey (Macaca mulatta). Brain Res. 190, 347–368 (1980).

Stefanacci, L. & Amaral, D.G. Some observations on cortical inputs to the macaque monkey amygdala: an anterograde tracing study. J. Comp. Neurol. 451, 301–323 (2002).

Quirk, G.J. & Beer, J.S. Prefrontal involvement in the regulation of emotion: convergence of rat and human studies. Curr. Opin. Neurobiol. 16, 723–727 (2006).

Rauch, S.L. et al. Selectively reduced regional cortical volumes in post-traumatic stress disorder. Neuroreport 14, 913–916 (2003).

Bremner, J.D. et al. Neural correlates of memories of childhood sexual abuse in women with and without posttraumatic stress disorder. Am. J. Psychiatry 156, 1787–1795 (1999).

Bremner, J.D. et al. Neural correlates of exposure to traumatic pictures and sound in Vietnam combat veterans with and without posttraumatic stress disorder: a positron emission tomography study. Biol. Psychiatry 45, 806–816 (1999).

Shin, L.M. et al. Regional cerebral blood flow in the amygdala and medial prefrontal cortex during traumatic imagery in male and female Vietnam veterans with PTSD. Arch. Gen. Psychiatry 61, 168–176 (2004).

Liberzon, I. et al. Brain activation in PTSD in response to trauma-related stimuli. Biol. Psychiatry 45, 817–826 (1999).

Hendler, T. et al. Sensing the invisible: differential sensitivity of visual cortex and amygdala to traumatic context. Neuroimage 19, 587–600 (2003).

Driessen, M. et al. Posttraumatic stress disorder and fMRI activation patterns of traumatic memory in patients with borderline personality disorder. Biol. Psychiatry 55, 603–611 (2004).

First, M.B. et al. Structured Clinical Interview for DSM-IV-TR Axis I Disorders, Research Version, Patient Edition (SCID-I/P) (Biometrics Research, New York, 2002).

Dohrenwend, B.P. et al. The psychological risks of Vietnam for U.S. veterans: a revisit with new data and methods. Science 313, 979–982 (2006).

Blake, D.D. et al. The development of a clinician-administered PTSD scale. J. Trauma. Stress 8, 75–90 (1995).

Herskovits, E.H. et al. Is the spatial distribution of brain lesions associated with closed-head injury in children predictive of subsequent development of posttraumatic stress disorder? Radiology 224, 345–351 (2002).

Likhtik, E. et al. Prefrontal control of the amygdala. J. Neurosci. 25, 7429–7437 (2005).

Quirk, G.J. et al. Stimulation of medial prefrontal cortex decreases the responsiveness of central amygdala output neurons. J. Neurosci. 23, 8800–8807 (2003).

Damasio, A.R. The somatic marker hypothesis and the possible functions of the prefrontal cortex. Phil. Trans. R. Soc. Lond. B 351, 1413–1420 (1996).

Wood, J.N. & Grafman, J. Human prefrontal cortex: processing and representational perspectives. Nat. Rev. Neurosci. 4, 139–147 (2003).

Mayberg, H.S. et al. Deep brain stimulation for treatment-resistant depression. Neuron 45, 651–660 (2005).

Greenberg, B.D. et al. Three-year outcomes in deep brain stimulation for highly resistant obsessive-compulsive disorder. Neuropsychopharmacology 31, 2384–2393 (2006).

Henry, T.R. Therapeutic mechanisms of vagus nerve stimulation. Neurology 59, S3–S14 (2002).

Wassermann, E.M. & Grafman, J. Recharging cognition with DC brain polarization. Trends Cogn. Sci. 9, 503–505 (2005).

Fitzgerald, P.B. et al. Transcranial magnetic stimulation in the treatment of depression: a double-blind, placebo-controlled trial. Arch. Gen. Psychiatry 60, 1002–1008 (2003).

Coryell, M.W. et al. Targeting ASIC1a reduces innate fear and alters neuronal activity in the fear circuit. Biol. Psychiatry 62, 1140–1148 (2007).

Cohen, H. et al. Repetitive transcranial magnetic stimulation of the right dorsolateral prefrontal cortex in posttraumatic stress disorder: a double-blind, placebo-controlled study. Am. J. Psychiatry 161, 515–524 (2004).

Makale, M. et al. Quantification of brain lesions using interactive automated software. Behav. Res. Methods Instrum. Comput. 34, 6–18 (2002).

Solomon, J. et al. User-friendly software for the analysis of brain lesions (ABLe). Comput. Methods Programs Biomed. 86, 245–254 (2007).

Tzourio-Mazoyer, N. et al. Automated anatomical labeling of activations in SPM using a macroscopic anatomical parcellation of the MNI MRI single-subject brain. Neuroimage 15, 273–289 (2002).

Talairach, J. & Tournoux, P. Co-planar Stereotaxic Atlas of the Human Brain 3-Dimensional Proportional System: An Approach to Cerebral Imaging (Thieme, Stuttgart, Germany and New York, 1988).

Collins, D.L., Neelin, P., Peters, T.M. & Evans, A.C. Automatic 3D intersubject registration of MR volumetric data in standardized Talairach space. J. Comput. Assist. Tomogr. 18, 192–205 (1994).

Tranel, D., Damasio, H., Denburg, N. & Bechara, A. Does gender play a role in functional asymmetry of ventromedial prefrontal cortex? Brain 128, 2872–2881 (2005).
Acknowledgements
We thank K. Reding for VHIS data management and D. Kapogiannis for helpful discussions. We thank the veterans for their participation in the VHIS. This work was supported by the US National Institute of Neurological Disorders and Stroke intramural research program and a project grant form the United Sates Army Medical Research and Material Command administered by the Henry M. Jackson Foundation (Vietnam Head Injury Study Phase III: a 30-year post-injury follow-up study, grant number DAMD17-01-1-0675).
Supplementary information
About this article
Cite this article
Koenigs, M., Huey, E., Raymont, V. et al. Focal brain damage protects against post-traumatic stress disorder in combat veterans. Nat Neurosci 11, 232–237 (2008). https://doi.org/10.1038/nn2032
Received:

Accepted:

Published:

Issue Date:

DOI: https://doi.org/10.1038/nn2032