Abstract
Political scientists and psychologists have noted that, on average, conservatives show more structured and persistent cognitive styles, whereas liberals are more responsive to informational complexity, ambiguity and novelty. We tested the hypothesis that these profiles relate to differences in general neurocognitive functioning using event-related potentials, and found that greater liberalism was associated with stronger conflict-related anterior cingulate activity, suggesting greater neurocognitive sensitivity to cues for altering a habitual response pattern.
This is a preview of subscription content
Access options
Subscribe to Journal
Get full journal access for 1 year
$59.00
only $4.92 per issue
All prices are NET prices.
VAT will be added later in the checkout.
Tax calculation will be finalised during checkout.
Rent or Buy article
Get time limited or full article access on ReadCube.
from$8.99
All prices are NET prices.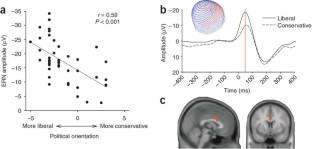 References
1

Jost, J.T., Glaser, J., Kruglanski, A.W. & Sulloway, F.J. Psychol. Bull. 129, 339–375 (2003).

2

Alford, J.R., Funk, C.L. & Hibbing, J.R. Am. Polit. Sci. Rev. 99, 153–167 (2005).

3

Block, J. & Block, J.H. J. Res. Pers. 40, 734–749 (2006).

4

Miller, E.K. & Cohen, J.D. Annu. Rev. Neurosci. 24, 167–202 (2001).

5

Botvinick, M.M., Braver, T.S., Barch, D.M., Carter, C.S. & Cohen, J.D. Psychol. Rev. 108, 624–652 (2001).

6

Kiehl, K.A., Liddle, P.F. & Hopfinger, J.B. Psychophysiology 37, 216–223 (2000).

7

Nieuwenhuis, S., Yeung, N., Van Den Wildenberg, W. & Ridderinkhof, K.R. Cogn. Affect. Behav. Neurosci. 3, 17–26 (2003).

8

Jost, J.T. Am. Psychol. 61, 651–670 (2006).

9

Gehring, W.J., Goss, B., Coles, M.G.H., Meyer, D.E. & Donchin, E. Psychol. Sci. 4, 385–390 (1993).

10

Dehaene, S., Posner, M.I. & Tucker, D.M. Psychol. Sci. 5, 303–305 (1994).

11

Yeung, N., Botvinic, M.M. & Cohen, J.D. Psychol. Rev. 111, 931–959 (2004).

12

Adorno, T.W., Frankel-Brunswick, E., Levinson, D.J. & Sanford, R.N. The Authoritarian Personality (Harper and Row, New York, 1950).

13

Kaplan, J.T., Freedman, J. & Iacoboni, M. Neuropsychologia 45, 55–64 (2007).

14

Knutson, K.M., Wood, J.N., Spampinato, M.V. & Grafman, J. Soc. Neurosci. 1, 25–40 (2006).
Acknowledgements
We thank A. Crampton and B. Lehman for assisting with data collection, and S. Taylor for laboratory support.
Supplementary information
About this article
Cite this article
Amodio, D., Jost, J., Master, S. et al. Neurocognitive correlates of liberalism and conservatism. Nat Neurosci 10, 1246–1247 (2007). https://doi.org/10.1038/nn1979
Received:

Accepted:

Published:

Issue Date: