Abstract
Music and speech are very cognitively demanding auditory phenomena generally attributed to cortical rather than subcortical circuitry. We examined brainstem encoding of linguistic pitch and found that musicians show more robust and faithful encoding compared with nonmusicians. These results not only implicate a common subcortical manifestation for two presumed cortical functions, but also a possible reciprocity of corticofugal speech and music tuning, providing neurophysiological explanations for musicians' higher language-learning ability.
Access options
Subscribe to Journal
Get full journal access for 1 year
$225.00
only $18.75 per issue
All prices are NET prices.
VAT will be added later in the checkout.
Rent or Buy article
Get time limited or full article access on ReadCube.
from$8.99
All prices are NET prices.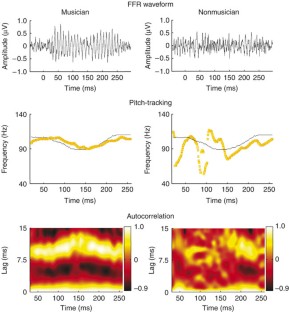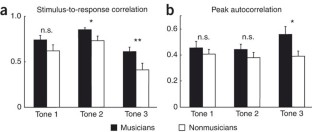 References
1

Rauschecker, J.P. Curr. Opin. Neurobiol. 8, 516–521 (1998).

2

Patel, A.D. Nat. Neurosci. 6, 674–681 (2003).

3

Wong, P.C., Parsons, L.M., Martinez, M. & Diehl, R.L. J. Neurosci. 24, 9153–9160 (2004).

4

Wong, P.C.M., Perrachione, T.K. & Parrish, T.B. Hum. Brain Mapp. (in the press).

5

Russo, N.M., Nicol, T.G., Zecker, S.G., Hayes, E.A. & Kraus, N. Behav. Brain Res. 156, 95–103 (2005).

6

Greenberg, S., Marsh, J.T., Brown, W.S. & Smith, J.C. Hear. Res. 25, 91–114 (1987).

7

Krishnan, A., Xu, Y., Gandour, J. & Cariani, P. Cogn. Brain Res. 25, 161–168 (2005).

8

Li, W., Piech, V. & Gilbert, C.D. Nat. Neurosci. 7, 651–657 (2004).

9

Slevc, L.R. & Miyake, A. Psychol. Sci. 17, 675–681 (2006).

10

Suga, N., Gao, E., Zhang, Y., Ma, X. & Olsen, J.F. Proc. Natl. Acad. Sci. USA 97, 11807–11814 (2000).

11

Schon, D., Magne, C. & Besson, M. Psychophysiology 41, 341–349 (2004).

12

Nosofsky, R.M. J. Exp. Psychol. Gen. 115, 39–61 (1986).

13

Ahissar, M. & Hochstein, S. Trends Cogn. Sci. 8, 457–464 (2004).

14

Johnson, K.L., Nicol, T.G. & Kraus, N. Ear Hear. 26, 424–434 (2005).

15

Gordon, M. & O'Neill, W.E. J. Comp. Neurol. 426, 165–181 (2000).
Acknowledgements
The authors thank J. Song, B. Williams, J. Alexander, A. Bradlow, T. Nicol, and T. Perrachione for their assistance in this research. This work is supported by Northwestern University and the US National Institutes of Health grant R03HD051827 and R21DC007468 to P.W. and R01DC001510 to N.K, and National Science Foundation grant BCS-0544846 to N.K.
Ethics declarations
Competing interests
The authors declare no competing financial interests.
Supplementary information