Abstract
Whether mammalian scent-tracking is aided by inter-nostril comparisons is unknown. We assessed this in humans and found that (i) humans can scent-track, (ii) they improve with practice, (iii) the human nostrils sample spatially distinct regions separated by ∼3.5 cm and, critically, (iv) scent-tracking is aided by inter-nostril comparisons. These findings reveal fundamental mechanisms of scent-tracking and suggest that the poor reputation of human olfaction may reflect, in part, behavioral demands rather than ultimate abilities.
Access options
Subscribe to Journal
Get full journal access for 1 year
$59.00
only $4.92 per issue
All prices are NET prices.
VAT will be added later in the checkout.
Tax calculation will be finalised during checkout.
Rent or Buy article
Get time limited or full article access on ReadCube.
from$8.99
All prices are NET prices.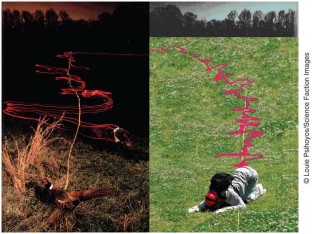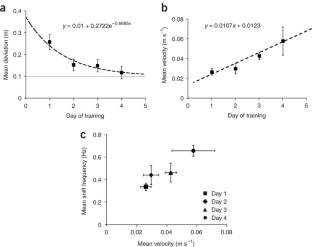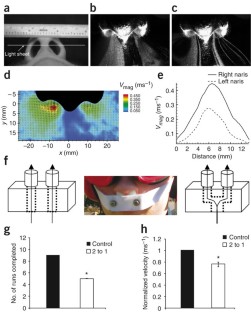 References
1

Vickers, N.J. Chem. Senses 31, 155–166 (2006).

2

Koehl, M.A. et al. Science 294, 1948–1951 (2001).

3

Thesen, A., Steen, J.B. & Doving, K.B. J. Exp. Biol. 180, 247–251 (1993).

4

Settles, G.S. J. Fluids Eng. 127, 189–218 (2005).

5

Mainland, J. & Sobel, N. Chem. Senses 31, 181–196 (2006).

6

Moulton, D.G. Am. Zool. 7, 421–428 (1967).

7

Crimaldi, J.P. & Koseff, J.R. Exp. Fluids 31, 90–102 (2001).

8

Wilson, D.A. & Sullivan, R.M. Physiol. Behav. 66, 41–44 (1999).

9

Gilad, Y., Wiebel, V., Przeworski, M., Lancet, D. & Paabo, S. PLoS Biol. 2, 120–125 (2004).

10

Laska, M., Seibt, A. & Weber, A. Chem. Senses 25, 47–53 (2000).

11

Shepherd, G.M. PLoS Biol. 2, 572–575 (2004).

12

Smith, T.D. & Bhatnagar, K.P. Anat. Rec. B New Anat. 279, 24–31 (2004).

13

Rajan, R., Clement, J.P. & Bhalla, U.S. Science 311, 666–670 (2006).

14

Porter, J., Anand, T., Johnson, B., Khan, R.M. & Sobel, N. Neuron 47, 581–592 (2005).

15

Gibbons, B. Nat. Geogr. Mag. 170, 324–361 (1986).
Acknowledgements
Studies were funded by Army Research Office grant #46666-LS and by US National Institutes of Health, National Institute on Deafness and other Communication Disorders grants DC006915 and DC005958. The authors wish to thank B. Willmore for help with the video tracking algorithm and K. Scott for comments on the manuscript, as well as Arak Elite.
Ethics declarations
Competing interests
The authors declare no competing financial interests.
Supplementary information
An example dynamic power spectra and tracking path. (PDF 370 kb)
Sample trial. (MOV 2171 kb)
About this article
Cite this article
Porter, J., Craven, B., Khan, R. et al. Mechanisms of scent-tracking in humans. Nat Neurosci 10, 27–29 (2007). https://doi.org/10.1038/nn1819
Received:

Accepted:

Published:

Issue Date: