Abstract
Microglia are primary immune sentinels of the CNS. Following injury, these cells migrate or extend processes toward sites of tissue damage. CNS injury is accompanied by release of nucleotides, serving as signals for microglial activation or chemotaxis. Microglia express several purinoceptors, including a Gi-coupled subtype that has been implicated in ATP- and ADP-mediated migration in vitro. Here we show that microglia from mice lacking Gi-coupled P2Y12 receptors exhibit normal baseline motility but are unable to polarize, migrate or extend processes toward nucleotides in vitro or in vivo. Microglia in P2ry12−/− mice show significantly diminished directional branch extension toward sites of cortical damage in the living mouse. Moreover, P2Y12 expression is robust in the 'resting' state, but dramatically reduced after microglial activation. These results imply that P2Y12 is a primary site at which nucleotides act to induce microglial chemotaxis at early stages of the response to local CNS injury.
Relevant articles
Open Access articles citing this article.
Francesca Logiacco

,

Laura Cathleen Grzegorzek

…

Marcus Semtner

Acta Neuropathologica Communications Open Access 09 March 2023

Hao Huang

,

Wanjun He

…

Mengsheng Qiu

Neuroscience Bulletin Open Access 26 August 2022

Xiaoke Xie

,

Xuanting Liu

…

Ke Si

Communications Biology Open Access 19 August 2022
Access options
Subscribe to this journal
Receive 12 print issues and online access
$189.00 per year
only $15.75 per issue
Rent or buy this article
Get just this article for as long as you need it
$39.95
Prices may be subject to local taxes which are calculated during checkout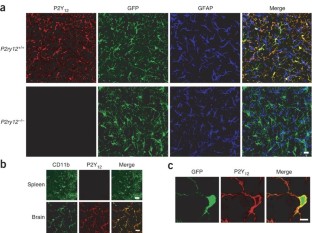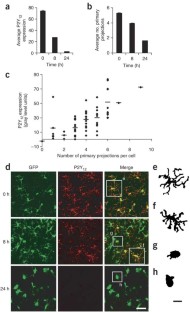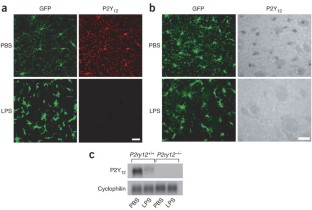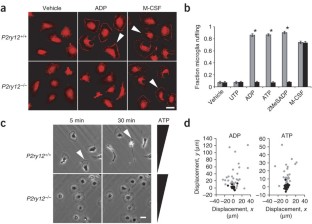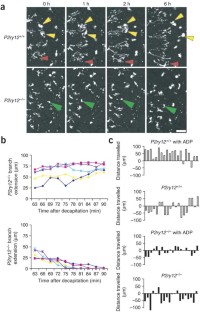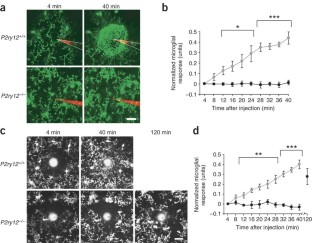 References
Davalos, D. et al. ATP mediates rapid microglial response to local brain injury in vivo. Nat. Neurosci. 8, 752–758 (2005).

Nimmerjahn, A., Kirchhoff, F. & Helmchen, F. Resting microglial cells are highly dynamic surveillants of brain parenchyma in vivo. Science 308, 1314–1318 (2005).

Stence, N., Waite, M. & Dailey, M.E. Dynamics of microglial activation: a confocal time-lapse analysis in hippocampal slices. Glia 33, 256–266 (2001).

Chao, C.C., Hu, S., Molitor, T.W., Shaskan, E.G. & Peterson, P.K. Activated microglia mediate neuronal cell injury via a nitric oxide mechanism. J. Immunol. 149, 2736–2741 (1992).

Kreutzberg, G.W. Microglia: a sensor for pathological events in the CNS. Trends Neurosci. 19, 312–318 (1996).

Inoue, K. Microglial activation by purines and pyrimidines. Glia 40, 156–163 (2002).

Sasaki, Y. et al. Selective expression of Gi/o-coupled ATP receptor P2Y12 in microglia in rat brain. Glia 44, 242–250 (2003).

Coull, J.A. et al. BDNF from microglia causes the shift in neuronal anion gradient underlying neuropathic pain. Nature 438, 1017–1021 (2005).

Hanisch, U.-K. in Microglia in the Regenerating and Degenerating Central Nervous System (ed. Streit, W.J.) 79–124 (Springer, New York, 2002).

Honda, S. et al. Extracellular ATP or ADP induce chemotaxis of cultured microglia through Gi/o-coupled P2Y receptors. J. Neurosci. 21, 1975–1982 (2001).

Burnstock, G. in P2 Purinoceptors: Localization, Funciton, and Transduction Mechanisms (eds. Chadwick, D. & Goode, J.) 1–34 (Wiley, New York, 1996).

Hollopeter, G. et al. Identification of the platelet ADP receptor targeted by antithrombotic drugs. Nature 409, 202–207 (2001).

Zhang, F.L. et al. ADP is the cognate ligand for the orphan G protein-coupled receptor SP1999. J. Biol. Chem. 276, 8608–8615 (2001).

Andre, P. et al. P2Y12 regulates platelet adhesion/activation, thrombus growth, and thrombus stability in injured arteries. J. Clin. Invest. 112, 398–406 (2003).

Foster, C.J. et al. Molecular identification and characterization of the platelet ADP receptor targeted by thienopyridine antithrombotic drugs. J. Clin. Invest. 107, 1591–1598 (2001).

Brass, S. Cardiovascular biology. Small cells, big issues. Nature 409, 145–147 (2001).

Herbert, J.M. & Savi, P. P2Y12, a new platelet ADP receptor, target of clopidogrel. Semin. Vasc. Med. 3, 113–122 (2003).

Jung, S. et al. Analysis of fractalkine receptor CX(3)CR1 function by targeted deletion and green fluorescent protein reporter gene insertion. Mol. Cell. Biol. 20, 4106–4114 (2000).

Streit, W.J. in Microglia in the Regenerating and Degenerating Central Nervous System (ed. Streit, W.J.) 1–14 (Springer, New York, 2002).

Streit, W.J., Graeber, M.B. & Kreutzberg, G.W. Functional plasticity of microglia: a review. Glia 1, 301–307 (1988).

Lee, J.C. et al. Accelerated cerebral ischemic injury by activated macrophages/microglia after lipopolysaccharide microinjection into rat corpus callosum. Glia 50, 168–181 (2005).

Moller, T., Kann, O., Verkhratsky, A. & Kettenmann, H. Activation of mouse microglial cells affects P2 receptor signaling. Brain Res. 853, 49–59 (2000).

Hardy, A.R. et al. P2Y1 and P2Y12 receptors for ADP desensitize by distinct kinase-dependent mechanisms. Blood 105, 3552–3560 (2005).

Salimi, K. & Humpel, C. Down-regulation of complement receptor 3 and major histocompatibility complex I and II antigen-like immunoreactivity accompanies ramification in isolated rat microglia. Brain Res. 946, 283–289 (2002).

Kurpius, D., Wilson, N., Fuller, L., Hoffman, A. & Dailey, M.E. Early activation, motility, and homing of neonatal microglia to injured neurons does not require protein synthesis. Glia 54, 58–70 (2006).

Cook, S.P. & McCleskey, E.W. Cell damage excites nociceptors through release of cytosolic ATP. Pain 95, 41–47 (2002).

Tsuda, M. et al. P2X4 receptors induced in spinal microglia gate tactile allodynia after nerve injury. Nature 424, 778–783 (2003).

Chakfe, Y. et al. ADP and AMP induce interleukin-1beta release from microglial cells through activation of ATP-primed P2X7 receptor channels. J. Neurosci. 22, 3061–3069 (2002).

Suzuki, T. et al. Production and release of neuroprotective tumor necrosis factor by P2X7 receptor-activated microglia. J. Neurosci. 24, 1–7 (2004).

Communi, D. et al. Identification of a novel human ADP receptor coupled to G(i). J. Biol. Chem. 276, 41479–41485 (2001).

Giulian, D. & Baker, T.J. Characterization of ameboid microglia isolated from developing mammalian brain. J. Neurosci. 6, 2163–2178 (1986).

Allen, W.E., Zicha, D., Ridley, A.J. & Jones, G.E. A role for Cdc42 in macrophage chemotaxis. J. Cell Biol. 141, 1147–1157 (1998).

Caterina, M.J. et al. The capsaicin receptor: a heat-activated ion channel in the pain pathway. Nature 389, 816–824 (1997).

Luecke, H.F. & Yamamoto, K.R. The glucocorticoid receptor blocks P-TEFb recruitment by NFkappaB to effect promoter-specific transcriptional repression. Genes Dev. 19, 1116–1127 (2005).
Acknowledgements
We are grateful to L. Fuller, H. Morisaki, J. Braz and A. So for experimental advice and assistance, and to D. Littman (Skirball Institute, New York University) for providing Cx3cr1+/GFP mice. This work was supported by predoctoral fellowships from the US National Institute of General Medical Sciences (GM56847 for S.H.) and the American Heart Association (G.H.) and by research grants from the US National Institutes of Health (NS43468 to M.D.), the National Institute of Mental Health (Silvio Conte Center for Neuroscience Research at UCSF to D.J.) and the Christopher Reeve Paralysis Foundation (to D.J.).
Ethics declarations
Competing interests
The authors declare no competing financial interests.
Supplementary information
About this article
Cite this article
Haynes, S., Hollopeter, G., Yang, G. et al. The P2Y12 receptor regulates microglial activation by extracellular nucleotides. Nat Neurosci 9, 1512–1519 (2006). https://doi.org/10.1038/nn1805
Received:

Accepted:

Published:

Issue Date:

DOI: https://doi.org/10.1038/nn1805