Abstract
The dentate gyrus in the hippocampus is one of two brain regions with lifelong neurogenesis in mammals. Despite an increasing amount of information about the characteristics of the newborn granule cells, the specific contribution of their robust generation to memory formation by the hippocampus remains unclear. We describe here a possible role that this population of young granule cells may have in the formation of temporal associations in memory. Neurogenesis is a continuous process; the newborn population is only composed of the same cells for a short period of time. As time passes, the young neurons mature or die and others are born, gradually changing the identity of this young population. We discuss the possibility that one cognitive impact of this gradually changing population on hippocampal memory formation is the formation of the temporal clusters of long-term episodic memories seen in some human psychological studies.
Access options
Subscribe to this journal
Receive 12 print issues and online access
$209.00 per year
only $17.42 per issue
Rent or buy this article
Prices vary by article type
from$1.95
to$39.95
Prices may be subject to local taxes which are calculated during checkout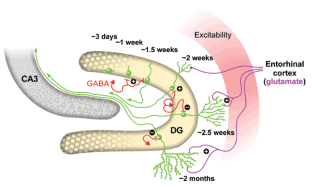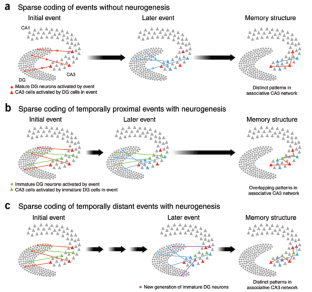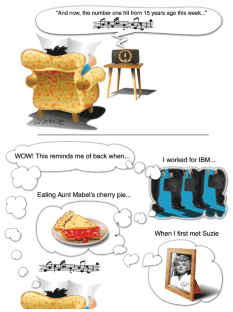 Similar content being viewed by others
References
Ming, G.L. & Song, H. Adult neurogenesis in the mammalian central nervous system. Annu. Rev. Neurosci. 28, 223–250 (2005).

Gage, F.H. Neurogenesis in the adult brain. J. Neurosci. 22, 612–613 (2002).

Altman, J. & Bayer, S.A. Migration and distribution of two populations of hippocampal granule cell precursors during the perinatal and postnatal periods. J. Comp. Neurol. 301, 365–381 (1990).

Eriksson, P.S. et al. Neurogenesis in the adult human hippocampus. Nat. Med. 4, 1313–1317 (1998).

van Praag, H., Kempermann, G. & Gage, F.H. Running increases cell proliferation and neurogenesis in the adult mouse dentate gyrus. Nat. Neurosci. 2, 266–270 (1999).

Gould, E., Beylin, A., Tanapat, P., Reeves, A. & Shors, T.J. Learning enhances adult neurogenesis in the hippocampal formation. Nat. Neurosci. 2, 260–265 (1999).

Kempermann, G., Kuhn, H.G. & Gage, F.H. More hippocampal neurons in adult mice living in an enriched environment. Nature 386, 493–495 (1997).

Leuner, B., Gould, E. & Shors, T.J. Is there a link between adult neurogenesis and learning? Hippocampus 16, 216–224 (2006).

Schmidt-Hieber, C., Jonas, P. & Bischofberger, J. Enhanced synaptic plasticity in newly generated granule cells of the adult hippocampus. Nature 429, 184–187 (2004).

van Praag, H. et al. Functional neurogenesis in the adult hippocampus. Nature 415, 1030–1034 (2002).

Kempermann, G., Wiskott, L. & Gage, F.H. Functional significance of adult neurogenesis. Curr. Opin. Neurobiol. 14, 186–191 (2004).

Squire, L.R., Stark, C.E. & Clark, R.E. The medial temporal lobe. Annu. Rev. Neurosci. 27, 279–306 (2004).

McNaughton, B.L. & Morris, R.G. Hippocampal synaptic enhancement and information storage within a distributed memory system. Trends Neurosci. 10, 408–415 (1987).

Treves, A. & Rolls, E.T. Computational analysis of the role of the hippocampus in memory. Hippocampus 4, 374–391 (1994).

Hasselmo, M.E., Wyble, B.P. & Wallenstein, G.V. Encoding and retrieval of episodic memories: role of cholinergic and GABAergic modulation in the hippocampus. Hippocampus 6, 693–708 (1996).

Henze, D.A., Wittner, L. & Buzsaki, G. Single granule cells reliably discharge targets in the hippocampal CA3 network in vivo. Nat. Neurosci. 5, 790–795 (2002).

Amaral, D.G., Ishizuka, N. & Claiborne, B. Neurons, numbers and the hippocampal network. Prog. Brain Res. 83, 1–11 (1990).

Jung, M.W. & McNaughton, B.L. Spatial selectivity of unit activity in the hippocampal granular layer. Hippocampus 3, 165–182 (1993).

Chawla, M.K. et al. Sparse, environmentally selective expression of Arc RNA in the upper blade of the rodent fascia dentata by brief spatial experience. Hippocampus 15, 579–586 (2005).

Treves, A. & Rolls, E.T. Computational constraints suggest the need for two distinct input systems to the hippocampal CA3 network. Hippocampus 2, 189–199 (1992).

Kobayashi, K. & Poo, M.M. Spike train timing-dependent associative modification of hippocampal CA3 recurrent synapses by mossy fibers. Neuron 41, 445–454 (2004).

McMahon, D.B. & Barrionuevo, G. Short- and long-term plasticity of the perforant path synapse in hippocampal area CA3. J. Neurophysiol. 88, 528–533 (2002).

Kesner, R.P., Lee, I. & Gilbert, P. A behavioral assessment of hippocampal function based on a subregional analysis. Rev. Neurosci. 15, 333–351 (2004).

Lee, I. & Kesner, R.P. Encoding versus retrieval of spatial memory: double dissociation between the dentate gyrus and the perforant path inputs into CA3 in the dorsal hippocampus. Hippocampus 14, 66–76 (2004).

Shors, T.J., Townsend, D.A., Zhao, M., Kozorovitskiy, Y. & Gould, E. Neurogenesis may relate to some but not all types of hippocampal-dependent learning. Hippocampus 12, 578–584 (2002).

Wiskott, L., Rasch, M.J. & Kempermann, G. A functional hypothesis for adult hippocampal neurogenesis: avoidance of catastrophic interference in the dentate gyrus. Hippocampus 16, 329–343 (2006).

Becker, S. A computational principle for hippocampal learning and neurogenesis. Hippocampus 15, 722–738 (2005).

Schinder, A.F. & Gage, F.H. A hypothesis about the role of adult neurogenesis in hippocampal function. Physiology (Bethesda) 19, 253–261 (2004).

Hastings, N.B. & Gould, E. Rapid extension of axons into the CA3 region by adult-generated granule cells. J. Comp. Neurol. 413, 146–154 (1999).

Zhao, C., Teng, E.M., Summers, R.G., Ming, G.L. & Gage, F.H. Distinct morphological stages of dentate granule neuron maturation in the adult mouse hippocampus. J. Neurosci. 26, 3–11 (2006).

Esposito, M.S. et al. Neuronal differentiation in the adult hippocampus recapitulates embryonic development. J. Neurosci. 25, 10074–10086 (2005).

Song, H. et al. New neurons in the adult mammalian brain: synaptogenesis and functional integration. J. Neurosci. 25, 10366–10368 (2005).

Kempermann, G., Jessberger, S., Steiner, B. & Kronenberg, G. Milestones of neuronal development in the adult hippocampus. Trends Neurosci. 27, 447–452 (2004).

Aristotle. On memory. in The Complete Works of Artistotle (ed. Barnes, J.) 714–720 (Princeton Univ. Press, Princeton, New Jersey, 1984).

Friedman, W.J. Memory for the time of past events. Psychol. Bull. 113, 44–66 (1993).

Loftus, E.F. & Marburger, W. Since the eruption of Mt. St. Helens, has anyone beaten you up? Improving the accuracy of retrospective reports with landmark events. Mem. Cognit. 11, 114–120 (1983).

Shum, M.S. The role of temporal landmarks in autobiographical memory process. Psychol. Bull. 124, 423–442 (1998).

Brown, N.R. & Schopflocher, D. Event cueing, event clusters, and the temporal distribution of autobiographical memories. Appl. Cogn. Psychol. 12, 305–319 (1998).

Burt, C.D.B., Kemp, S. & Conway, M.A. Themes, events, and episodes in autobiographical memory. Mem. Cognit. 31, 317–325 (2003).

Frankland, P.W. & Bontempi, B. The organization of recent and remote memories. Nat. Rev. Neurosci. 6, 119–130 (2005).

Zola-Morgan, S., Squire, L.R. & Amaral, D.G. Human amnesia and the medial temporal region: enduring memory impairment following a bilateral lesion limited to field CA1 of the hippocampus. J. Neurosci. 6, 2950–2967 (1986).

Marr, D. Simple memory: a theory for archicortex. Phil. Trans. R. Soc. Lond. B 262, 23–81 (1971).

Bayley, P.J., Gold, J.J., Hopkins, R.O. & Squire, L.R. The neuroanatomy of remote memory. Neuron 46, 799–810 (2005).

Wiltgen, B.J., Brown, R.A., Talton, L.E. & Silva, A.J. New circuits for old memories: the role of the neocortex in consolidation. Neuron 44, 101–108 (2004).

Kuhn, H.G., Dickinson-Anson, H. & Gage, F.H. Neurogenesis in the dentate gyrus of the adult rat: age-related decrease of neuronal progenitor proliferation. J. Neurosci. 16, 2027–2033 (1996).

Nixon, K. & Crews, F.T. Binge ethanol exposure decreases neurogenesis in adult rat hippocampus. J. Neurochem. 83, 1087–1093 (2002).

Malberg, J.E., Eisch, A.J., Nestler, E.J. & Duman, R.S. Chronic antidepressant treatment increases neurogenesis in adult rat hippocampus. J. Neurosci. 20, 9104–9110 (2000).

White, A.M., Matthews, D.B. & Best, P.J. Ethanol, memory, and hippocampal function: a review of recent findings. Hippocampus 10, 88–93 (2000).

Austin, M.P., Mitchell, P. & Goodwin, G.M. Cognitive deficits in depression: possible implications for functional neuropathology. Br. J. Psychiatry 178, 200–206 (2001).

Erickson, C.A. & Barnes, C.A. The neurobiology of memory changes in normal aging. Exp. Gerontol. 38, 61–69 (2003).
Acknowledgements
We thank J. Elman, T. Sejnowski, L. Squire and C. Stevens for useful discussion and comments, M.L. Gage for editorial comments, and J. Simon for assistance with figures. This work was funded in part by the Kavli Institute for Brain and Mind, the Lookout Fund, the Defense Advanced Research Projects Agency (DARPA), the US National Institutes of Health (NS-05050217 and NS-05052842) and National Institute of Aging (AG-020938).
Ethics declarations
Competing interests
The authors declare no competing financial interests.
About this article
Cite this article
Aimone, J., Wiles, J. & Gage, F. Potential role for adult neurogenesis in the encoding of time in new memories. Nat Neurosci 9, 723–727 (2006). https://doi.org/10.1038/nn1707
Published:

Issue Date:

DOI: https://doi.org/10.1038/nn1707