Abstract
The functions of 2-arachidonoylglycerol (2-AG), the most abundant endocannabinoid found in the brain, remain largely unknown. Here we show that two previously unknown inhibitors of monoacylglycerol lipase, a presynaptic enzyme that hydrolyzes 2-AG, increase 2-AG levels and enhance retrograde signaling from pyramidal neurons to GABAergic terminals in the hippocampus. These results establish a role for 2-AG in synaptic plasticity and point to monoacylglycerol lipase as a possible drug target.
Access options
Subscribe to Journal
Get full journal access for 1 year
$59.00
only $4.92 per issue
All prices are NET prices.
VAT will be added later in the checkout.
Tax calculation will be finalised during checkout.
Rent or Buy article
Get time limited or full article access on ReadCube.
from$8.99
All prices are NET prices.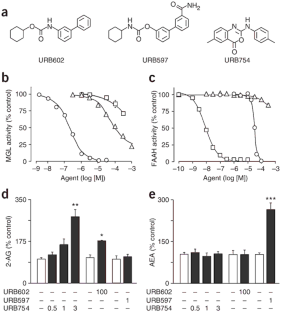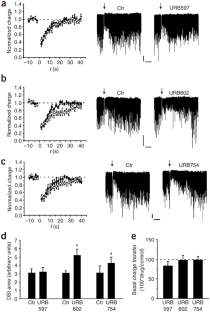 References
1

Freund, T.F., Katona, I. & Piomelli, D. Physiol. Rev. 83, 1017–1066 (2003).

2

Wilson, R.I. & Nicoll, R.A. Nature 410, 588–592 (2001).

3

Ohno-Shosaku, T., Maejima, T. & Kano, M. Neuron 29, 729–738 (2001).

4

Wilson, R.I., Kunos, G. & Nicoll, R.A. Neuron 31, 453–462 (2001).

5

Piomelli, D. Nat. Rev. Neurosci. 4, 873–884 (2003).

6

Cravatt, B.F. et al. Nature 384, 83–87 (1996).

7

Dinh, T.P. et al. Proc. Natl. Acad. Sci. USA 99, 10819–10824 (2002).

8

Kim, J. & Alger, B.E. Nat. Neurosci. 7, 697–698 (2004).

9

Porter, A.C. et al. J. Pharmacol. Exp. Ther. 301, 1020–1024 (2002).

10

Huang, C.C., Chen, Y.L., Lo, S.W. & Hsu, K.S. Mol. Pharmacol. 61, 578–585 (2002).

11

Hohmann, A.G. et al. Nature 435, 1108–1112 (2005).

12

Kathuria, S. et al. Nat. Med. 9, 76–81 (2003).

13

Krantz, A. et al. J. Med. Chem. 33, 464–479 (1990).

14

Hodson, H.F. et al. International patent application PCT WO 00/40247 (2000).
Acknowledgements
We thank N. Hájos for valuable comments and J. Kim for help with cultures. This research was supported by grants from the US National Institute on Drug Abuse and the University of California Discovery Program (D.P.); from Ministero Istruzione Università e Ricerca and University of Urbino 'Carlo Bo' and University of Parma (G.T. and M.M.); and from the Howard Hughes Medical Institute, US National Institutes of Health, European Union Framework Programme 6 and Országos Tudományos Kutatási Alapprogramok (T.F.F).
Ethics declarations
Competing interests
The authors declare competing financial interests: a patent was filed on behalf of D.P., A.D., A.T., M.M. and G.T. by the University of California, Irvine; the University of Urbino and the University of Parma.
Supplementary information
About this article
Cite this article
Makara, J., Mor, M., Fegley, D. et al. Selective inhibition of 2-AG hydrolysis enhances endocannabinoid signaling in hippocampus. Nat Neurosci 8, 1139–1141 (2005). https://doi.org/10.1038/nn1521
Received:

Accepted:

Published:

Issue Date: