Abstract
Accurately maintaining a fixed limb posture and quickly moving between postures underlies both everyday skills, including holding and lifting a cup of coffee, and expert skills, such as an Olympic wrestler's holding and throwing an opponent. A fundamental question in limb motor control is whether the brain manages these contrasting goals of posture and movement through a single, robust control process or whether each engages a specialized control process. We addressed this question by examining how individual neurons in the primary motor cortex of macaque monkeys represent mechanical loads during posture and movement tasks. Notably, approximately half of the neurons that expressed load-related activity did so exclusively during either posture only or movement only. Further, those neurons with load-related activity during both tasks randomly switched their magnitude of response between tasks. These random changes in load representation suggest specialized control processes, one for posture and one for movement.
Your institute does not have access to this article
Relevant articles
Open Access articles citing this article.
Clara Rodriguez-Sabate

,

Albano Gonzalez

…

Manuel Rodriguez

Scientific Reports Open Access 21 June 2021

Tomomichi Oya

,

Tomohiko Takei

&

Kazuhiko Seki

Communications Biology Open Access 02 April 2020

Sergey D. Stavisky

,

Jonathan C. Kao

…

Krishna V. Shenoy

Scientific Reports Open Access 05 November 2018
Access options
Subscribe to Journal
Get full journal access for 1 year
$59.00
only $4.92 per issue
All prices are NET prices.
VAT will be added later in the checkout.
Tax calculation will be finalised during checkout.
Buy article
Get time limited or full article access on ReadCube.
$32.00
All prices are NET prices.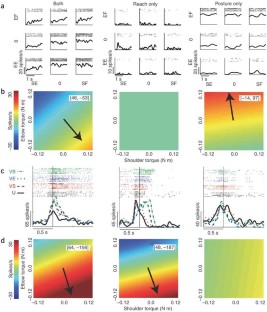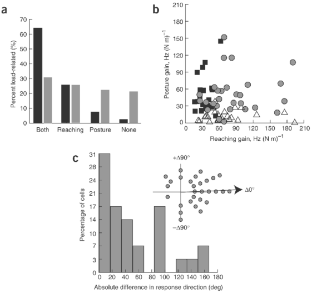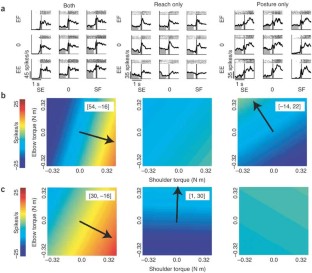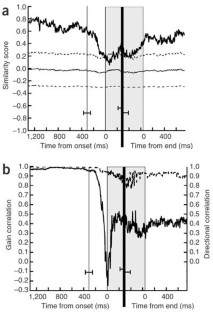 References
Feldman, A.G. Once more on the equilibrium-point hypothesis (λ model) for motor control. J. Mot. Behav. 18, 17–54 (1986).

Bullock, D., Cisek, P. & Grossberg, S. Cortical networks for control of voluntary arm movements under variable force conditions. Cereb. Cortex 8, 48–62 (1998).

Gribble, P.L., Ostry, D.J., Sanguineti, V. & Laboissiere, R. Are complex control signals required for human arm movement? J. Neurophysiol. 79, 1409–1424 (1998).

Mussa-Ivaldi, F.A. & Bizzi, E. Motor learning through the combination of primitives. Phil. Trans. R. Soc. Lond. B 355, 1755–1769 (2000).

Gomi, H. & Kawato, M. Recognition of manipulated objects by motor learning with modular architecture networks. Neural Netw. 6, 485–497 (1993).

Lackner, J.R. & DiZio, P. Rapid adaptation to Coriolis force perturbations of arm trajectory. J. Neurophysiol. 72, 299–313 (1994).

Brown, L.E., Rosenbaum, D.A. & Sainburg, R.L. Limb position drift: implications for control of posture and movement. J. Neurophysiol. 90, 3105–3118 (2003).

Wolpert, D.M. & Kawato, M. Multiple paired forward and inverse models for motor control. Neural Netw. 11, 1317–1329 (1998).

Todorov, E. Optimality principles in sensorimotor control. Nat. Neurosci. 7, 907–915 (2004).

Scott, S.H. Optimal feedback control and the neural basis of volitional motor control. Nat. Rev. Neurosci. 5, 532–546 (2004).

Gomi, H. & Kawato. Equilibrium-point control hypothesis examined by measured arm stiffness during multijoint movement. Science 272, 117–120 (1996).

Shapiro, M.B., Gottlieb, G.L., Moore, C.G. & Corcos, D.M. Electromyographic responses to an unexpected load in fast voluntary movements: descending regulation of segmental reflexes. J. Neurophysiol. 88, 1059–1063 (2002).

Gribble, P.L. & Ostry, D.J. Compensation for loads during arm movements using equilibrium-point control. Exp. Brain Res. 135, 474–482 (2000).

Hinder, M.R. & Milner, T.E. The case for an internal dynamics model versus equilibrium point control in human movement. J. Physiol. (Lond.) 549, 953–963 (2003).

Seki, K., Perlmutter, S.I. & Fetz, E.E. Sensory input to primate spinal cord is presynaptically inhibited during voluntary movement. Nat. Neurosci. 6, 1309–1316 (2003).

Stein, R.B. & Capaday, C. The modulation of human reflexes during functional motor tasks. Trends Neurosci. 11, 328–332 (1988).

Brooke, J.D. et al. Sensori-sensory afferent conditioning with leg movement: gain control in spinal reflex and ascending paths. Prog. Neurobiol. 51, 393–421 (1997).

Ashe, J. Force and the motor cortex. Behav. Brain Res. 87, 255–269 (1997).

Scott, S.H. The role of primary motor cortex in goal-directed movements: insights from neurophysiological studies on non-human primates. Curr. Opin. Neurobiol. 13, 671–677 (2003).

Muir, R.B. & Lemon, R.N. Corticospinal neurons with a special role in precision grip. Brain Res. 261, 312–316 (1983).

Cheney, P.D. & Fetz, E.E. Functional classes of primate corticomotoneuronal cells and their relation to active force. J. Neurophysiol. 44, 773–791 (1980).

Sergio, L.E. & Kalaska, J.F. Changes in the temporal pattern of primary motor cortex activity in a directional isometric force versus limb movement task. J. Neurophysiol. 80, 1577–1583 (1998).

Cabel, D.W., Cisek, P. & Scott, S.H. Neural activity in primary motor cortex related to mechanical loads applied to the shoulder and elbow during a postural task. J. Neurophysiol. 86, 2102–2108 (2001).

Gribble, P.L. & Scott, S.H. Overlap of internal models in motor cortex for mechanical loads during reaching. Nature 417, 938–941 (2002).

Scott, S.H. Apparatus for measuring and perturbing shoulder and elbow joint positions and torques during reaching. J. Neurosci. Methods 89, 119–127 (1999).

Evarts, E.V. Relation of pyramidal tract activity to force exerted during voluntary movement. J. Neurophysiol. 31, 14–27 (1968).

Thach, W.T. Correlation of neural discharge with pattern and force of muscular activity, joint position, and direction of intended next movement in motor cortex and cerebellum. J. Neurophysiol. 41, 654–676 (1978).

Kalaska, J.F., Cohen, D.A., Hyde, M.L. & Prud'homme, M. A comparison of movement direction-related versus load direction-related activity in primate motor cortex, using a two-dimensional reaching task. J. Neurosci. 9, 2080–2102 (1989).

Hepp-Reymond, M., Kirkpatrick-Tanner, M., Gabernet, L., Qi, H.X. & Weber, B. Context-dependent force coding in motor and premotor cortical areas. Exp. Brain Res. 128, 123–133 (1999).

Joyce, G.C., Rack, P.M. & Westbury, D.R. The mechanical properties of cat soleus muscle during controlled lengthening and shortening movements. J. Physiol. (Lond.) 204, 461–474 (1969).

Scott, S.H., Brown, I.E. & Loeb, G.E. Mechanics of feline soleus: I. Effect of fascicle length and velocity on force output. J. Muscle Res. Cell Motil. 17, 207–219 (1996).

Hollerbach, M.J. & Flash, T. Dynamic interactions between limb segments during planar arm movement. Biol. Cybern. 44, 67–77 (1982).

Gottlieb, G.L., Song, Q., Almeida, G.L., Hong, D.A. & Corcos, D. Directional control of planar human arm movement. J. Neurophysiol. 78, 2985–2998 (1997).

Kurtzer, I., DiZio, P. & Lackner, J.R. Adaptation to a novel multi-force environment. Exp. Brain Res. in the press.

Sergio, L.E. & Kalaska, J.F. Systematic changes in motor cortex cell activity with arm posture during directional isometric force generation. J. Neurophysiol. 89, 212–228 (2003).

Kalaska, J.F. & Crammond, D.J. Cerebral cortical mechanisms of reaching movements. Science 255, 1517–1523 (1992).

Kilner, J.M., Baker, S.N., Salenius, S., Hari, R. & Lemon, R.N. Human cortical muscle coherence is directly related to specific motor parameters. J. Neurosci. 20, 8838–8845 (2000).

Fetz, E.E. & Cheney, P.D. Functional relations between primate motor cortex cells and muscles: fixed and flexible. Ciba Found. Symp. 132, 98–117 (1987).

Holdefer, R.N. & Miller, L.E. Primary motor cortical neurons encode functional muscle synergies. Exp. Brain Res. 146, 233–243 (2002).

Schaal, S., Sternad, D., Osu, R. & Kawato, M. Rhythmic arm movement is not discrete. Nat. Neurosci. 7, 1136–1143 (2004).

Deuschl, G., Bain, P. & Brin, M. Consensus statement of the Movement Disorder Society on Tremor. Ad Hoc Scientific Committee. Mov. Disord. 13 (Suppl. 3): 2–23 (1998).

McAuley, J.H. The physiological basis of clinical deficits in Parkinson's disease. Prog. Neurobiol. 69, 27–48 (2003).

Nicolelis, M.A. Brain-machine interfaces to restore motor function and probe neural circuits. Nat. Rev. Neurosci. 4, 417–422 (2003).

Andersen, R.A., Burdick, J.W., Musallam, S., Pesaran, B. & Cham, J.G. Cognitive neural prosthetics. Trends Cogn. Sci. 8, 486–493 (2004).

Batschelet, E. Circular Statistics in Biology (Academic Press, London, 1981).
Acknowledgements
S.H.S. is supported by Canadian Institutes of Health Research (CIHR) Investigator Award and this work is supported by funds from CIHR (MOP 13462 and 200112NET). We thank K. Moore, J. Scott and J. Swaine for expert technical assistance, and P. Cisek, R. Flanagan, J. Kalaska and D. Munoz for comments on earlier versions of the manuscript.
Ethics declarations
Competing interests
S.H.S. is the president of BKIN technologies, which commercializes the robotic technology used in this study.
Supplementary information
About this article
Cite this article
Kurtzer, I., Herter, T. & Scott, S. Random change in cortical load representation suggests distinct control of posture and movement. Nat Neurosci 8, 498–504 (2005). https://doi.org/10.1038/nn1420
Received:

Accepted:

Published:

Issue Date:

DOI: https://doi.org/10.1038/nn1420