Abstract
Netrins are a family of secreted molecules that are important for axonal outgrowth and guidance in the developing nervous system. However, the signaling mechanisms that lie immediately downstream of netrin receptors remain poorly understood. Here we report that the netrin receptor DCC (deleted in colorectal cancer) interacts with the focal adhesion kinase (FAK), a kinase implicated in regulating cell adhesion and migration. FAK was expressed in developing brains and was localized with DCC in cultured neurons. Netrin-1 induced FAK and DCC tyrosine phosphorylation. Disruption of FAK signaling abolished netrin-1-induced neurite outgrowth and attractive growth cone turning. Taken together, these results indicate a new signaling mechanism for DCC, in which FAK is activated upon netrin-1 stimulation and mediates netrin-1 function; they also identify a critical role for FAK in axon navigation.
Access options
Subscribe to Journal
Get full journal access for 1 year
$59.00
only $4.92 per issue
All prices are NET prices.
VAT will be added later in the checkout.
Tax calculation will be finalised during checkout.
Rent or Buy article
Get time limited or full article access on ReadCube.
from$8.99
All prices are NET prices.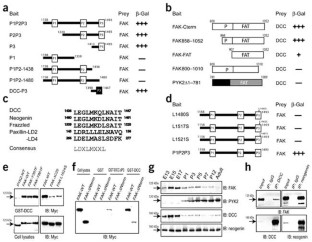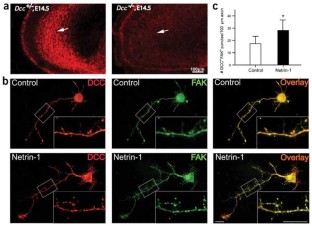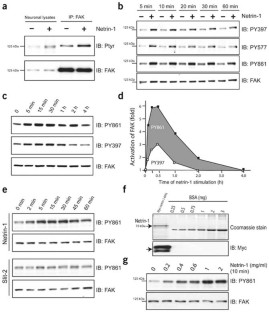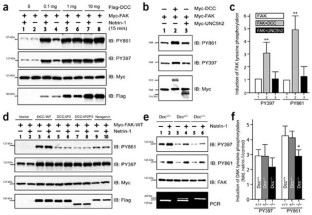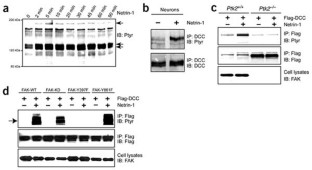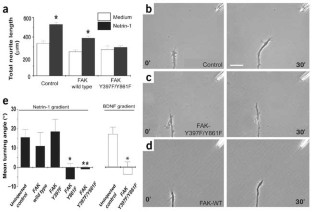 References
1

Livesey, F.J. Netrins and netrin receptors. Cell. Mol. Life Sci. 56, 62–68 (1999).

2

Kennedy, T.E., Serafini, T., de la Torre, J.R. & Tessier-Lavigne, M. Netrins are diffusible chemotropic factors for commissural axons in the embryonic spinal cord. Cell 78, 425–435 (1994).

3

Serafini, T. et al. The netrins define a family of axon outgrowth-promoting proteins homologous to C. elegans UNC-6. Cell 78, 409–424 (1994).

4

Culotti, J.G. & Merz, D.C. DCC and netrins. Curr. Opin. Cell Biol. 10, 609–613 (1998).

5

Keino-Masu, K. et al. Deleted in Colorectal Cancer (DCC) encodes a netrin receptor. Cell 87, 175–185 (1996).

6

Chan, S.S. et al. UNC-40, a C. elegans homolog of DCC (Deleted in Colorectal Cancer), is required in motile cells responding to UNC-6 netrin cues. Cell 87, 187–195 (1996).

7

Kolodziej, P.A. et al. frazzled encodes a Drosophila member of the DCC immunoglobulin subfamily and is required for CNS and motor axon guidance. Cell 87, 197–204 (1996).

8

Hiramoto, M., Hiromi, Y., Giniger, E. & Hotta, Y. The Drosophila Netrin receptor Frazzled guides axons by controlling Netrin distribution. Nature 406, 886–889 (2000).

9

Hedgecock, E.M., Culotti, J.G. & Hall, D.H. The unc-5, unc-6, and unc-40 genes guide circumferential migrations of pioneer axons and mesodermal cells on the epidermis in C. elegans. Neuron 4, 61–85 (1990).

10

Ackerman, S.L. et al. The mouse rostral cerebellar malformation gene encodes an UNC-5-like protein. Nature 386, 838–842 (1997).

11

Leonardo, E.D. et al. Vertebrate homologues of C. elegans UNC-5 are candidate netrin receptors. Nature 386, 833–838 (1997).

12

Hong, K. et al. A ligand-gated association between cytoplasmic domains of UNC5 and DCC family receptors converts netrin-induced growth cone attraction to repulsion. Cell 97, 927–941 (1999).

13

Keleman, K. & Dickson, B.J. Short- and long-range repulsion by the Drosophila Unc5 netrin receptor. Neuron 32, 605–617 (2001).

14

Stein, E. & Tessier-Lavigne, M. Hierarchical organization of guidance receptors: silencing of netrin attraction by slit through a Robo/DCC receptor complex. Science 291, 1928–1938 (2001).

15

Stein, E., Zou, Y., Poo, M. & Tessier-Lavigne, M. Binding of DCC by netrin-1 to mediate axon guidance independent of adenosine A2B receptor activation. Science 291, 1976–1982 (2001).

16

Finger, J.H. et al. The netrin 1 receptors Unc5h3 and Dcc are necessary at multiple choice points for the guidance of corticospinal tract axons. J. Neurosci. 22, 10346–10356 (2002).

17

Colavita, A. & Culotti, J.G. Suppressors of ectopic UNC-5 growth cone steering identify eight genes involved in axon guidance in Caenorhabditis elegans. Dev. Biol. 194, 72–85 (1998).

18

Gitai, Z., Yu, T.W., Lundquist, E.A., Tessier-Lavigne, M. & Bargmann, C.I. The Netrin Receptor UNC-40/DCC Stimulates Axon Attraction and Outgrowth through Enabled and, in Parallel, Rac and UNC-115/AbLIM. Neuron 37, 53–65 (2003).

19

Ming, G. et al. Phospholipase Cγ and phosphoinositide 3-kinase mediate cytoplasmic signaling in nerve growth cone guidance. Neuron 23, 139–148 (1999).

20

Forcet, C. et al. Netrin-1-mediated axon outgrowth requires deleted in colorectal cancer-dependent MAPK activation. Nature 417, 443–447 (2002).

21

Li, X., Saint-Cyr-Proulx, E., Aktories, K. & Lamarche-Vane, N. Rac1 and Cdc42 but not RhoA or Rho kinase activities are required for neurite outgrowth induced by the netrin-1 receptor DCC (Deleted in Colorectal Cancer) in N1E–115 neuroblastoma cells. J. Biol. Chem. 277, 15207–15214 (2002).

22

Ming, G.L. et al. Adaptation in the chemotactic guidance of nerve growth cones. Nature 417, 411–418 (2002).

23

Shekarabi, M. & Kennedy, T.E. The netrin-1 receptor DCC promotes filopodia formation and cell spreading by activating Cdc42 and Rac1. Mol. Cell. Neurosci. 19, 1–17 (2002).

24

Campbell, D.S. & Holt, C.E. Apoptotic pathway and MAPKs differentially regulate chemotropic responses of retinal growth cones. Neuron 37, 939–952 (2003).

25

Parsons, J.T., Martin, K.H., Slack, J.K., Taylor, J.M. & Weed, S.A. Focal adhesion kinase: a regulator of focal adhesion dynamics and cell movement. Oncogene 19, 5606–5613 (2000).

26

Ilic, D. et al. Reduced cell motility and enhanced focal adhesion contact formation in cells from FAK-deficient mice. Nature 377, 539–544 (1995).

27

Cary, L.A., Chang, J.F. & Guan, J.L. Stimulation of cell migration by overexpression of focal adhesion kinase and its association with Src and Fyn. J. Cell Sci. 109, 1787–1794 (1996).

28

Richardson, A., Malik, R.K., Hildebrand, J.D. & Parsons, J.T. Inhibition of cell spreading by expression of the C-terminal domain of focal adhesion kinase (FAK) is rescued by coexpression of Src or catalytically inactive FAK: a role for paxillin tyrosine phosphorylation. Mol. Cell. Biol. 17, 6906–6914 (1997).

29

Girault, J.A., Costa, A., Derkinderen, P., Studler, J.M. & Toutant, M. FAK and PYK2/CAKβ in the nervous system: a link between neuronal activity, plasticity and survival? Trends Neurosci. 22, 257–263 (1999).

30

Brown, M.C., Curtis, M.S. & Turner, C.E. Paxillin LD motifs may define a new family of protein recognition domains. Nat. Struct. Biol. 5, 677–678 (1998).

31

Bouchard, J-F. et al. Protein kinase A activation promotes plasma membrane insertion of DCC from an intracellular pool: a novel mechanism regulating commissural axon extension. J. Neurosci. 24, 3040–3050 (2004).

32

Schaller, M.D. et al. Autophosphorylation of the focal adhesion kinase, pp125FAK, directs SH2-dependent binding of pp60src. Mol. Cell. Biol. 14, 1680–1688 (1994).

33

Calalb, M.B., Polte, T.R. & Hanks, S.K. Tyrosine phosphorylation of focal adhesion kinase at sites in the catalytic domain regulates kinase activity: a role for Src family kinases. Mol. Cell. Biol. 15, 954–963 (1995).

34

Guan, J.L. & Shalloway, D. Regulation of focal adhesion-associated protein tyrosine kinase by both cellular adhesion and oncogenic transformation. Nature 358, 690–692 (1992).

35

Eliceiri, B.P. et al. Src-mediated coupling of focal adhesion kinase to integrin αvβ5 in vascular endothelial growth factor signaling. J. Cell Biol. 157, 149–160 (2002).

36

Metin, C., Deleglise, D., Serafini, T., Kennedy, T.E. & Tessier-Lavigne, M. A role for netrin-1 in the guidance of cortical efferents. Development 124, 5063–5074 (1997).

37

Zhang, X. et al. Focal adhesion kinase promotes phospholipase Cγ1 activity. Proc. Natl Acad. Sci. USA 96, 9021–9026 (1999).

38

Chen, H.C. et al. Interaction of focal adhesion kinase with cytoskeletal protein talin. J. Biol. Chem. 270, 16995–16999 (1995).

39

Ren, X.R. et al. Regulation of CDC42 GTPase by proline-rich tyrosine kinase 2 interacting with PSGAP, a novel pleckstrin homology and Src homology 3 domain containing rhoGAP protein. J. Cell Biol. 152, 971–984 (2001).

40

Polte, T.R. & Hanks, S.K. Interaction between focal adhesion kinase and Crk-associated tyrosine kinase substrate p130Cas. Proc. Natl Acad. Sci. USA 92, 10678–10682 (1995).

41

Beggs, H.E., Baragona, S.C., Hemperly, J.J. & Maness, P.F. NCAM140 interacts with the focal adhesion kinase p125fak and the SRC-related tyrosine kinase p59fyn. J. Biol. Chem. 272, 8310–8319 (1997).

42

Hopker, V.H., Shewan, D., Tessier-Lavigne, M., Poo, M. & Holt, C. Growth-cone attraction to netrin-1 is converted to repulsion by laminin-1. Nature 401, 69–73 (1999).

43

Pasterkamp, R.J., Peschon, J.J., Spriggs, M.K. & Kolodkin, A.L. Semaphorin 7A promotes axon outgrowth through integrins and MAPKs. Nature 424, 398–405 (2003).

44

Yebra, M. et al. Recognition of the neural chemoattractant Netrin-1 by integrins α6β4 and α3β1 regulates epithelial cell adhesion and migration. Dev. Cell 5, 695–707 (2003).

45

Liu, G. et al. Netrin requires the focal adhesion kinase and the Src family kinases to induce axon outgrowth and to attract axons. Nat. Neurosci. 7, 1222–1232 (2004).

46

Li, W. et al. Activation of FAK and Src are receptor proximal events required for netrin signaling. Nat. Neurosci. 7, 1213–1221 (2004).

47

Kornberg, L.J., Earp, H.S., Turner, C.E., Prockop, C. & Juliano, R.J. Signal transduction by integrins: increased protein tyrosine phosphorylation caused by clustering of β1 integrins. Proc. Natl Acad. Sci. USA 88, 8392–8396 (1991).

48

Rodriguez-Fernandez, J.L. Why do so many stimuli induce tyrosine phosphorylation of FAK? Bioessays 21, 1069–1075 (1999).

49

Fazeli, A. et al. Phenotype of mice lacking functional Deleted in colorectal cancer (Dcc) gene. Nature 386, 796–804 (1997).

50

Huang, Y.Z. et al. Regulation of neuregulin signaling by PSD-95 interacting with ErbB4 at CNS synapses. Neuron 26, 443–455 (2000).
Acknowledgements
We are grateful to Y. Rao (Washington University), D. Ilic (University of California at San Francisco) and B. Vogelstein (Johns Hopkins Medical School) for reagents. We thank L. Xu (University of Alabama at Birmingham) for help on statistical analyses. G.L.M. is partially supported by Charles E. Culpeper Scholarships in Medical Science and the National Institutes of Health (NIH). This study is supported by grants from the NIH to Z.F.C., L.M., and W.C.X.
Ethics declarations
Competing interests
The authors declare no competing financial interests.
About this article
Cite this article
Ren, Xr., Ming, Gl., Xie, Y. et al. Focal adhesion kinase in netrin-1 signaling. Nat Neurosci 7, 1204–1212 (2004). https://doi.org/10.1038/nn1330
Received:

Accepted:

Published:

Issue Date: